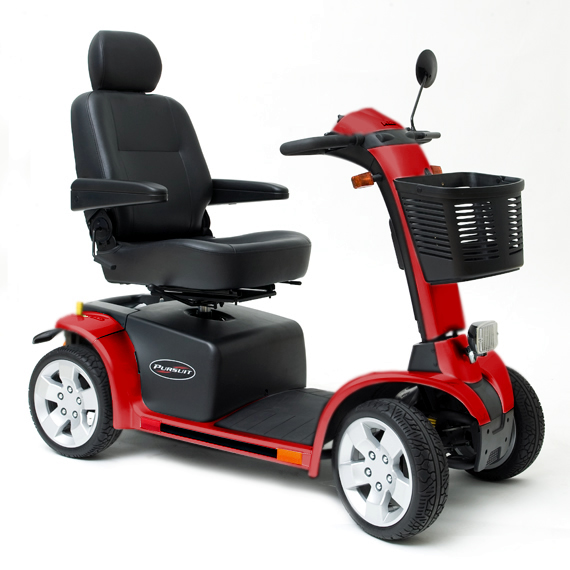 Mobility scooters are an excellent solution for people who are mobile but who may not have the strength or stamina to walk long distances. For the typical user, a manual wheelchair is too demanding in terms of upper body strength, while a powered wheelchair is more complex and sophisticated than they require. With a mobility scooter, getting from one place to another, indoors or outdoors, is greatly simplified, which provides an invaluable sense of freedom and independence.
For many, this independence is connected to a product that is easy to handle. A scooter that assembles easily, folds for storage, and loads into a car boot, can make a significant difference. On the other hand, it is important that a mobility scooter be stable and powerful; buyers must consider where they intend to use it, and look for a model that is safe for their specific needs. There are different options when it comes to lightweight mobility scooters, so taking the time to familiarise oneself with the available choices, as well as comparing various models, helps buyers find a scooter that will be reliable, safe, and easy to operate.
How Light is Lightweight?
Probably the first concern when searching for a lightweight mobility scooter is its weight. Since people with limited mobility usually cannot lift heavy units, it is important to consider whether they need to break down, assemble, or lift the scooter themselves. Scooter specifications should note whether the weight cited is with or without the battery. In addition, buyers should pay attention to how the scooter stores: does it fold, or break into individual units? How easy is this process? If it does break down, how many parts does it break into and what is the weight of the largest component?
Assessing product specifications against their own capability helps buyers decide which product is right for them.
Suitable Terrain and Conditions for Lightweight Mobility Scooters
One of the most important things to understand when shopping for a lightweight mobility scooter is that, precisely because of their light weight, these scooters may not handle the same range of terrain and conditions as their heavier counterparts. Lightweight mobility scooters function well on flat, dry surfaces, as well as limited patches of hard grass and inclines such as access ramps.
In general, lightweight mobility scooters are ideal for errands, transport, offices, and outings where the conditions are manageable. Their compact size helps users navigate aisles in shops with ease, and some models can be lifted up over a curb or one or two stairs.
Unsuitable Conditions for a Lightweight Mobility Scooter
Some lightweight mobility scooters may be damaged by snow and mud, and most are unfit to handle terrain such as steep inclines, tall grass, or sand. For more challenging conditions, heavier-weight scooters are recommended. Buyers should verify the scooter capability with the manufacturer prior to purchase.
Speed and Distance with Lightweight Mobility Scooters
Lightweight scooter models do not have the same level of power as heavier scooters. For that reason, their maximum speed is usually six kilometers (four miles) per hour. The speed capability also depends on terrain and the user's weight.
Models also vary regarding how much distance they can cover per fully-charged battery, ranging from approximately 13 to 18 kilometers. Again, this depends on the user's weight and the conditions. Inclines and grass deplete battery life faster than flat, smooth surfaces, and heavier users require more power to transport.
Number of Wheels for Mobility Scooters
Lightweight mobility scooters come in both three- and four-wheel models. The choice depends on the user and their concern over stability. Three-wheel scooters, featuring two back wheels and one front, may be less stable than four-wheel models. The main advantage is that their smaller turning circle gives them better manoeuvrability around corners. In addition, they may provide a bit more leg room, which is helpful for taller users or those with stiff joints.
Many consider four-wheel mobility scooters, which have two wheels each in the front and back, to be the most stable model for mobility devices. They are particularly good for those who may have issues with balance. Some four-wheel models have the two front wheels placed closer together for an improved turning circle.
Seating Options for Mobility Scooters
Part of one's comfort in a mobility scooter depends on the chair. Depending on how long one plans to be in the scooter continuously, this may or may not be a primary concern. Some chairs are hard plastic, while others are upholstered in either vinyl or fabric. Vinyl is more slippery than fabric, making a fabric seat a better choice for anyone who may have difficulty maintaining balance. In general, a padded chair with an ergonomic design helps users feel comfortable as they travel in their scooter.
Powering a Mobility Scooter
Mobility scooters are typically powered by one or two 10V or 12V batteries that are stored on the scooter itself and can be recharged by connecting to the mains. Different types of batteries are used for scooters, including sealed lead acid, nickel-metal hydride, and lithium batteries. Of the three types, lithium batteries have the highest energy density, meaning a greater power source from a lighter battery. This is good news for lightweight scooters, which can generally operate on just one lithium battery.
High-performance batteries for scooters are assembled by the manufacturer to work with the scooter's particular circuitry and may not be available in shops. When purchasing a mobility scooter, therefore, it may be advisable to buy an additional battery. Having a backup battery is useful in case of unexpected battery failure or depletion during use.
Airline-Approved Batteries
Another advantage of lightweight scooters is they can be brought along when travelling, and make seeing the sights a breeze. While foldable scooters can be easily loaded onto an airplane, not all battery types are approved for air travel. Sealed-lead acid batteries and nickel-metal hydride are allowed, as are lithium batteries, although within limits. Larger lithium batteries, such as those used by a scooter, must not have more than 25 grams Equivalent Lithium Content (ELC). Since regulations may change, travellers should consult their airline to confirm that their battery is allowed. In addition, there may be regulations about proper storage requirements, such as carrying the battery in a sealed bag, etc.
Many scooters advertise "airline approved" batteries. If shoppers have any questions, they can ask the manufacturer for further details.
Driving a Lightweight Mobility Scooter
In addition to portability, comfort, and power, one of the final questions about a lightweight mobility scooter is how it manoeuvres. Scooters have a tiller that rises in front with the controls for steering and braking. Most commonly the controls are in the form of thumb levers; for example, the left thumb level controls reverse (if available), and the right thumb forward driving. The amount of pressure determines the speed, and when pressure is released, an electronic brake system automatically applies brakes.
Accessories and Options for Mobility Scooters
There are a few extras which buyers may want to consider when purchasing their lightweight mobility scooter. While not essential, these accessories increase the scooter's ease of use and versatility.
| Accessory | Description |
| --- | --- |
| Bag | May attach to back of seat or store under seat; used for keeping belongings while driving; especially convenient for shopping and errands |
| Armrests | Allow extra comfort and support for arms |
| Remote Charging Unit | Enables user to remove battery from scooter and charge indoors, so that scooter can remain stowed in boot, garage, etc. |
| Storage Case | Keeps folded scooter protected during travel |
| Spare Battery | Very helpful in case of unexpected battery depletion; also enables users to take longer trips if necessary |
If budget allows, buyers can opt for accessories that they feel will enhance the use of their mobility scooter. Some scooters may come automatically with certain things, such as armrests or bags, so always verify what is included first.
Where to Buy Lightweight Mobility Scooters
Lightweight mobility scooters can be purchased from manufacturers and retailers specialising in mobility equipment, either in person, by phone, or online. It is highly recommended to test various models, if possible, before deciding on one. Many retailers home-deliver units themselves, unpack the device, demonstrate how it operates, and ensure that the user is able to safely drive the device. Scooters are also available through online websites like eBay, where it is possible to find new and used units, often at very competitive prices.
How to Buy a Lightweight Mobility Scooter on eBay
If you have an idea of the mobility scooter that is right for you, you can take advantage of eBay's online auction to find a great deal on a new or used unit. Starting on eBay's home page, search for items by entering keywords, such as "boot mobility scooter". eBay then allows you to select limiting factors like price, seller location, and whether the scooter is new or used. If you still don't find what you're looking for, you can visit eBay Shops for more browsing.
If you find an auction item of interest, be sure to familiarise yourself with the item's specifics, as well as the seller. Read the item description carefully, noting condition, size, and what's included. Pay attention to the seller's return policy, and note what the postage requirements and fees are. Local pickup for large items may be available or even necessary with some sellers.
Finally, check the seller's feedback score and read comments left by past customers. This is the best way to ensure you're buying from a reliable and knowledgeable source. Top-rated sellers have a strong record of excellent customer service.
Conclusion
Lightweight mobility scooters are an excellent way to expand freedom and independence for those with limited mobility due to illness, age, or disability. Less cumbersome than other mobility scooters, these devices can usually be folded or disassembled to store in compact spaces, such as the boot of a car, making them ideal for outings. Many can work both indoors and outdoors, allowing users to run errands, visit friends and family, or simply get some fresh air.
There are many factors to consider when selecting a mobility scooter, including weight, the types of conditions a unit can handle, its speed and distance, the number of wheels, seating options, battery power, basic operation controls, and any accessories that may enhance the scooter's performance. Buyers should take the time to assess their individual mobility needs, and carefully compare different models. Finding the right scooter can be very liberating, and it may be worthwhile to invest in a model that will perform well for years to come.