Linton LT-2288/3288 Programmable Transceiver
Motorola GP388 housing design clone Linton LT-3288 is a UHF (VHF LT-2288) Two-Way Radio from in China.
LT-3288 covers 400~470MHz including Amateur 70cm HAM/Business/FRS/GMRS/PMR446/CPC409 band. LT-2288 covers 136~174MHz including Amateur 2m HAM/Business/MURS band.
The Radio requires no computer/external device to program. 99 Channel Memory capacity with Alphanumeric channel naming capability, Repeater shift, CTCSS code per channel. Rotary Encoder makes easy to operate this radio.
▲ Rotary Encoder
LT-3288 /2288 is very well built around Aluminum Alloy chassis inside. Rotary Encoder is very handy especially having 99 channel memory. Unlike some other radios, you don't have to press UP/DOWN buttons repeatedly. Also the encoder works just like a tuning knob on Direct Frequency mode.
▲ Alphanumeric Channel Naming
Channel Naming capability is one of unique features of this radio, think as 5 letters memo. Programmed channels become more useful.
▼ Errors in Operation Manual
Manual covers just basic operations and Menu Mode instruction is incorrect describing only 4 setups, actually 11 on the radio. 4 setups correspond to identical looking KYD TK-338, probably they didn't update manual upon upgrade on firmware or processor. Functions are correct on manual.
Computer Programming capability (unverified) is on spec. but no info on cable. Software is downloadable from manufacturers' web site.
1W/4W Radio Power
99 Channel Memory with Direct Channel input from Keypad
5/6.25/12.5/25 KHz Frequency Steps
Repeater Ready (shift +, - 0~19.995MHz)
50 CTCSS with Frequency Display (Independent TX/RX Memory)
Digital Squelch Control (level 0~9)
Programmed Channels/Full Band Scan with selectable Resume mode (Time-Out / Carrier-Out)
Direct Frequency Input
Direct 2 digits Channel Number Input
Multi Purpose Rotary Encoder
Large Blue Backlit Alphanumeric Multi LCD Display
Green Lighted Keypad
Battery Strength Meter
Signal Strength Meter
Top mounted LED TX Indicator
Backlit Control (full time/auto/off)
Monitor Key (Open Squelch)
Keypad Lock
Keypad Beep
Power-On Message: Personalized or Battery Voltage Read out
Micro Processor Controlled
2.5mm/3.5mm (12mm Pitch) Remote Speaker/Microphone Jacks
58mm x 95mm x 28mm / 2-1/4" x 3-7/8" x 1-1/8" (WxHxD approx. body only)
230g / 8oz. (approx. incl. Battery & Antenna)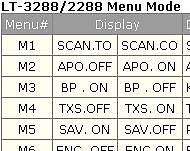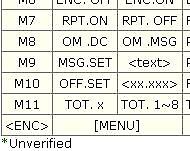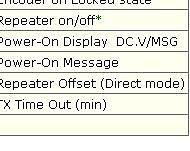 Remote Speaker/Microphone (Kenwood Compatible)
Please visit my "about ME" page for Linton LT-3288/2288 Quick Guide & Function List


This guide was originally written for eBay.ca, re-posted for eBay.co.uk categories