LS Type - Leyland National
This is one of many illustrated classic London Bus guides I've created for the community. I hope you enjoy it. If you wish to find out more about the classic London Red Bus and Routemaster art featured in this guide please click here.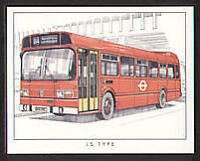 In 1969 there was the new development of a bus jointly produced by British Leyland and the National Bus Company. Called the Leyland National, the first appeared late in 1970. there were two basic models, one 10.3 metres (33ft 11in) with a laden weight of just over 13tons, seating 36 and the other a longer version 11.3 metres (37ft 2in) long seating 52. A distinctive feature of the vehicle was the raised roof at the rear, which contained ventilating and heating equipment. The engine was turbo-charged and mounted horizontally under the floor at the rear. London Transport gave the Leyland National the type letter LS and the first one entered service in 1973.
If you would like to see more guides on London Red Buses please click!
Thank you for reading my guide and I hope you found it interesting!