RF Type - AEC Regal
This is one of many illustrated classic London Bus guides I've created for the community. I hope you enjoy it. If you wish to find out more about the classic London Red Bus and Routemaster art featured in this guide please click here.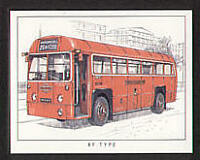 The RF type was introduced to service with London Transport in 1951. An operating fleet of over 700 with MCW bodies on the AEC Regal chassis, with a number of body variations gave "stirling" service until withdrawal in March 1970. All RFs had front entrances, which enabled them to be converted to one-man operation with thirty-nine seats in 1964. Referred to as the Regal Mark IV by the manufacturers, the model was fitted with an AEC 6-cylinder under-floor engine and fluid flywheel. Construction was semi-integral, with the body mounted on a series of outriggers long the chassis length.
If you would like to see more guides on London Red Buses please click!
Thank you for reading my guide and I hope you found it interesting!