DMS Type - Daimler Fleetline
This is one of many illustrated classic London Bus guides I've created for the community. I hope you enjoy it. If you wish to find out more about the classic London Red Bus and Routemaster art featured in this guide please click here.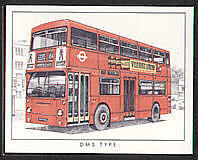 The DMS type started in London in 1971 as one-man operated double-decker, based originally on the Daimler fleetline. Subsequently, after Daimler commercial vehicles were incorporated into the Leyland organisation, the vehicles were based on the Leyland B20 chassis with Park Royal or Metro-Cammell-Weymann bodywork. Engines were Gardner 6LXB 10.45-litre or Leyland 0.680 11.1-litre. On the upper deck there was seating for forty-four with twenty-four seats below. Additionally there was provision for twenty-one standing passengers. The overall length was only 9.3 metres (30.5ft) but the width was now 2.5 metres (8ft 2 1/2in).
If you would like to see more guides on London Red Buses please click!
Thank you for reading my guide and I hope you found it interesting!