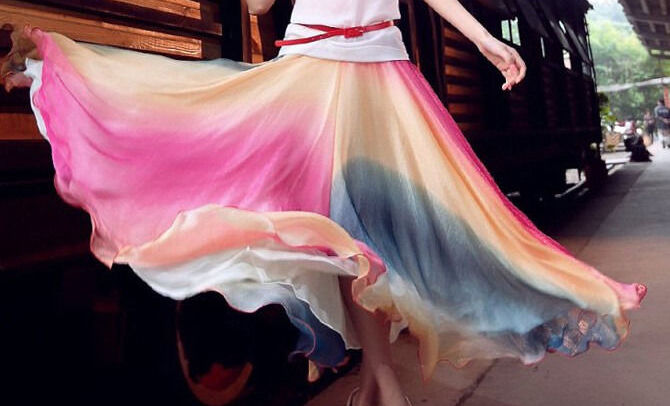 Long skirts come in a wide selection of styles and colours, from full A-line skirts to trendy maxi skirts. You can find a variety of long skirts on eBay. Before you shop, know what types of long skirts are available, understand how to choose a skirt to suit your build, and learn what tops to wear with long skirts.
Types of Long Skirts

Long skirts come with different cuts, darts, pleats, and panels that determine their styles. Their widths and fullness vary, and it is important to understand the difference between styles to find the perfect skirt for you.
Skirt Type

Description

Fitted at the waist, skims hips and thighs, broad at the hem

Narrow top and wider bottom

Tiered or Gypsy

Horizontal bands of fabric sewn together to create tiers

Adds shape

Figure hugging

Falls to below knees or mid-calf

Full skirt, falls from waist to ankle

Comfortable, warm

Features fold of fabric sewn from top of skirt

Wraps around waist

Fastens with button or tie

Similar to A-line, but with wider flare at bottom hem

Hem is not a uniform length
Long skirts come in a plethora of fabrics, from practical cotton to luxury silk. Denim is comfortable, durable, and ideal for casual wear. Combo skirts feature a variety of fabrics usually repurposed or up-cycled. Luxury fabrics are suitable for formal occasions.
How to Choose a Long Skirt that Suits Your Build
Long skirts are versatile and suitable for casual or formal wear. The style and pattern determine whether the skirt is flattering. A-line and flared skirts are ideal for women with pear-shaped, rectangular, and hourglass figures because these styles minimise the weight while adding definition to the hips. Tiered and pleated skirts add volume to slim builds, and pencil skirts emphasise svelte figures. Maxi skirts fit a variety of body shapes. Tall women who want to de-emphasise their height should opt for maxi skirts in two colours separated by a horizontal line. Petite women should opt for simple, solid-coloured maxi skirts paired with fitted tops and heels to create the illusion of height.
What Top to Wear with a Long Skirt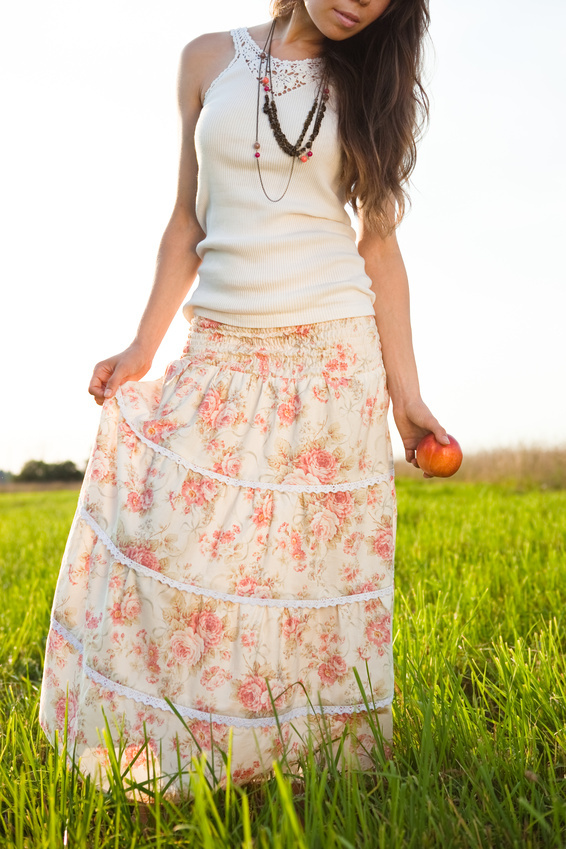 Polish your look by adding the perfect top to your long skirt. A peasant shirt that shows off your shoulders looks great with an Indian-inspired long skirt. Pair solid coloured blouses and tops with patterned long skirts, and remember to add a trendy belt. Balance the outfit by avoiding ruffles on your top half if the skirt is pleated or detailed. Wear a plain blouse or tank top with a gypsy skirt, pleated skirt, or ruffled skirt. Similarly, wear a fitted top with a loose or flowing skirt.