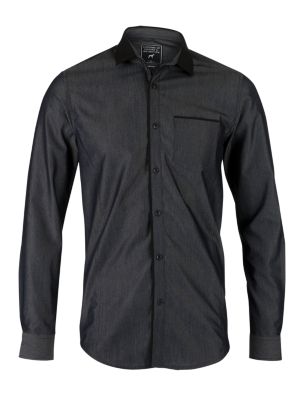 The range of styles and fabrics that long sleeve shirts are available in make them a staple in many wardrobes. Whether worn as extra protection against the elements, or as a personal preference, buyers are sure to find the perfect shirt for their needs. Shoppers can even find long sleeve shirts designed to be insect repellent. When buying a long sleeve shirt, it is important to first decide where the shirt will be worn and what special features, if any, are needed after which the buyer can begin to make a more informed decision.
Available in high street stores, department stores, and online, purchasing a long sleeve shirt is simple. Online, eBay has a large and colourful section of long sleeve shirts to suit every occasion, style and budget. This guide describes some of the factors to consider when shopping for a women's long sleeve shirt.
What Kind of Long Sleeve Shirt to Look For
While there is no standard way of classifying long sleeve shirts, there are a variety of long sleeve shirts with different features that suit different occasions and locations.
The Blouse
Feminine and elegant, the blouse is an excellent choice if it is going to be worn on formal occasions or in office settings.
Shirts with Collars
Depending on its type, a shirt with a collar can give the wearer a formal look and be suitable to wear to the office. Some shirts with collars, like flannel shirts, are often seen to be casual despite the fact that they have a collar. Many shirts of this type, formal or casual, have buttons running down the entire length on the front.
T-shirts
Once used only as underwear but now a staple of every wardrobe, the t-shirt can be worn in a wide variety of circumstances. With the added protection of a long sleeve, t-shirts allow the wearer to remain comfortable while offering protection from the weather, be it the sun or cold. Besides the fit, the buyer will encounter different types of necklines on t-shirts: v-necks,, scoop necks,, and crew necks to name a few.
Turtlenecks
With an extended neckline that covers the lower part of the neck, turtlenecks offer a means of keeping the wearer's neck warm in chilly weather. Turtlenecks also help create a background to display jewellery. There are two types of turtlenecks, the thicker type which is worn as an outer garment, and the thinner type which is worn inside another top.
Buttoned shirts
Another way to classify long sleeve shirts is to look at how they use buttons. There are shirts with buttons all the way down the front, and then there are shirts with buttons going down only part of the way. However the buttons are placed on a shirt, they tend to add a touch of formality compared with a shirt that has no buttons.
Different Materials for Different Occasions
There are a range of natural and synthetic fabrics that shirts are available in today. The choice of material can be made based on personal preference, or in some cases, on practical considerations like comfort and functionality. Long sleeve shirts come in natural fabrics including cotton and silk, although some of the newer synthetic fabrics add some extra features that can be useful and which are discussed below.
Natural fabrics
These fabrics are, as the name suggests, derived from natural sources. Cotton, wool, and silk, have all been used to make clothes for centuries. Clothes made from natural fabrics are considered by many to have a more natural feel and in some cases are believed to be 'classier' than those made of synthetic materials.
With the exception of wool, natural fabrics tend to cause fewer reactions among those with allergies and sensitive skin. These fabrics are biodegradable but may be more expensive than synthetic fabrics.
Synthetic fabrics
Synthetic fabrics are created by chemical processes. Once widely considered to be cheap and tacky, synthetic fibres today can be customised for different uses. A good example is wicking fabric that draws sweat away from the body and keeps the wearer cool and dry on warm days or when engaged in sports. Synthetic fabrics have the added advantage of lasting longer than natural fabrics.
Blended fabrics
It is possible to create a fabric with a combination of properties by blending natural and synthetic fibres. For example, combining cotton and spandex results in a fabric perfect for sports clothing which combines the durability and elasticity of spandex with the breathability of cotton.
The Fit of the Shirt
Another factor to consider when buying a long sleeve shirt is its fit. Unlike the size of a full sleeve shirt, there is no standard way in which fit is defined. Each manufacturer follows a different style, but in general it is possible to break it down into three types of fit.
1. Close Fit
This fit hugs the body tightly and follows its contours.
2. Well-fitted
This fit is not skin-tight but should fit the wearer comfortably.
3. Loose Fit
This fit is looser than a well-fitted shirt. However, in the case of women's shirts, the cut is still visibly feminine.
The Importance of the Shirt's Colour
The colour of a shirt plays a large role in enhancing the wearer's appearance. Several factors come into play when choosing which colour shirt to buy, but since the shirt is usually the garment closest to the wearer's face, two of the most important factors are the colour of her hair and skin. Blue, green, red and violet work well with cool skin. Warm colours complement warmer skin.
Make Sure the Shirt Size is Right
When buying clothing online it is essential to choose the correct size. While it is possible in most cases to return a shirt if it doesn't fit well, taking measurements and finding the correct size before ordering will save both the buyer and seller a fair amount of trouble.
How to Take Measurements
Taking measurements is simple but finding a friend to help can make the task even simpler. Use a cloth tape measure and do not measure over clothes. Keep a note of each measurement.
Bust
Arms relaxed and at the sides. Measure around the fullest part of the chest while keeping the tape comfortably loose.
Waist
Measure around the narrowest part of the waist.
Shirt Length
Use a comfortable shirt as the baseline for this measurement. Lay it down on a flat surface and measure the distance from the shoulder seam to the bottom hem.
Shirt Width
Use the same shirt and measure from armhole to armhole.
Size Chart
Using the measurements obtained above, use the chart below to find the correct size shirt to buy.
| Size | UK Size | Bust (cm) |
| --- | --- | --- |
| XS | 8 | 86-87 |
| S | 10 | 88-90 |
| S | 12 | 91-92 |
| M | 14 | 93-96 |
| M | 14/16 | 97-100 |
| L | 16 | 101-104 |
| L | 18 | 105-109 |
| XL | 20 | 110-114 |
| XL | 22 | 115-119 |
If the measurements are between sizes, it is advisable to go with the bigger size. The smaller size may cause gaps and opening to appear between buttons around the bust and stomach areas.
Find Long Sleeve Shirts on eBay
eBay has a vast collection of long sleeve shirts available in a range of fabrics, colours, and styles to suit every budget. Start searching for women's long sleeve shirts on eBay's homepage.. To find a particular type of long sleeve shirt, add a few descriptive keywords into the search bar. For example, enter 'blue women's long sleeve shirt&' to display a list of all available blue long sleeve shirts for women. The list can then be filtered down by brand, price, material, size, and other criteria, to find items that are of interest to the shopper.
Before committing to buying the selected shirt, make sure that the seller is willing to exchange the shirt or provide a refund if the shirt does not fit. If information about the seller's exchange or refund policy is not available, contact the seller directly by going to their member profile and clicking on the contact link.
Conclusion
Long sleeve shirts for women are available online as well as in brick and mortar stores. They come in all sizes, shapes, and colours. If the buyer knows what occasion or location the shirt will be worn in, it will make the process of selecting the right shirt a lot easier. Long sleeve shirts are available in different natural, synthetic, and blended fabrics, each offering different features. They are also available in a range of styles that are suitable for different tastes, occasions, and weather. A requirement for specialised fabrics can be decided based on the shirt's intended use. The buyer should consider what fit will be most comfortable. She should also measure herself properly and compare these measurements to a size chart to ensure that the shirt is the correct fit.
A shopper in search of long sleeve shirts will find that eBay's wide selection caters to every taste, event, and budget.