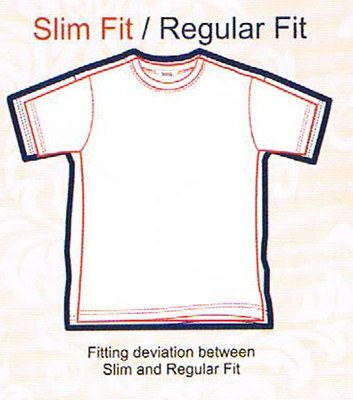 What is the difference between "Slim-Fit" & "Regular-Fit" Lonsdale Items?
The following only applies to the Lonsdale Items sold by Oxbloodoi. This does not apply to Lonsdale Items produced or sold by Sports-Direct.
In all of my item descriptions for Lonsdale items I always state if this item is slim-fit or regular fit.
Slim fit items are a tighter "trimmed" fit. From the picture on the left you can see the difference between a "slim-fit" item (red border colour) or a regular fit item (black border colour).
I and most customers recommend to go up one size if the item you are looking at is a "slim-fit" unless you like your shirts / jackets very tight fitting.
I also give detailed measurements for all the clothing items I sell.
For items where I do not state that it is "slim-fit" you can assume that this item is a regular fit. Please do take time to check the given measurements against a similar clothing item you have already.
When checking measurements the chest measurement is usually the "B" measurement in my listings. Best is to take a jacket or shirt that fits you perfectly, lay it flat on the table and measure the arm-pit to arm-pit measurements and compare them with the measurements on the item description.