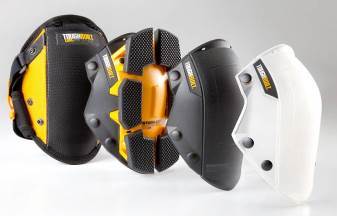 Knee pads
offer protection and improved comfort which makes them essential PPE for tradesmen who spend extended periods kneeling on the job or during DIY and gardening tasks.
Knee pads
are beneficial to most trades including plumbers, carpet fitters, tilers, floorers, roofers and electricians.
Most building trades can spend extended periods kneeling so selecting the kneepads most suitable for your particular workplace is advisable.
What Choices are Available?
Many of the newer style
kneepads
have an air injected gel core that provides shock absorption and can also retain its shape for longer. The air gel kneepads also offer improved cushioning and comfort.
Kneepads with a hard cap are suitable for outdoor and site working as the cap provides impact and shock prevention on hard abrasive surfaces. A hard cap version with a moulded knee shape is often thought best for wearing whilst on damp outside work sites as they offer maximum protection against impact shocks.
For indoor flooring work an anti-skid, non-marring knee pad is a good choice as they offer good knee protection and also prevent damage to flooring surfaces.
Many of the top brands now offer work trousers where knee pads, usually made with lightweight foam can be easily inserted in a knee pocket compartment that is stitched on to the trousers, these "wear and forget" simple knee pads are popular with tradesmen who need to kneel occasionally and the kneepads have the benefit of having no straps which some people find uncomfortable.
Other popular options are slip-resistant and non–marking pads that will prevent scuffing or scratching of flooring, as well as "rockers" that allow easy side-to-side movement and are favoured when laying cement or screed. The best kneepads are designed with wide straps that are less likely to impede movement or cut into the backs of the legs, thus limiting the possibility of reduced blood flow in the legs.