Buying yourself a bra is an investment in your comfort and appearance. And, you want your investment to last!
How long your bras live depends on several factors:
HOW TO CARE FOR YOUR BRA

HOW YOU WEAR IT

WHERE YOU LIVE

THE BRA SIZE
Some of these are out of your control, but the most important ones are not.
HAND WASH YOUR BRAS
If you want your bra to last longer, how you care for it is most important. Washing machines and dryers are death on bras. The agitators bend the wires, the pumps cause the smooth surface of t-shirt bras to look like an orange peel, and most detergents are too harsh for the fine fabrics and special materials in today's bras. The heat from the wash water and the dryer break down the fabric fibers and shorten their life.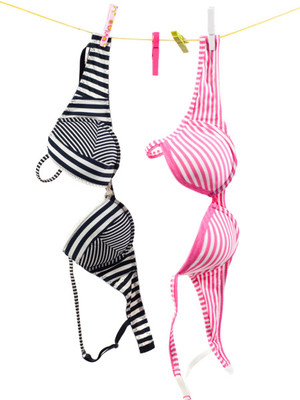 USE A GENTLE PRODUCT
I recommend using a baby detergent, baby shampoo, or an organic fabric wash. Follow the manufacturer's instructions. Before you wash, check for colorfastness. Dip a corner in water, hang it over a clean, white cloth (use one that you do not mind possibly staining) and check to see if any dye drips off. Many dark garments normally release some dye the first few washings so be careful that other garments washed with them are not tinted by the dye.
ROTATE YOUR BRAS
If you wear the same bra everyday, the Lycra (or Spandex or elastane) fabric will not have time to recover from being stretched during the day. Over time, the band will lose its elasticity and will no longer fit properly. So, you should rotate your bras everyday. The more bras in the rotation the longer they will last.
HOW OFTEN SHOULD A BRA BE WASHED
Too much washing will shorten the life of your bras, so how often should you wash them? There is a balance between keeping your lingerie fresh and not over washing them, and where you live often determines how often you should wash your bras.
If you live in a hot, humid climate and perspiration is your constant companion, you may need to wash your bras everyday. If you live in a very temperate climate, and don't know what perspiration is, you can wear your bra 3 or 4 times before washing, according to Real Simple Magazine. Sports bras should be washed after every wearing.