~~There's a lot of talk about why whole and loose leaf tea are better than tea bags, while a lot of it is true, most of it is made up of broad generalizations. If for you a good cup of tea starts with tea bags from the supermarket, then you are truly missing out on an outstanding tea experience you won't forget.
Greater Health Benefits and superior Taste
~~Loose leaf consists of larger leaves compared to the usual small broken pieces of tea bags loose leaves keep more catechin antioxidants and plant polyphenols which results in a higher intake. Since tea is noted for several health benefits including helping to prevent certain cancers, lowering blood pressure and cholesterol, boosting the immune system and as a weight loss aid. Loose leaf tea provides a higher dose per cup compared to tea bags. Whole leaf means tea that's generally made up of whole, unbroken leaves. Tea bags are typically made from the lower tea grades, such as dust and fannings. Dust and fannings are smaller pieces so they have a larger surface area than whole leaves. A larger surface area means a bigger loss of essential oils (precious flavour) to evaporation, leaving the tea dull and stale. This is the main reason freshness is a major issue with normal supermarket tea bags, (typically at least 18mths old) especially if they are packed in a paper box with paper wrapping. Loose leaf tea is tea that is not brewed in a teabag.

Brewing
~~ When you steep loose leaf tea it should have room for the tea leaves move around and expand as they absorb water when they infuse. This allows the water to flow through the leaves and extract a wide range of vitamins, minerals, flavours and aromas.
When you brew tea in a tea bag, its infusion is restricted by the size of the teabag. Packing full-leaf tea into a small teabag won't yield a very flavourful cup. For many years, the tea industry adapted tea to the tea bag.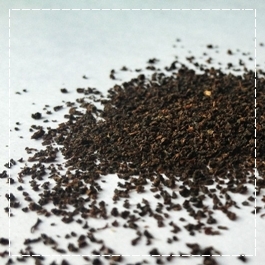 ~~By filling tea bags with smaller particles of tea, the surface area and infusion rate of the tea were increased. A more flavourful brew resulted, it was easy, cheap, and good enough for the general masses so was very successful.
Today we in the enlightened tea world adapt the tea bag to the tea. Instead of using flat tasting grades of tea we are choosing higher grades with more sophisticated flavour characteristics and aromas. By putting them into larger tea bags and pouches creates more room for infusion and a much more satisfying drink.
The top picture is the contents from good quality tea bag, the bottom picture a common assam used as a base tea, they are the same thing but only the smaller lower grades of dust with inconsistent quality are used for bags.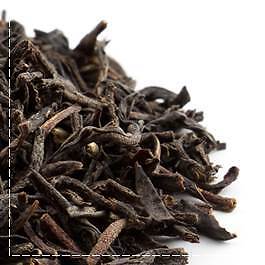 ~~Now we are not saying tea bags don't have their place in convenience they do, but be warned there are some truly dismal ones out there. As tea drinkers (although some wont admit it) we are constantly on a cup by cup basis fine tuning the ritual, in the quest for that perfect cup of tea again, you know the one that induces involuntary noises "oohs" and "ahhs" from otherwise quite normal people.

Well the cats out of the bag (no pun intended) no matter how much you pay for your tea bags the consistency is just not there, no matter what you do there is a good chance you will end up with a flat brew, and a whole new set of noises. For a great guaranteed satisfying drink every time our loose leaf is the freshest on the market, its worth that little extra cost for the taste and consistency, and with your well practiced ritual disappointing cups of tea will be a thing of the past.
Share the Love of Tea
~~If you found this guide useful or interesting please click the green thumbs button below, it will help Ebay tea drinkers discover new tastes. Whole Leaf Tea tastes amazing, and it's super beneficial to health. Our all natural subtle flavours complement our high grade teas perfectly. Make someone day just a little better and share us with social media. Thanks you're amazing.