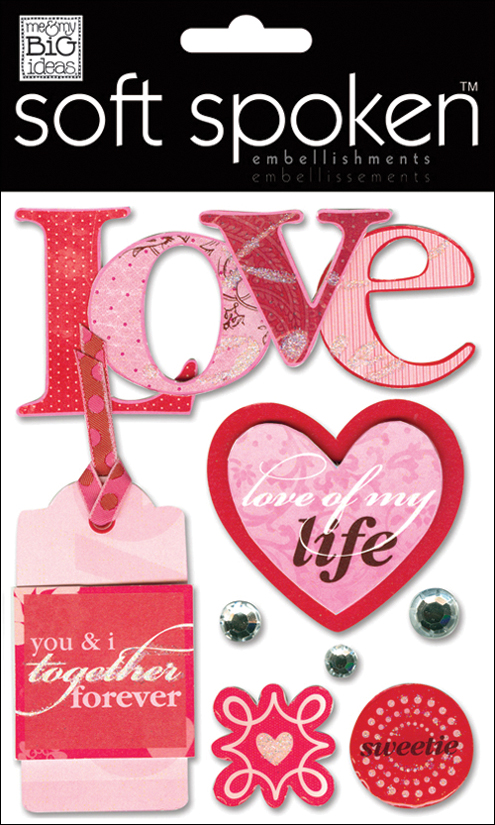 Embellishments are a finishing touch on a scrapbooking project, and are created in a wide array of styles. Love is a popular theme, and buyers can find items shaped like hearts, birds, bows, and more. These can be made from many types of material, including paper, cardboard, fabric, and beads.
While shopping, look for products that are acid and lignin free, as these substances can cause colours to fade and materials to degrade over time. Lignin is found in paper and wood, and special processes can be used to remove it to make products safe for scrapbooking. Acid is used in many types of adhesives, such as glue and the backing of stickers. Choose acid-free adhesives and other products to help keep a project looking great over time.
Love embellishments are sold from specialty craft and hobby stores. Buyers can also find many items online. Some websites specialise in items for scrapbooking and cardmaking, and marketplaces like eBay also have many listings for the products. Consider all sources for scrapbooking materials to find the best prices, and select love-themed embellishments to complete the next cardmaking or scrapbooking project.
Choosing Love Embellishments
Begin shopping for love embellishments by considering their colour and shape. Look for items made from a variety of materials to create distinctive and personal projects.
Colours
Embellishments can be a solid colour, while others have ornate patterns and designs. They may be reflective and shiny, or a matte colour. In addition to standard colours like pink, red, and white, buyers can choose love embellishments that are gold, silver, clear, turquoise, and others. It is also possible to purchase packs of embellishments that have an assortment of colours, or products that are multi- colour ed.
Shapes
The most common shape for love-themed embellishments is a heart, though buyers do not need to restrict themselves to these shapes alone. Look for products shaped as flowers, birds, and bows to increase the variety in a project.
Materials and Item Types
Buyers can choose from stickers, paper, fabric, beads, rhinestones, wood, and others to build their project. The following table provides a brief description of some of the materials and item types available. Consider the full range of options to find the best products for a project.
Item Type

Description

Stickers

Stickers are easy to apply, and are often designed with words or images

Look for acid-free stickers to help a project look its best over time

Paper

Paper products are versatile and can be used in many different ways

Be sure to choose paper embellishments that are lignin free

Fabric

Fabric embellishments can be flat, like paper or cardboard, or they can be puffed, like small pillows

Look for sets of fabric embellishments that include several different sizes

Beads

Beads can enhance texture in a project

Many heart-shaped bead strings are available, as well as gems and other items with beaded edges

Rhinestones

Small, bright, and colourful, rhinestones are an excellent way to add finishing touches to a project

Look for love-themed rhinestones in a range of colours, including packs of red, pink, and white

Gems and Jewels

Like rhinestones, gems and jewels are small and colourful

When used sparingly, they provide eye-catching embellishments to a project without the risk of overwhelming the image

Wood

Wooden love embellishments can add a subtle touch to a project, as their matte finish makes them less conspicuous than other options

Many wooden embellishments can be purchased bare, allowing users to add their own colours and designs
Several other materials are available, and it is always possible to incorporate original embellishments into purchased products. Experiment with item types to find the best combination of materials.
Choose Acid and Lignin Free Products
While shopping for embellishments and other scrapbooking items, it is important to choose products that are acid- and lignin-free. Acid and lignin can ruin the appearance of a project by draining colour from the materials and causing paper to degrade more quickly.
Lignin is a naturally-occurring substance found in paper and wood, and a special process is used to remove it from these materials. Although this makes the products slightly more expensive, it is worth the cost for the added protection it provides a project. Acid is found in many common products like glue and stickers, so be sure to check all materials used for a cardmaking or scrapbooking project to be sure they are acid-free.
Price
The price of love embellishments can vary significantly from one product to the next. Though most products cost only a few pounds, several high-quality materials are available that can cost 50 pounds or more. Packs of acrylic gems and jewels can also be more expensive than standard materials. Be clear on the price of love embellishments when shopping, and keep a budget in mind.
Purchase Guide Books
Thousands of scrapbooking techniques and styles can be used to create a project. Although every person is likely to find methods and materials they enjoy using most, there are always opportunities to learn about processes. Many books are devoted to scrapbooking, and can provide step-by-step instructions for creating original embellishments, or using purchased products in new ways. Buyers should consider obtaining these books for an alternative approach to their established methods.
Many guides and discussions can also be found online. These take the form of blogs, forums, and articles on websites. Sites that specialise in the sale of scrapbooking materials sometimes offer information about using materials and techniques in new ways. Try utilising as many resources as possible to begin creating exciting and increasingly unique projects.
Tips for Using Embellishments
Embellishments can be one of the most exciting parts of a scrapbooking project, though there are some things to be aware of while shopping for and using these items. The first thing to remember is that embellishments always go onto a page last. Attempting to add new elements to a page once the embellishments are down can cause a page to look too busy, and also reduces the effectiveness of the scrapbooking materials placed on top.
It is also important to maintain the focus of the project. In most cases, a photo, drawing, or other item is the focal point, and scrapbooking materials like embellishments are present to accent the images. Beware of using large, thick, or highly colourful embellishments unless they can exist on the page without conflicting with the primary photo or image.
How to Buy Love Embellishments on eBay
A large variety of love-themed embellishments for cardmaking and scrapbooking can be purchased from the sellers on eBay. You can shop for these items by using a combination of keywords and category links. For example, type "love embellishment" into the search field on the home page to see all listings tagged with those keywords. New keywords, such as a shape or colour, can then be added to find more specific items. Alternately, you may look for a link to eBay's crafts and scrapbooking sections. From there, category links can be used to continue refining listings to find embellishments, and then select a theme. You can also use links to shop by price, item condition, seller location, and other criteria. Try using a combination of keywords and category links to find the best items.
Once you have located desirable embellishments, take a moment to inspect individual item listings. Look for the price of the item, shipping charges, and the payment methods accepted by the seller. Read the description of the item to be clear on its materials, size, condition, and the number of pieces included. Compare these details with available images to be clear on the item being sold. Contact the seller with any questions you have about the item or its listing.
Find reliable eBay sellers by checking information about them in item listings. Look for sellers with a high positive feedback rating and many completed transactions to ensure a positive buying experience. If you'd like more detailed information about sellers, click on their names to open full profiles.
Conclusion
Embellishments are an exciting way to add finishing touches to a cardmaking or scrapbooking project. They are created in a high number of styles and shapes, and buyers can find many love-themed embellishments. Look for stickers and products made from paper, fabric, beads, rhinestones, and more. Consider the colour and shape of an embellishment, as well. Many products are shaped like hearts, though buyers can find various other items to increase the visual diversity of their projects.
While shopping, look for products that are acid- and lignin-free. Lignin is present in paper and wood, and causes colours to fade over time. Choose embellishments that have had their lignin content removed to ensure a project can be displayed or shown for many years. Many adhesives and other products used in scrapbooking contain acid that can also harm the appearance and physical integrity of a project over time.
Embellishments can be purchased from crafts and hobby specialty stores, as well as online retailers. Many websites specialise in crafts materials, and marketplaces like eBay have listings for a wide selection of products. Shop around to find the best prices and items available, and choose embellishments to add the finishing touches on the next project.