There is the genuine 'Ugg' logo, Many fakes do not have this, however some do.
This is my guide on ugg boots, from how to spot fakes, how to care for your boot, and shapes styles and colours also much more.
Uggs have become increasingly popular as A list celebs such as Eva longoria, Jennifer Anniston, Paris Hilton And Oprah are sporting them. These boots are very comfortable and sturdy and are a must have item to most womens wardrobes. However fake ones do not stand up to the quality of the genuine Uggs, the stitching is poor, they are very flimsy, and often not have the same measurments or colour as the real thing. The fakes are subject to copyright infringement as only 'Deckers' the original makers of the ugg boots are the only ones registered to use the word UGG. Nobody is licensed to sell real uggs on ebay however this does not mean they are all fake, it clearly means none are UGG experts. Most people's boots are too big, real, but not there size and they are selling them. If you see a pair off UGGs that you think are a bargain and are significantlly cheaper than the rrp (around £160-180) they are most probably fake.
Being on Ebay I have realised how many fakes are circulating the website. I feel sorry for the users who are falling into the traps of the sellers and actually beleiving some of these are real. Even some of the sellers beleive they are real and don't know any different. I am going to write a few tips to help you identify the fake from the real to avoid dissapointment.
An important thing you should remember before buying your new uggs is DO NOT buy from sellers who are not using there own pictures, ie. off the Ugg australia website. You will probably not receive the boots you are looking at. Another thing to remember is that most people who use small, slightly pixelated (fuzzy) pictures are probably stealing there pictures from elsewhere.
There are a few main signs of fake ugg boots here are a few of these.
The boot sole has a little 'r' in a circle next to the word "ugg" this is to show that it is a registered trademark, many fakes do not have the 'r' make sure you are buying from a seller that displays the sole of the ugg.
Another sign I have not yet seen mentioned by the people who have written their own guides is that the measurments on some of these fake ugg boots do not match up to the genuine "Ugg australia" sizes.
The real 'classic tall' boot should have an approximate size of a 12" Inch Boot Shaft (from top to bottom) and a 14" Inch Circumference around the mid-calf. The 'classic short' boot should have an approximate boot shaft height of 8" Inches. Check the pictures of the boot you wish to buy FIRST if they do not look as if they match up to the height they probably don't. Inquire to the seller about the size without telling them the genuine measurments they should be as they will just tell you thats their boots measurments.
The colour on the boots is often wrong too. A chesnut boot is an dark orange like this;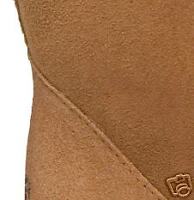 A Sand Ugg Boot should be this colour;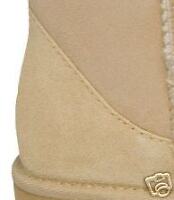 A Choclate Ugg Boot should be this colour;
And Finally A Black Ugg should look like this;
Do not be fooled by the "camel" colour. As far as I am aware ugg australia does not do this aleged "camel" colour. If your boots is listed camel or has this on the tag then chances are they are not real.
Another thing is that the chocolate and the black ugg boots have matching colour soles as the colour of the boot. The fake black ones often have a sand, light brown coloured sole and a brown tag. the black boots should have a black tag on the back and black soles.
Your ugg's should have the classic ugg logo on the back of the boots, on the inside tag and on the box. A boot in a bag labeled 'snow boots' is a fake.
The classic logo looks like this (left) the fake logo looks like this (right)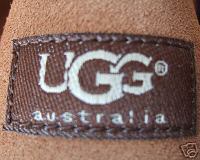 (not a very clear picture but you can see that the logo is nothing like the real ugg logo.) however some fakes logo's actually look alot like the real so be sure to check the other signs of fake ugg's to be positive you are buying a real ugg boot.
As u may well know ugg australia uses genuine grade a sheepskin. This sheepskin is soft, comfortable and in perfect condition. The fake ugg's 'fur' is tacky, often bits come off the wool, and is not as radiant and soft as the genuine sheepskin.
Apparently as said on other guides the fake fur can smell funny, this is a deckers quote and some people say it is due to the dye that the fake ones are coloured by.
In the box of your new ugg boots you should find a booklet, and a card. The booklet should have silver embossed letters (embossed means raised) and you can feel it with your fingers. however the fake booklets are often photocopied and are of poor quality. The card should be a cream colour and rough paper.
There are many other signs of fake ugg boots and there are many very helpful guides around ebay you can read to find out more.
If you are unsure which boot to buy it is easier to buy from uggaustralia.com or a local retailer such as 'Bank' and 'Db3' these sometimes have the boots in. There are many other places on the highstreet to buy these you will have to shop around. be sure to ask someone who works there that are real and not replicas.
What colour UGGs should I buy?
The ugg boot range has some very nice, neutral colours. Ugg boots go with practically anything, especially the chesnut and the sand coloured boots.
The colours are the REAL colours that ugg list.
Chesnut
Sand
Black
Choclate
Rum Raisin (In Classic Short)
Patchwork (In Classic Short)
Baby Pink
Baby Blue
And more bright colours, these colours are quite recent so it is now hard to tell which colours aren't the real thing...

There is no 'most popular' colour ugg boot as it all depends which appeals to you the most. My personal favorite is the chesnut as I own a pair of these and think they are gorgeous.
As seen on...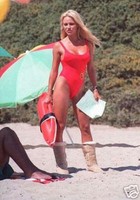 .
Pamela anderson in the baywatch days (left) However now she is ditching the UGG as she is all about animal rights :-).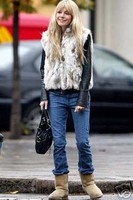 Sienna in her sand uggs.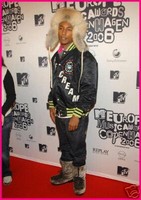 Pharrell williams sporting Man Uggs? Love it.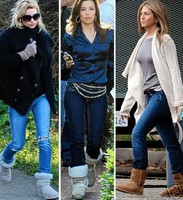 Eva Longoria (middle) sporting sundance uggs! and jennifer anniston (right) sporting classic short chesnut uggs.
These pictures go to show the UGG boot really is an A List item and keep coming back in style yearly. Just when the haters thought they where gone for good...
Update Nov 23rd 2009 - Please DO NOT buy any other nightfall uggs other than chesnut. Ugg australia only make CHESNUT nightfalls so any other colour you see is indeed fake.

Caring for your new uggs
UGG australia have a small range of products to look after your new boots, there is a protector spray that sheilds them from stains and water, there is also a conditioner for the sheepskin, and sometimes people on ebay have other items such as the eraser and the seude brush.
I hope this guide has been usefull to you
Good luck finding your UGGS.
x