I'm sure your aware that the choice of digital scales on eBay is enormous and your thinking... which ones to get? If thats the case, I hope this guide will help you decide on which ones to buy or at the very least, point you in the right direction as to which ones to have a look at.
I required the scales to weigh various items ranging from next to nothing, to large items weighing over 20kg. To weigh the small items, coin's, jewellry etc, I was looking for scales that had a range of up to 1000g and read in x 0.1g increments. After much searching around, I found the scales pictured below to be perfect for the job. Costing around £8.00 (or less) and amazingly read in five different scales (ozt/dwt/ct/gn/oz/tare (zero) function). The scales are powered by two standard 'AA' batteries and have a hard plastic cover protecting the metal weigh plate which incorporates a small magnetic catch to keep it firmly attached when the scales are not in use. Inside the cover, the 'Operation' instructions are printed which is handy as you will never lose them. I could not see any makers name anywhere, they are just called DIGITAL SCALE. Just to mention, I already have a small set of TANITA scales which I purchased many years ago. These scales only weigh up to a maximum of 100g x 0.1g (The same accuracy as the DIGITAL SCALE) and cost me something like £50.00 all those years ago! So as you can see, these DIGITAL SCALE scales are excellent value for money.

DIGITAL SCALE
Digital Pocket Scales 1000g x 0.1g
Overall dimensions: Length: 113mm x Width: 75mm x Depth: 18mm
Weigh plate size: 72mm x 64mm
To weigh all the heavy items, I thought first of buying a large, not to mention expensive set of post room type scales. But instead I took a gamble and ordered these scales, (Powered by three standard 'AA' batteries) the: '40kg Digital Fishing Luggage Hanging Weighing Scales'. Weighing in either lbs or kgs up to a maximum of 40kgs (With a tare (zero) function). They cost around £8.00 (or less) and as such are quite inexpensive when you consider how much they can weigh. Being as the scales are so tiny, they really don't look as if they can weigh anything more than 5kg, let alone 40kg! I had a go at testing them to the maximum, thinking they would literally fall appart even at a low weight, I slowly applied more weight until the LCD showed 40kg!! Supprisingly and very thankfully :0) they performed ok.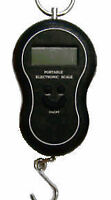 40kg Digital Fishing Luggage Hanging Weighing Scales
UPDATE NOTE:
#1
I used the 40kg scales some 30 times in total with no problems. Unfortunately they no longer work correctly. Hmm... I only found out they were reading about 50% less than they should, when I was at the post office weighing a very large heavy box, when to my supprise ... and horror, I was asked to pay nearly double for the postage! Now, for obvious reasons I'll not now recommend you buy these scales as you might end up like I did... out of pocket! This now leaves me without scales for the heavy bits and pieces. So it's back to square one and I'm now on the lookout for a replacement... quick. As soon as I find anything, I'll let you know.
#2
Bought these:
My particular seller had the scales listed together with a free set of Balanzza Strapz, (RRP £9.99) which was nice! Hopefully these Strapz will come in handy. I paid a total of £16.44, which Includes the shipping. thats over double the cost of the last scales but bearing in mind these 'Strapz' were part of the deal and 'free', I suppose the price tag of £16.44 is not that bad after all. The scales are the latest Balanzza 2009 model, the Ergo and are rated at 44kg (100lbs), making them a perfect choice. I've not received them yet but as soon as, I will report back. For further info on the scales, take a look at: balanzza.co.uk
#3
Just received the Balanzza Ergo and Strapz, first impressions, I'm pleasantly supprised at what you get for your money. This is a quality piece of kit that's had quite a few hours thought gone into it. The scales are very tactile with a nice weighty feel to it. The plastic is of high quality too, not thin and flimsy like the previous scales. You get the impression these scales are built to last. The Strapz included are also of excellent quality. I used the Ergo to weigh a large, heavy box totalling 16.45kg. Im so glad I went for the Ergo with the Strapz, as they seem to be all you need to weigh almost anything. I placed the Strapz at either end of the box (40cm x 40cm x 60cm), clipped them both together (see photo), attached the Ergo, pressed the on button, selected kilogrames (You can switch to either kgs or lbs at any time) then lifted the box just off the ground and waited till it beeped, seeing the total weight recorded (fixed), I put the box down... job done!
The Ergo looks to be an ideal set of scales for most sellers on eBay. I will let you know how the scales pan out long term but for now on the strength of today's use, I would highly recommend the Balanzza Ergo and Strapz, (If possible and available, go for the Ergo with the Strapz included as I could not find them being sold sepperatly anywhere except on the Balanzza web site).
#4
The Ergo will not record (fix) a weight on the readout or sound its beeper when weighing anything less than 1000g. No problem, the smaller 'DIGITAL SCALE' will do for that! The Ergo appears weigh below 1000g but I would imagine not as accurately as when it reads over the 1000g mark.
To see photo's of the Ergo and Strapz in action, just click on my blue and red 'me' logo next to 'cell_sonic' (As I'm unable to upload anymore pics to this page) and then page down.

Cheers