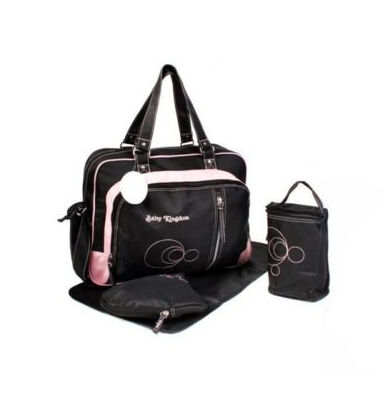 Babies need a lot of items during their first few years of life, especially when they are still wearing nappies. Nappy changing bags need to be functional, but this does not mean that they have to be plain and unattractive. Luxury baby bags offer both convenience and style, which is why many parents opt for these over basic baby bags. With so many different types of luxury baby bags to choose from, it can be difficult to determine the best type of bag to buy. This is especially true for first-time parents who are not really sure what their needs are yet. With a little bit of research and a lot of comparison shopping, parents can easily find the best bag to meet their needs without resorting to trial and error. By learning about the different styles and features as well as the function of different types of bags, parents can quickly identify which bags are useful and which ones are not. For a large selection of luxury baby bags, parents often turn to eBay to find the best deals.
Baby Bag Styles
Parents who are in the market for a luxury baby bag must first determine which style is best for them. While the appearance does vary based on the style, so does the convenience. Some parents find it easier to carry a baby bag that can just be thrown over the shoulder, while others prefer the backpack style. Additionally, some mothers prefer baby bags that looks like oversized purses. The three main styles of luxury baby bags are totes, messenger bags, and backpacks.
Tote Bags
Tote-style baby bags have one or two short straps for carrying. The tote can either be carried by hand or thrown over a single shoulder. Tote bags usually have one large pocket for carrying everything, but some baby tote bags have side pockets to accommodate more items. The tote bag is the traditional style for baby bags. The tote baby bag is available in a wide range of designs and colours.
Messenger Bags
Messenger baby bags have a long strap and can be worn on the shoulder or across the body for added security. Messenger bags tend to be larger than tote bags and also have a large compartment for carrying baby items. Because these baby bags can be worn across the body, they can accommodate a heavier load, if necessary. A messenger bag also has a large flap that covers the top and the front of the bag. This flap secures the items inside if the bag were to tip over. The strap on a messenger baby bag can be adjusted to the desired length, and some straps have a pad for more comfortable wear on the shoulder.
Backpacks
Backpack -style baby bags are like other backpacks, but the layout and compartments are designed to accommodate the items needed for a baby. Backpacks have two straps that are worn over the shoulders so that the weight is evenly distributed across the back and shoulders. These are ideal for parents who need to have both hands free or need to carry a heavy load. Most backpack-style baby bags are inconspicuous and look like other backpacks, which makes them a good choice for dads who do not want to be seen around town carrying a baby bag.
Baby Bag Features
Luxury baby bags usually have many more features than standard baby bags. Not only do they have a nice appearance, but the features make it easier to carry the needed items, keeping them organised. When shopping for a luxury baby bag, parents should evaluate the storage space, materials, and any other add-ons that make it easier to take care of baby on the go.
Storage
Regardless of the style of baby bag that parents choose, storage space is one of the most important features to consider. Parents should look for a baby bag that has a large inner pocket for carrying extra clothes and any other items needed for baby. Additionally, parents should look for small pockets around the side for storing small items, such as teething rings and pacifiers, so that they are always readily available. Separate compartments on the inside of the bag make it easier to keep the nappies, wipes, and bottles well organised, and more easily accessible.
Nappy Changing Mat
While many public establishments have changing stations, they are not readily available everywhere parents go. Additionally, the facilities may not be as sanitary as parents would like for their baby's bottom. Many luxury baby bags have a nappy changing mat included. This is a large water-resistant piece of fabric that parents can lay down on the ground or changing table to provide a clean space for baby to lay when changing the nappy. When included with the bag, a nappy changing mat is often made of the same material and has a matching design.
Water Resistant
When it comes to babies, parents need to be prepared to handle spills of all kinds. For this reason, it is important to find a baby bag that is made out of water resistant materials. If anything spills inside the baby bag, it can be easily cleaned up and dried. Additionally, water-resistant materials are often stain resistant, as well. While canvas or cloth baby bags may have a nice lightweight feel, they become dirty very quickly. Since most parents do not have time to constantly clean out and wash their baby bags, water-resistant baby bags are the way to go.
Clips
Baby bags hold several items, so it is easy for small items to get lost. Car keys are commonly misplaced inside baby bags because they travel down to the bottom. Many luxury baby bags feature clips on the outside or along the strap for securing car keys in an easy-to-find location.
Choosing the Size of the Baby Bag
Choosing the size of the baby bag is based on personal preference. Parents of multiples often find the need to carry a larger bag because of the amount of supplies needed to take more than one baby on an outing. Parents always need to be prepared, so going for a small bag is not always the best choice. The bag should be large enough to hold nappies, wipes, an extra change of clothes, bottles, formula or breast milk, and toys to keep baby occupied. Additionally, storage space for wallets and mobiles phones are ideal. This keeps mum from having to carry a handbag in addition to the baby bag. Baby bags come in all sizes, so parents should analyse what they need to carry in the bag before determining the size. It is always better to choose a bag that is too big rather than too small.
Fashion vs. Function
When shopping for a luxury baby bag, mothers are often looking for a bag that has a stylish appearance. Mothers need to keep in mind that unless they plan on purchasing more than one baby bag, they should always choose function over fashion. If a bag has a nice appearance, but is hard to use, mum quickly becomes frustrated with it. Brands like OiOi and Caboodle are known for making baby bags that look like stylish handbags, without sacrificing useful features and sufficient storage space.
Other Luxury Baby Bag Considerations
Luxury baby bags tend to be more expensive than standard baby bags. This is because they are made from higher quality materials and offer more features than standard baby bags. Mothers do not have to forgo luxury baby bags if they are working with tight budgets. Instead, a mother should consider purchasing a used luxury baby bag. These are often in good condition and available at much lower prices. A bit of extra consideration needs to be taken when shopping for a used luxury baby bag though. A shopper needs to compare the price and the condition of the used baby bag before purchasing it.
Price
Prices for used baby bags should be much lower than those of new baby bags. Shoppers should take the time to see how much baby bags retail for before making a purchase. This allows them to compare the prices to ensure that they are getting the better deals. If the price is too high, a shopper should look for another bag that is more reasonably priced.
Condition
The condition of the baby bag is equally important when shopping for used items. A shopper should make sure that there are no tears on the exterior or on the inner lining and that the strap is intact. Additionally, stains on the outside should be minimal and no mould or mildew should be present on the inside. The price of the baby bag should reflect the condition that it is in. The better the condition the bag is in, the higher the price, and vice versa.
How to Buy a Baby Bag on eBay
Whether you are looking for a new or used luxury baby bag, there is a large selection on eBay.. Listings on eBay are from private sellers, so you can often find lower prices than you would in any retail location. Additionally, the selection of baby bags is much larger than if you limited your search to stores in your immediate area. The key to finding the best deals on luxury baby bags on eBay is knowing how to search for the bag you want and find the best deals.
Searching for a Baby Bag
You can begin your search for a baby bag on eBay by simply typing 'baby bag' into the search bar and searching the entire site for listings that match that query. Since it is impossible to sort through the thousands of listings that the local search engine returns, select different options to narrow them down to a more manageable number. Choose the type, colour, price range, and select different features that you are interested in. Once you have narrowed down the list, begin reading item descriptions and comparing prices to find the luxury baby bag that you like at the price that you can afford.
Conclusion
Luxury baby bags are stylish but offer tremendous amounts of storage space and other features to make changing baby's nappy on the go simple. A baby bag is one of the most important pieces of baby gear that parents invest in upon the arrival of a new baby. These bags are carried everywhere that baby goes. For this reason, it is important that parents take the time to find a bag that really suits their needs. Choosing the right bag can be difficult for parents who are not quite sure what their needs are yet. By taking the time to compare the various styles and features available, they can get a good idea of what it is that they are going to need. Fortunately, there are many styles, designs, and colours available to match anyone's taste, no matter what their needs are. When shopping for a luxury baby bag, shoppers can easily compare bags and find the best deals on eBay..