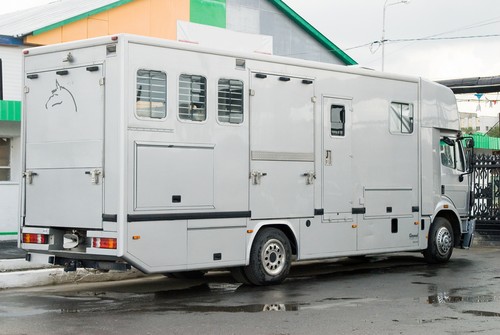 A horse trailer is a necessary piece of equipment for many people who owns horses. Without the trailer, it is impossible to compete in competitions, go trail riding, show the horses, or even get them to the vet sometimes. Unfortunately transporting a horse is not quite as simple as taking a smaller household pet from one place to another. Their size and weight demands a sturdy means of transportation.
Travelling can be stressful on the horse as well as the owner. One way to make the trip more enjoyable is to invest in a luxury horse trailer. The higher-end trailers come with more features such as tack rooms, padded horse stalls, dressing rooms, and possibly even living quarters. Since horse trailers are high-priced items, it is important that owners customise the trailers according to their needs because they could potentially be spending a lot of time in it. In order to find the perfect build and layout, all they need to understand is what all of their options are. It is also necessary to understand the terms associated with horse trailers as well as the different features that shoppers can choose from.
Horse Trailer Glossary
It is a good idea to understand the industry-wide terminology that is associated with horse trailers. Knowing the language of the trade can greatly reduce the stress of the buyer as they speak with sellers and read the trailer descriptions.
| Horse Trailer Term | Horse Trailer Definition |
| --- | --- |
| Collapsible Rear Tack | The rear tack wall is collapsable, making the rear opening of the trailer wider |
| Dressing Room | A room in the trailer that is walled off for changing clothes or storage |
| Front Tack | Tack wall located at the front of the trailer. May also be a dressing room |
| Fully Self-Contained Living Quarters | Living quarters that are walled off and include a generator or electrical hookups |
| | A horse trailer that has the equipment to allow cooking, sleeping, and bathing; may be partial or full living quarters |
| Long Wall | Known as the longest wall in the dressing room or living quarters |
| LQ or LQs | Abbreviation for living quarters |
| Mid-Tack | A separate room between the front room and horse section; usually reaches from one side of the trailer to the other and can be a dressing room, tack room, or storage |
| Moveable Saddle Racks | The saddle racks can be moved around to different location sin the trailer and are not welded in place |
| Permanent Rear Tack | The tack wall location cannot be moved |
| Rear Tack | The tack wall is in the rear of the horse trailer |
| Side Tack | This is similar to the mid-tack, but it does not reach from side to side |
| Short Wall | The shortest side of the dressing room or living area |
| Swing Tack, or Swing Out Tack | The saddle rack swings out to make placing the saddle easier |
| Weekender | Refers to a horse trailer that has only partial living quarters and is not meant for long-term living |
Once a buyer is familiar with the trailer related terms, the next step is to decide which features to look for in a trailer.
Luxury Horse Trailer Features
Choosing a trailer is not as simple as going to a local dealership and picking one out that looks nice. There are dozens of layouts, materials, configurations, and other things to choose from that make a big difference in the end. For example, a bad configuration that does not work well for the owner's lifestyle could become a huge frustration.
It is a good idea to learn about what is available before going to look at any trailers. Otherwise, shoppers may not know if what they are looking at is luxury or just mediocre.
Luxury Horse Trailer Corners
The corners of a horse trailer need to be well built. If one corner is jacked up, it should not flex out, but rather remain even with the other corners. One way to make sure of this is to look at the frame. The trailer should be a unibody, meaning that the body, frame, walls, floors, and roof are all trussed together.
Luxury Horse Trailer Dividers
The dividers that form the stalls are what keep the horses in place. They can be open, barred, slatted, or solid. The solid ones keep the horses more isolated and sometimes more calm because they cannot see what is happening around them. The open, barred, and slated dividers offer more ventilation.
Luxury Horse Trailer Exterior Material
Without a doubt, aluminium trailers are the highest quality because they will still look good 20 years down the road. They are sturdy and lightweight, which makes them ideal for pulling long distances. Other materials include fibreglass and steel. Some trailers are also a combination of materials such as the ones with steel frames and aluminium bodies. Another good option would be the composite trailers with aluminium skin that are a more affordable but still hold up against wear and tear.
Luxury Horse Trailer Floors
There are three floor materials that work well in horse trailers; Wood, ribbed aluminium, and rumber. Wood floors are generally made out of yellow pine, oak, or fir, and they can last a long time if they are cleaned regularly and kept dry. Rumber is a recycled rubber that comes in planks. Because it is softer, it needs more bracing than wood, but it will last almost forever and there is no need for a rubber mat. The only downfall to rumber is that is gets slick when wet, but some people combat this by putting down wood shavings. The aluminium floors are sturdy and have ribs to keep the mats from sliding around.
Luxury Horse Trailer Hitches
Horse trailers can be attached to a truck through a regular hitch or through a gooseneck connection. The bumper-pull trailers are less expensive than gooseneck trailers and they allow the driver to still have access to a truck bed. The only trouble with the bumper-pull system is that they are more prone to swaying on the road and they put a lot of weight onto the bumper of the truck.
Gooseneck trailers on the other hand, reach over the truck bed and attach just above the rear tires. This keeps the trailer at the truck's centre of gravity, making it easier to navigate with them. Unfortunately they are heavier than the bumper-pull trailers, meaning that they use up more petrol. They also take up all of the truck bed space, but sometimes make up for it with extra storage within the trailer.
Luxury Horse Trailer Kick Wall
Since horses tend to kick when they are nervous, it is important to have a reinforced wall behind them. The higher-end, luxury horse trailers also have padding there so that the horses do not hurt themselves.
Luxury Horse Trailer Layout
Choosing the layout is one of the most important parts of the shopping process. There is no such thing as the perfect or ideal layout, because everyone's needs are different. The layout includes the number of stalls and whether or not there is a storage room, tack room, and living quarters. Be sure to look at as many different layouts as possible to get a feel for what is available.
Find Luxury Horse Trailers on eBay
It may come as a shock to some people that they do not have to travel all over town to find a horse trailer. It is actually possible to shop for trailers on websites such as eBay. They feature thousands of sellers with both new and used trailers that buyers can sort through. Some of the sellers may even deliver the trailer if the distance is not too far. However, even if delivery is not offered as an option, buyers can sort the listings based on how far away the trailers are located. This way, you can contact the sellers with the trailers you are interested in and arrange a time to go see it in person, or even pick it up if you choose to purchase right away.
To start looking through what is for sale, just use the eBay search bar that the website provides. Type in "horse trailer" and then click the search button. Now the site will populate a large list of trailers that you can look through. To organise these listings by distance, click on the "sort by" drown-down box and then select "distance: nearest first". Now you can begin comparing the trailers, their features, and communicating with the sellers nearby.
Conclusion
Luxury horse trailers give owners the ability to proudly go wherever they need to with their beloved horses, while still remaining comfortable. Well-built stalls, a comfortable layout, and cosy living quarters can turn a tedious trip into a fun vacation. The decision to purchase a horse trailer is a big one. It requires a large investment as well as a lot of time trying to figure out where to purchase one and what kinds of features to look for.
To make things easier, buyers need to start with the basics. First, choose the number of stalls needed as well as whether there should be a tack room and living quarters. Then move on to select the other details such as the type of hitch, flooring, and exterior materials. Lastly, keep the details in mind and go shopping online before travelling all over the country. Taking the process in organised strides reduces the amount of stress and frustration that can come up when people just dive in head first.