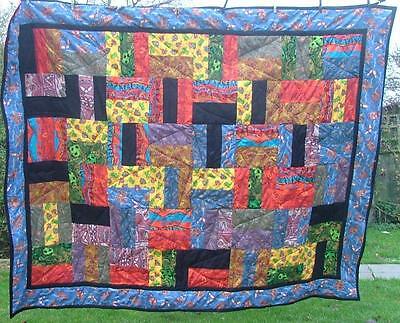 MAKING YOUR FIRST FAT QUARTER QUILT
I have a number of people ask me about making a first quilt using fat quarters so I thought a quick E-Bay Guide to the process might be helpful.
WHAT IS A FAT QUARTER?
See my first Guide which explains what a fat quarter or FQ is.
BUYING THE RIGHT PATTERN
There are lots of books and patterns based on Fat Quarters, some are easier than others. I have bought all the following from the US on EBay and they are so simple yet give a good effect finished quilt top.
I do not sell quilt patterns and have no links with any of the designers.
TURNING TWENTY, designed by Tricia Cribbs, FriendFolks

This is their basic design, there are more complicated ones based on this design but stick with the basic Turning Twenty to begin with. It takes 20 fat quarters with 2 yds of extra fabric for the optional outer border and binding. The instructions are very clear with the pattern blocks in colour and the booklet gives pictures of a number of quilts made to the same pattern. The finished quilt will be 70 by 86 or 82 by 96inches if you use the optional border. I have made at least 6 quilts with this pattern, all with the optional border.

PIECE IT TONIGHT, designed by Cyndi Berg, Rainbow Creations

Ignore the rather unlovely picture on the front of this pattern; it looks much nicer in real life. There are instructions for making up 3 sizes of quilt,; 46 by 55 inches using 7 fat quarters, 46 by 62 inches using 9 fqs, 68 by 86 inches using 16 fqs, plus more fabric for borders and binding. I have made quilts for 5 children using the middle size and one in the largest size which is pictured at the top of this guide. You can see a pink quilt I made in this pattern on my ME page.

5 and DIME, designed by All Washed Up

Probably the quickest of all to cut out, this pattern covers in 2 sizes; 43 by 60 inches (which takes 6fqs and 1 and seven eighths yds focus fabric) and 60 by 81 inches (11 fqs and 2 and a half yards focus fabric). This pattern alternates strips cut from the fat quarters with solid bands of the focus fabric. I have made 3 quilts from this pattern including one for a chocolate lover where all the fqs were chocolates or sweets and the focus fabric was a milk chocolate brown.


All these patterns have clear instructions and diagrams. They will lead you through the whole process from start to finish.

If you have another pattern that you would like to recommend for a beginner then please let me know and I can add it to the list.
TOOLS YOU WILL NEED
CUTTING OUT: you will need a 45mm rotary cutter, a cutting mat which is bigger than 18 by 22 inches and a 24 inches long quilting ruler.
SEWING: a basic sewing machine. You could sew the strips together by hand but it is boring and the fun of a quick fat quarter quilt is that you can make one in a few hours on the simplest sewing machine.
FABRIC
The fun part is picking the fabric - this is what will make your quilt original.
Do you want a theme like space, holidays, underwater or Disney characters? A recent 'Turning Twenty' I made for a friend had flowers to match her bedroom and lots of teddy bears.
Sometimes it takes a while to collect enough fqs that are right for the vision you have but it is amazing just how may different fabrics there are around and with EBay the world of fabric is at your finger tips.
I like to put plain colours into my quilts to offset the busyness of lots of patterned fabrics: plain black added to the bright Australian fabrics for my daughter's quilt made the whole thing really zing. You can see this quilt in the photo on this guide (it is now living in Brisbane).
WARNING
Once you have made a quilt then there will be no stopping, it is addictive. Look at me, I started out buying fabric for a couple of projects and woke up one day to find that I had 2 rooms full of fabric that I hadn't been able to resist.
Happy Sewing.