THIS PAGE IS WHERE I CAN SHARE WITH OTHER EBAYERS, MY ENJOYMENT IN THIS NEW-FOUND WAY OF MAKING OUR RETIREMENT LIFE MORE PLEASANT AND WORTHWHILE. I HAVE FOUND THAT BY JOINING EBAY, I AND MY HUSBAND CAN MAKE OUR HOBBY MORE INTERESTING AND REWARDING IN LOTS OF WAYS. AS YOU WILL SEE, WE LOVE TO FIND OLD AND INTERESTING CLOCKS OF ALL MAKES AND STYLES. I AM ILLUSTRATING SOME OF THE MORE INTERESTING ONES THAT WE HAVE COME ACROSS RECENTLY.
vienna wall clocks these lovely old clocks are stunning and magnificent and sure to be a talking point when visitors call round! This first one is presently being listed and is by Marke Schutz & Co. It is a double weight Vienna and has German striking mechanism. The top pediment is adorned with 3 horse figures. The second Vienna wall clock shown is no longer for sale but is more easily available, being spring driven and these are a bit less costly than the weighted style of Vienna wall clock. The favourite of collectors are the clocks manufactured by Gustav Becker and these are well sought after by clock collectors all over the world. You will find other Viennas with Eagle figures and different styles of pediment are coming onto the market. Mostly these pediments get damaged or lost over the years but they can be replaced and you can choose the figures that suit your liking. I can recommend 'Old and New Times' of Kirton near Boston, who can supply all types of professionally made, high quality replacement Vienna clock pediments, finials and figures. You can find their shop pages on Ebay.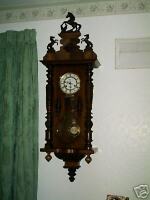 These are rare Automaton Fountain clocks. the first is by Hamberg American Clock Company. It has two mechanisms. One for the timepiece and a second for the moving glass fountain, made from barley twist glass. I recently sold this on Ebay. I have now found a second, similar clock which I have running at home at the moment.

.


This is aother rare find! An Oriental clock set which I have listed at present. It is very colourful and most unusual. I would be interested to find out more about it, if anyone can enlighten me?
IF YOU ARE LIKE US, YOU CANNOT RESIST A BARGAIN OR SOMETHING UNUSUAL AND COLLECTABLE, THE PROBLEM IS THAT EVENTUALLY COLLECTING OVERTAKES YOUR LIVING SPACE AND SOMETHING HAS TO GO!
FOR MANY YEARS I PERSONALLY HAVE COLLECTED ALL SORTS OF KNICK-KNACKS AND STOOD HOURS ON END AT BOOT SALES HAVING ANOTHER GOOD OLD CLEAR OUT OF CLUTTER! ONLY TO GO ROUND THE STALLS AND END UP TAKING HOME JUST AS MUCH CLUTTER AS I STARTED OUT WITH!
NOW, MOST OF OUR COLLECTING COMES FROM VISITING AUCTIONS SALES, ANTIQUES CENTRES AND SHOPS. BROWSING EBAY PAGES FOR THE UNUSUAL ITEMS AND VISITING THE NUMEROUS CHARITY SHOPS IN HOLIDAY TOWNS AND SURROUNDING AREAS ON OUR TRAVELS.
NO MORE BOOT SALES NOW THAT I HAVE FOUND EBAY! WHAT A GODSEND TO OTHERS LIKE OURSELVES, IN OUR LATER YEARS, NOT SO ABLE TO BE OUT AND ABOUT, STANDING IN THE MIDDLE OF A LARGE FIELD, IN ALL WEATHERS, WITH OTHER HOPEFUL SELLERS OF BITS AND BOBS!
I AND MY HUSBAND ARE DRAWN TOWARDS OLD AND UNUSUAL MECHANICAL CLOCKS OF ALL DESCRIPTIONS, MY HUSBAND HAS TAKEN UP THE HOBBY OF CLOCK RESTORATION AND REPAIR. BETWEEN US WE HAVE FOUND MANY INTERESTING AND UNUSUAL OLD MANTLE CLOCKS, WALL CLOCKS, MARBLE/SLATE MANTLE CLOCKS, FRENCH MANTLE CLOCKS AND VIENNA WALL CLOCKS, NOT TO MENTION THE ODD GRANDFATHER CLOCK OR TWO.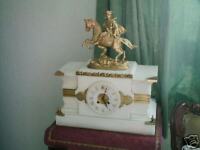 These are French mantle clocks that both have a delicate bell chime. I have not seen many pure white marble clocks, not to be confused with white onyx or alabaster clocks, this one is very, very heavy and has now found a new home. The beautiful french gilt and enamelled clock will be listed shortly and has a lovely painted picture on the front.
EVENTUALLY, PEOPLE GET TO KNOW WHAT YOU ARE COLLECTING AND LIKELY TO BUY AND WORD GETS ROUND AND YOU FIND THAT PEOPLE WILL COME UP TO YOU AT A SALE OR CONTACT YOU AT HOME TO LET YOU KNOW THAT THEY HAVE FOUND SOMETHING THAT YOU MAY LIKE, OR AT AN OPEN AIR MARKET WHERE THEY HAVE SPOTTED AN OLD CLOCK ON A BRIC-A-BRAC STALL AND COME UP TO YOU AND LET YOU KNOW. AND SO IT GOES ON, MANY FRIENDS CAN BE MADE IN THIS WAY AND THEY WILL ALWAYS BE ON THE LOOK-OUT FOR ITEMS, ONCE YOU GET TO KNOW THEM. OF COURSE, YOU CAN DO THE SAME FOR OTHERS, AS WE DO ALSO.
EVENTUALLY, WHEN THERE IS NOT TOO MUCH ROOM TO 'SWING' THE PROVERBIAL 'CAT' ROUND IN OUR HOME, THEN EBAY COMES TO THE RESCUE! WE CAN THEN HELP SOME OTHERS IN THEIR COLLECTING, BY PASSING ON OUR FINDS. AND SO IT GOES ON!
WHEN WE ARE OUT AND ABOUT, I PERSONALLY SEEM TO GO FOR THE SMALLER, UNUSUAL VINTAGE COLLECTABLE ITEMS SUCH AS BADGES, SILVER AND SILVER PLATE SMALL ITEMS, PENCIL HOLDERS, POCKET WATCHES AND CHAINS, JEWELLERY, UNUSUAL ORNAMENTS, TOO MANY TO MENTION BUT HERE ARE A FEW THAT I HAVE FOUND RECENTLY AND HAVE SOLD OR AM SELLING ON EBAY'S VINTAGE AND COLLECTABLE SITES. search here for Ebay's collectables

THIS IS A WONDERFUL WAY TO PASS YOUR RETIREMENT YEARS AND PERFECT WAY TO MEET NEW FRIENDS WITH SAME INTERESTS AND HOBBIES. EBAY BRINGS THE WORLD TOGETHER! INTERNATIONAL BUYING/SELLING JUST A 'CLICK' AWAY ON EBAY! I NOW HAVE EBAY FRIENDS ALL OVER THE WORLD - U.S.A, CANADA, MALAYSIA, JAPAN, KOREA, THAILAND, MOST OF EUROPE, IRELAND, JUST TO MENTION A FEW, AND OF COURSE, LOTS OF NEW FRIENDS IN U.K!
IF YOU HAVE AN OLD AND INTERESTING CLOCK THAT HAS SEEN BETTER DAYS, DON'T DESPAIR OR GIVE UP ON IT, JUST GET IN TOUCH OR SEND A PICTURE AND LET US KNOW WHAT IS GOING WRONG WITH IT AND MAYBE WE CAN GIVE SOME HELPFUL ADVICE OR HELP YOU TO GET IT WORKING AGAIN. EVEN IF YOU JUST WANT TO KNOW SOMETHING ABOUT THE HISTORY OF THE MAKER ETC. MAYBE WE CAN HELP. WE ARE NOT CLOCK EXPERTS, BUT HAVE LOTS OF BOOKS ABOUT CLOCKS AND THEIR MAKERS AND WILL HELP IF WE CAN OR WOULD PUT YOU IN TOUCH WITH CLOCK SPARES SUPPLIERS, WHO MAY HAVE WHAT YOU NEED.
ALSO, IF YOU ARE LOOKING FOR ANY PARTICULAR TYPE OF CLOCK, MAYBE WE CAN HELP YOU FIND WHAT YOU ARE LOOKING FOR OR PUT YOU IN TOUCH WITH ANOTHER CLOCK COLLECTOR OR YOU MIGHT TRY THESE EBAY PAGES find mantle clocks/wall clocks
THANKYOU FOR TAKING THE TIME TO READ MY GUIDE. I HOPE IT HAS BEEN INTERESTING AND THANKYOU TO THOSE OF YOU WHO HAVE TAKEN TIME TO GET IN TOUCH FOR ADVICE OR JUST TO COMMENT ABOUT MY PAGE.
THERE IS A NEW AUCTION SITE ABOUT TO START UP SOON AND THIS IS getitorsellit.com and I use the same ID on this website, if you wish to take a look. It is free to sell and buy whilst the site is starting up and they are looking for new Sellers and Buyers, so why not try it out.
THANKYOU.
cairo_mummy