Steven Pienaar LE now available - Lots more exclusive info on footballcardsforum! Limited Editions for Match Attax 2010 / 2011 revealed and where to find them!
All the information in this Match Attax 2010 / 2011 Season guide including hi-res images of Limited Editions when they become available and much more can be found in my Football Cards Forum (now over 2250 members). Click here for 'me' page and find link to forum
If you find this guide useful I'd appreciate some 'yes' votes, please click on the vote button at the bottom of the guide. Many thanks.
This guide will be updated with all the very latest Match Attax 2010 / 2011 info, including where to find the Limited Editions. Everything Included within this guide will be facts not guesswork (unlike some guides!) unless I state clearly otherwise.
**** MEGA TIN ****
Topps have announced a new Mega Tin which will contain 100 Packets at £50 it's only for the serious collectors!
**** 101 CARD ****
Wayne Rooney! - Win one on Footballcardsforum!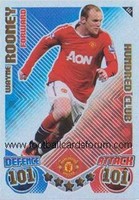 other 100 Clubs:
Cesc Fabregas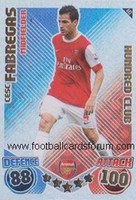 Petr Cech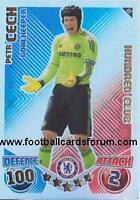 Rio Ferdinand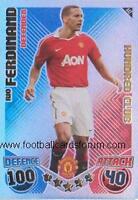 **** LIMITED EDITION INFO****
Tim Cahill - Morrisons bumper packs
Andrey Arshavin - Collectors Tin
Didier Drogba - Starter Pack


Nemanja Vidic - Independent Retail Outlets - Win one on Footballcardsforum!


Jermain Defoe - Collectors Guide


Steven Pienaar - Match Magazine (7th December)



Club badges in special 7 card packs for limited period from:

WH Smith
Martin McColls
Asda
Tesco
One Stop
Entertainer

****MORE PRE RELEASE DETAILS****
Referee Card introduced, reduces oposition score by 5
Club Badges introduced
New Match Attax live game to be introduced
Back are definately Green
****CESC FABREGAS 100 CLUB PICTURE AND DETAILS****
Cesc Fabregas has been revealed as one of the new 100 Clubs - Exclusive picture on footballcardsforum!
****RELEASE DATE FOR MATCH ATTAX 2010 / 2011 ****
Looks likely to be the 7th of October, however it could be before if is anything like last seasons set which was being sold as early as 3rd October (over a week before the official launch).
Update: defiantely 30th September
****VARIOUS IMAGES****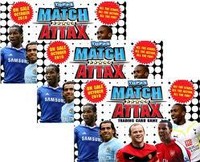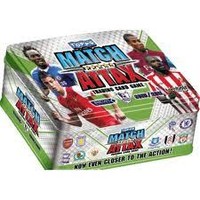 ****KICK MAGAZINE INFO****
Rio Ferdinand is a Hundred Club.
Kevin Nolan is a MOTM card. Scott Parker is Star player & no i-card code on the front either.
Martin Petrov card says 'star signing'.
The Ashley Young card says 'showboat curling crosses' (whatever that means??)
The Joe Cole card says 'showboat thunderbolt volley'
The cards are numbered in the top right hand corner.
The Mick McCarthy card is numbered 464 - so definitley well in excess of 450 cards.
There were also pictures of Hangelaand & Alan Smith cards.
****PRE RELEASE RUMOURS****
The new series of Match Attax cards 10/11 ( 2010 / 2011 ) will be available on the 31st September
The colour scheme has yet to be decided but Green looks to be the favorite at the moment.
New game play will be added to the new cards (details to be added once confirmed).
Prices will stay at 50p per booster pack. No news if more cards will be in the packs. Tins, Starter Pack prices will remain the same.
Details of where the Limited Editions can be found will be published on this guide and on the site linked to on my 'Me' page as soon as they are published.

For lots more info and chat on the busiest Match Attax forum use the link on my 'Me' page . Click on the 'Me' symbol next to my member id on the right of this review.
If you have found this guide useful please click on the vote button below. Many thanks.