ME TO YOU ITEMS ARE HIGHLY COLLECTABLE, AND MAKE GREAT GIFTS. THIS GUIDE GIVES INFORMATION ON THE FIGURINES, PORCELAIN ITEMS AND OTHER RANGES AVAILABLE. FOR INFORMATION ON THE PLUSH BEARS, PLEASE SEE MY OTHER GUIDE, ME TO YOU BEARS - A BUYERS GUIDE PART 1. OR FOR INFORMATION ON LIMITED EDITION BEARS, SEE MY GUIDE, ME TO YOU NEARS, A BUYERS GUIDE PART 3.
THERE ARE MANY RANGES AVAILABLE, INCLUDING FIGURINES. THESE ARE HIGHLY COLLECTABLE, ESPECIALLY IF LIMITED EDITION, OR RETIRED. RETIRED MEANS THEY ARE NO LONGER AVAILABLE IN THE SHOPS. SOME EXAMPLES OF THE FIGURINES AVAILABLE ARE SHOWN BELOW: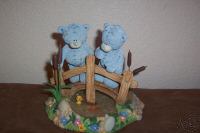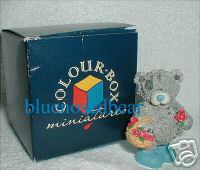 IF A FIGURINE COMES WITH ITS ORIGINAL BOX AND CERTIFICATE OF AUTHENTICITY, THIS WILL ADD TO ITS VALUE.
THE FIGURINES ARE USUALLY SOMEWHERE BETWEEN 10 - 16 cm TALL.
THERE ARE ALSO CHINA AND PORCELAIN ITEMS AVAILABLE, SUCH AS CUPS AND MUGS. THESE ARE AVAILABLE PERSONALISED, OR FOR SPECIAL OCCASIONS, eg 21ST BIRTHDAY.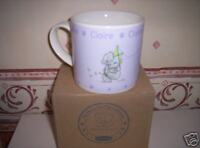 AGAIN, IF THESE COME WITH AN ORIGINAL BOX, IT ADDS TO THEIR VALUE.
THERE ARE ALSO VARIOUS RANGES OF STATIONARY AVAILABLE, SUCH AS DIARIES, PARTY INVITATIONS, AND, OF COURSE, CARDS. THESE ARE ALSO COLLECTABLE, AS LONG AS THEY ARE UN-USED.
PLEASE SEE MY OTHER GUIDES ON ME TO YOU BEARS, FOR INFORMATION ON PLUSH AND LIMITED EDITION BEARS.