ME TO YOU BEARS ARE VERY COLLECTABLE, AND MAKE GREAT GIFTS. WHETHER YOU ARE BUYING FOR YOURSELF, AS A GIFT FOR SOMEONE, OR ARE PLANNING ON STARTING A COLLECTION, THIS GUIDE SHOULD HELP.
THE PLUSH ME TO YOU BEARS COME IN A RANGE OF SIZES, SMALL, MEDIUM, LARGE AND EXTRA LARGE.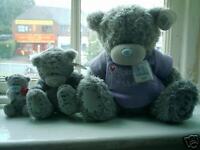 THE APPROXIMATE MEASURMENTS OF EACH SIZE OF BEAR ARE:
SMALL: 10 INCHES
MEDIUM: 18 INCHES
LARGE: 25 INCHES
EXTRA LARGE: 36 INCHES
THE BEARS COME IN MANY DIFFERENT STYLES FOR DIFFERENT OCCASSIONS. THEY CAN BE CLOTHED, UN-CLOTHED, OR PERSONALISED, eg. SPECIAL MUM.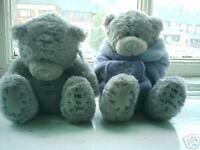 SOME OF THE BEARS ALSO COME WITH A SMALL BOOK CALLED 'THE STORY OF ME TO YOU' ATTACHED AROUND THEIR NECK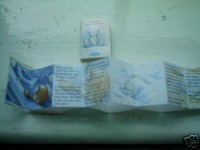 IF THIS IS INCLUDED, IT ADDS TO THEIR VALUE.
THE MEDIUM SIZED BEARS ARE ALSO AVAILABLE IN STANDS FOR SPECIAL OCCASIONS
THESE BEARS, WHEN IN THE STANDS, MAKE GREAT GIFTS, AND ARE MORE DESIRABLE TO COLLECTORS.
THERE ARE ALSO BROWN TATTY TEDDYS AVAILABLE, WHICH ARE QUITE RARE. THE STORY OF ME TO YOU STATES THAT THE TEDDY WAS ORIGINALLY BROWN, BUT WAS LEFT OUT IN THE COLD, WHICH TURNED HIS FUR GREY, AND HIS NOSE BLUE.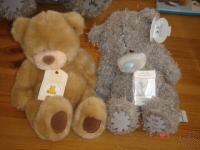 WHETHER YOU ARE BUYING TO COLLECT OR RE-SELL, THE BEARS WILL HAVE MORE VALUE IF THE TAGS ARE STILL ATTACHED WITHOUT MARKINGS.
IF A BEAR IS LISTED AS 'RETIRED', WHICH MEANS THEY ARE NO LONGER AVAILABLE IN THE SHOPS, CHECK THE OFFICIAL WEBSITE BEFORE PAYING HIGH AMOUNTS, AS MANY ARE STILL AVAILABLE IN THE SHOPS
I HAVE MORE GUIDES ON ME TO YOU BEARS, INCLUDING INFORMATION ON LIMITED EDITION BEARS,ME TO YOU FIGURINES, AND OTHER PRODUCTS IN THE ME TO YOU RANGE. PLEASE SEE THESE GUIDES FOR MORE INFORMATION:
http://reviews.ebay.co.uk/ME-TO-YOU-BEARS-A-BUYERS-GUIDE-PART-2_W0QQugidZ10000000000969278
http://reviews.ebay.co.uk/ME-TO-YOU-BEARS-A-BUYERS-GUIDE-PART-3_W0QQugidZ10000000000969335
IF YOU HAVE FOUND THIS GUIDE HELPFUL, PLEASE VOTE BELOW, SO I KNOW I'M NOT WASTING MY TIME. THANKS.