MELOS Tape-based Echo Chamber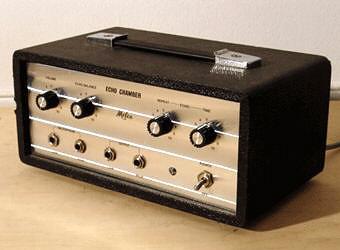 The MELOS Echo Chamber uses tapes to create echos - there is only one tape head and the tape is a long loop inside a cassette rather like the old BETAMAX video tapes - the point being that the tape rotates quite fast and if there was only a small loop the tape would soon wear out.
The unit is solid construction with a carry handle,textured black finish and anodised facia. There are two inputs and two outputs for low and high impedance respectively and 4 controls for input level,balance between signal and echo,the number of repeats and the time delay between echoes.
A footswitch control hidden in the rear allows bypassing - and is also where the fuse and cassette are stored and the mains cable should you wish to move it around,so it is not bad for gigging.
The benefit of these units is that they tend to have a long delay time compared with analogue delays or digital delay units,although modern units seem to be able to provide quite long discrete echoes and the MELOS unit is really a piece of history - perhaps a collectors item which is why they seem to be fetching about £80 on Ebay.
May also masquerade as the Univox EC80 Jedsen EM150.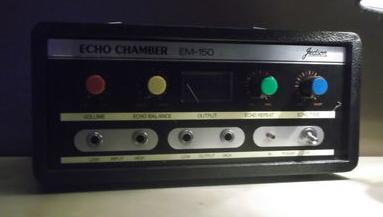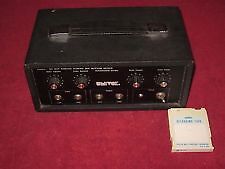 Good points: Good solid construction,is unlikely to be harmed if subject to stage use.Nice easy smooth controls and long delay times (which actually you can make longer if you open it up and adjust the presets) and impedance matching help when using microphones or keyboards to get the sound level matched to your mixer or amplifier. There is good signal to noise ratio compared to other systems and seems less noisy than BBD units such as the E444 which is also reviewed by myself.
Niggles: A tape based system means that inevitably the tapes will wear out and getting hold of them is a problem, which is why the price on Ebay maybe extortionate.