MG Cars - Part 1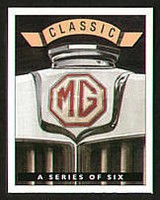 This is one of many illustrated classic car guides I've created for the community. I hope you enjoy it. If you wish to find out more about the classic MG car art featured in this guide please click here.
This guide celebrates the classic modern MG models.
MG Magnette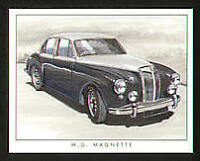 Launched in 1953 the M.G. Magnette was the first MG saloon to be built following the formation of the British Motor Corporation. Sharing body pressings with the Wolseley 4/44, it was powered by a new 1,489cc. BMC engine, which untuned produced approximately 60bhp and gave the car a top speed of 80mph. The Magnette saloon showed its paces in international rallying and production-car racing and within two years of the launch MG were building six ZA saloons to every one TF two-seater. The ZB appeared in 1956 and with an increased output of 68bhp, 90mph (145km/h) was achievable with 0-60mph (0-96km/h) taking 18.5 seconds. 12,754 ZAs and 23,846 ZBs were built before being dropped in favour of the Cowley built Farina-designed Magnette Mk3.
MG MGA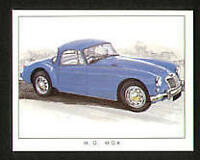 The MGA introduced in 1955 did much to restore the marques' sporting reputation. It was essentially an all-new design featuring full width bodywork mounted on a substantial separate chassis. Low slung and aerodynamic, the general road-holding was excellent with high speed cornering being very positive via the rack and pinion steering. Fitted initially with a BMC 1,489cc (81cu.in) ohv engine, the top speed was 98mph (158km/h). Later cars were 1,588cc (97cu.in) and 1,622cc (99cu.in) but the hottest MGA of them all was the Twin-cam appearing in 1959, capable of 115mph (185km/h). Due to continual service problems it was discontinued in 1960; only 2,111 being built, making it the most desirable model. Over 100,000 MGAs were built before giving way to the MGB in 1962.
MG MGB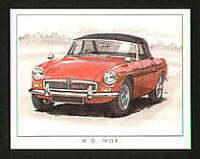 Representing a natural progression along traditional lines, the MGB made its debut in 1962 and although it was not the leap into the future some had hoped for, the new model was well received. Chief departure from previous MG practice was a monocoque construction with an integral body/chassis forming an immensely rigid structure. The familiar B-series engine was employed but was now bored out to 1,798cc (110cu.in) raising output to 95BHP at 5,400rpm. 0-60km/h (0-96km/h) took 12.2 seconds with a top speed of 105mph (169km/h). By comparison to the MGA, there was greater comfort and space for the driver and passengers, more comprehensive instruments and winding windows. Over 500,000 examples make it Britain's most successful sports car.
MG Midget
Introduced in June 1961 and produced for eighteen years, the M.G. Midget was a car that recaptured some of the charm that was so endearing in the pre-war M.G. models. From the outset a runaway success, it offered fun motoring on a budget and for many an introduction to the sports car scene. Early Midgets were fitted with 948cc (58cu.in) capacity engines, but these were soon replaced by the Minor-type 1,098cc (67cu.in) unit (Mark one and a half). The Mark 2 from March 1964 used a similar, but substantially redesigned 1,098cc engine and from October 1966 Mark 3 cars used a completely redesigned (but still A-series) unit of 1,275cc (78cu.in). The last Midgets built between October 1974 and November 1979 used a Triumph 1,500cc (91cu.in) engine.
MG TF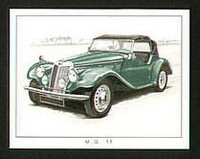 To many people the T-series MGS are the classic example of the marque. Last of the line, the TF, was built between October 1953 and May 1955 and represented a swift but masterly "facelift" of the TD model for the 1953 Motor Show. Lower and sleeker, it sported a slanting imitation radiator with dummy cap and headlights mounted directly into the wings. Initially fitted with a 1,250cc (76cu.in) engine, this was later replaced by the 1,500cc (91cu.in) XPEG unit which BMC had just developed for Magnette saloons and as a result top speed was increased to about 90mph (145km/h). Only 9,600 TFs were built before being discontinued to make way for the new shape MGA. By the end of production, a total 52,649 M.G. T-series cars had been produced.
MG MGC
The MGC was proudly announced at the 1967 Motor Show as a larger engined alternative to the MGB. Using a re-designed version of the familiar BMC six-cylinder C series engine, the three-litre MGC offered a good deal more performance than it's four cylinder brother. With this larger engine almost 120mph (193km/h) was possible and the 0-60mph dash (0-96km/h) was now around the 10 seconds mark. On the road the MGC was virtually indistinguishable from the MGB. The give aways were the bulge on the bonnet accommodating the necessity of a larger radiator, and 15" instead of 14" road wheels. Failing to sell respectable numbers, the model was discontinued in the August of 1969 after only 8,999 had been built. Of this total 4,542 were tourers and 4,457 GTs.
Thank you for reading my guide and I hope you found it interesting!