MG Midget 1500 Mk5 (1974-1979)
This is one of many illustrated classic car guides I've created for the community. I hope you enjoy it. If you wish to find out more about the classic Spridget car art featured in this guide please click here.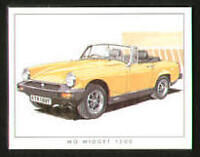 To continue selling the Midget in its major market, North America, some major revisions were necessary to the car in the year 1974. BL decided to equip the Midget with the Triumph Spitfire engine coupled to a Marina-derived gearbox with synchromesh on all four forward speeds. To meet low-speed impact regulations, large energy-absorbing bumpers in black polyurethane replaced the slender chrome, earning the car nickname "rubber-bumpered" Midget. There was also a revision to square wheelarches as the round wheelarches of the 1971-1972 cars were found not to provide such good resistance to rear-end impact damage.
If you would like to see more guides on classic Spridget cars please click!
Thank you for reading my guide and I hope you found it interesting!