Information
The Purpose of this guide is to allow you to use a MG Rover 2 button fob case to replace your worn 3 button fob case. The third button actuator is present but hidden. With a little bit of cutting you can use your old 3 button PCB board in the 2 Button Case.

As the 3 Button Fob cases are in short supply.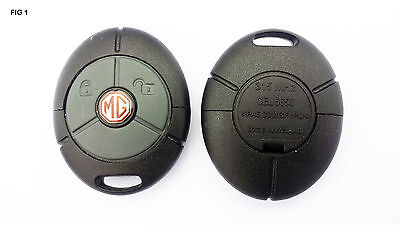 Fig 1
Shows the front of the case with the MG Logo and two buttons—one with locked symbol and the other unlocked.

Note the Blank button area below where the third button (boot) would normally be.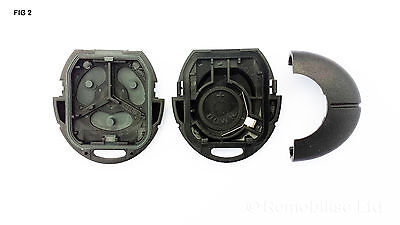 Fig 2
Stripping the case down (look at our other guide) you can see the three separate pieces that make up the whole Fob. You can see the third button post now visible.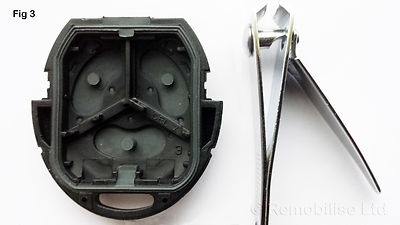 Fig 3
Looking close at the inside you can see that there are three buttons visible - the lower one (one to cut) is longer than the others as it has not been cut to size. Carefully check the size of the other buttons before you cut. Better to cut it too long (can remove some) rather than too short!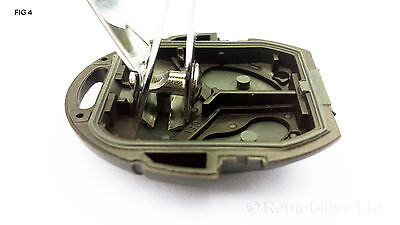 Fig 4
Utilising nail clippers or similar you can remove a small section at a time, till you get to the length you require.

Remember you cannot put it back so do NOT remove too much.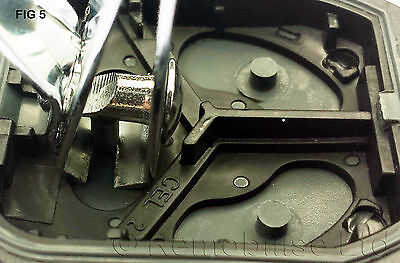 Fig 5
When done carefully replace the pcb board and check operation
Note: We will not exchange fobs if the button has been cut too SHORT!

Take care when reducing the third button size.
T4 Programming Available including Calibration & Matching
________________________________________________________________

We accept no responsibility for any damage however caused - this guide is made available on the understanding that is only a guide and any works carried out using it are at your own liability. You can only use this guide if you accept this.

MG2B01 Guide by Remobilise Ltd © 2014 Tel 01792 896404