I am writing this guide in response to requests for information about these 2 knitting machines. They were sold under various names throughout the world - Knitmaster, Silver Reed, Studio, Empisal and Singer
The MK70 was introduced into UK by Knitmaster in the winter of 1980. It was called The Compact Knitting Machine but quickly became known by machine knitters as the Folding Machine.
It was manufactured with a hinged plastic needlebed, a collapsable Auto Tension, and the whole machine could be folded into the rigid plastic carrying case supplied, to look just like a sewing machine. It was an 18 stitch repeat punchcard machine with 160 needles. The needles were set further apart than the standard machine and had a larger needle hook. This meant the MK70 knitted DK weight yarn easily. Though you could knit 4ply on about tension 4 or 5. The needles were hidden under metal and plastic 'sheaths' when not in use. The basic punchcard set consisted of only 5 cards. Accessories and tools were not interchangeable with other machines. Knitmaster sold several garment pattern books, a stitch pattern book, Linker ( SC7 ), and the KR5 and KR6 Knitradars could be attached if you added a MK70 fixing plate.
The advertising literature of the day states ' The machine is light and easy to use, the actual pattern row being knitted is visable to the knitter. It knits stocking stitch, fairisle, tuck and slip stitch.'
To pattern one just turned the cam lever to the required stitch pattern and the side levers were moved automatically. It did NOT have a ribbing attachment.
The HK160 ( The Handknitter ) was the next machine in the series. The carrying case + 'fish tank' + special collapsable Auto Tension were no longer included. Metal plates were screwed onto the base to make the plastic needlebed rigid, and a special metal holder fitted into the hole at the back of needlbed to take normal BTAU. The machine was sold in a cardboard box.
Apart from the items above the machines are basically the same.
It was a pity that production seems to have stopped after a few years. It was the only punchcard machine which knitted double knitting weight yarn easily.
Recently an eBayer asked me to provide a picture of a page in the parts catalogue for these machines. Here is a photo showing the various brushes. If it is not clear enough then please email me and I'll forward it as an attachment to you. ( I'm better using a knitting machine than a computer and photo softwear! )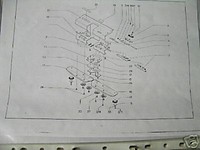 Kind regards
Winifred Sheath
PS. I have spares+accessories for the MK70+HK160 . Please click here to go my shop.
I'd be grateful if you could vote if you found this guide useful. If you have any questions - then please email me. I am happy to help.