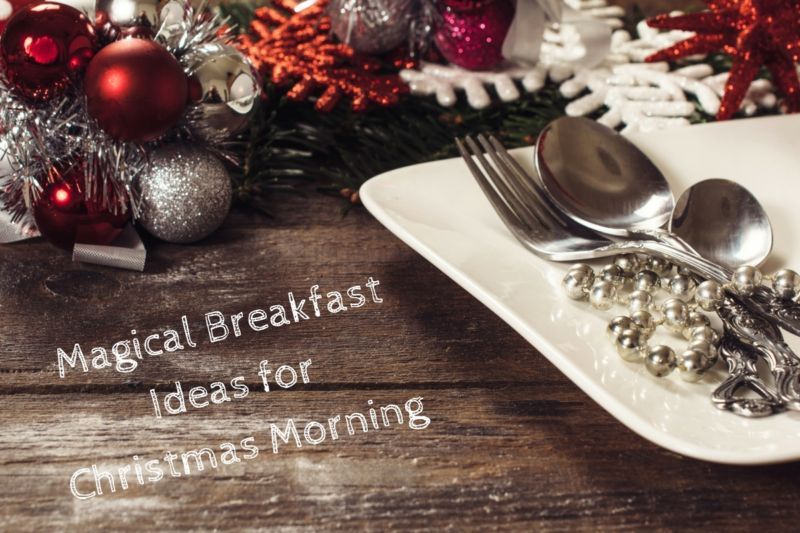 Is there anything more magical than Christmas morning?

Everyone has their favourite recollections of Christmas past. This year, take the opportunity to create lasting memories with your children by making breakfast a magical moment. Allow them to have food they normally would not eat for breakfast, such as hot chocolate and candy canes. Or, take a traditional breakfast food and transform it into something extraordinary for this special day!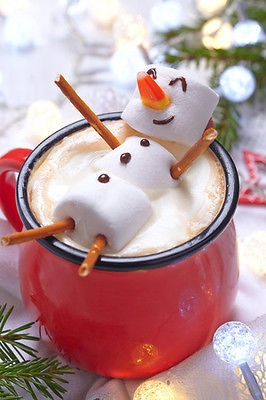 Hot Chocolate
Is it really Christmas without hot chocolate? Hot chocolate is the best way to stay warm on a cold, snowy day.
If your family is anything like mine, there is no time to eat breakfast before checking the tree to see what Santa left under the tree. While the food might have to wait, hot chocolate is the perfect companion for unwrapping gifts!
Check out this
Candy Cane Hot Chocolate
that I made last year that was a huge hit with my kids!
You can also make adorable snowman hot chocolate by using regular sized marshmallows, pretzel sticks, and melted chocolate chips.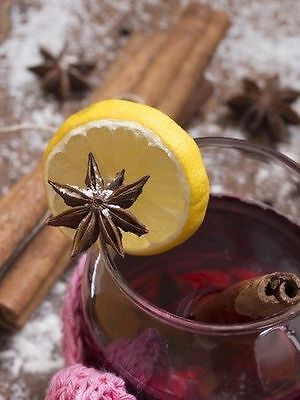 Chai Spiced Tea
Perhaps hot chocolate isn't your thing! Instead, make a mug of Chai Spiced Tea to warm you up while you enjoy your Christmas morning. You can buy a box of Chai Tea or open your spice cabinet and make your own. Here's how to make homemade Chai Spiced Tea:
Ingredients:
2 teaspoons ground ginger
1 teaspoon ground allspice
2 teaspoons ground cardamom
3 teaspoons ground cinnamon
1/2 teaspoon ground cloves
1/2 teaspoon ground nutmeg
Sugar or sweetener to taste (optional)
Milk to taste (optional)
Black tea
Directions:
Mix spices together and store in an air tight container.
Add 1 tablespoon of mix to 8 ounces of hot black tea. Add milk to taste.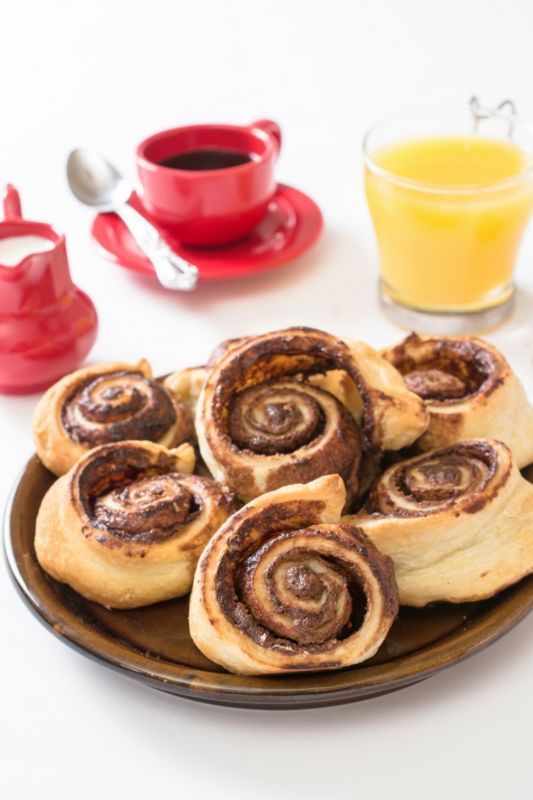 Cinnamon Rolls
My family's favourite breakfast consists of Cinnamon Rolls and bacon! Here's how to make delicious Cinnamon Rolls:
Ingredients for Dough:
2 packages yeast
2 cups warm water (approximately 40 degrees C.)
1 teaspoon salt
1/3 sugar
1/2 cup melted and cooled butter
1 egg
6 cups flour
Ingredients for Filling:
1/4 cup melted butter
2 tablespoons cinnamon
1/2 cup brown sugar
Ingredients for Icing:
4 tablespoons soft butter
3 tablespoons soft cream cheese
3/4 cup powdered sugar
1/2 teaspoon vanilla
Directions:
Dissolve yeast and sugar in the warm water and let sit for 15 minutes.
Add flour, salt, and egg to yeast mixture. Mix until well combined. Cover and let sit until doubled in size, approximately 1 hour.
On a floured surface, roll dough out in a rectangle about 1/2 inch thick.
Mix ingredients for filling and brush onto dough.
Roll dough up into a log. Slice 1/2 inch thick. Place rolls snugly into heavily greased pan. Let dough rise until doubled, approximately 1 hour.
Bake at 175 degrees F. for 30-35 minutes.
Mix ingredients for icing. Ice cinnamon rolls as soon as they come out of the oven.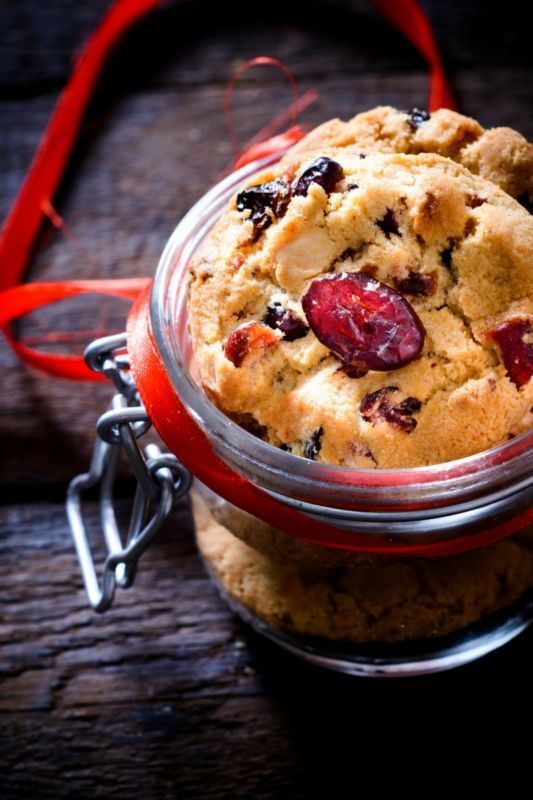 Cranberry Orange Muffins
This recipe for Cranberry Orange Muffins yields approximately 12 muffins. Make these using paper cupcake liners in a muffin tin, silicone baking cups, or 1/2 pint
Mason jars
.
Here's how to make Cranberry Orange Muffins:
Ingredients:
2 cups flour
1 teaspoon baking powder
1/2 teaspoon salt
1/2 teaspoon ground cinnamon or nutmeg
1/4 teaspoon baking soda
1/2 cup butter, softened
1 cup sugar
2 eggs
1 cup sour cream or plain Greek yoghurt
1/2 teaspoon vanilla
3/4 cup dried cranberries
1/2 cup chopped nuts (optional)
1 teaspoon finely shredded orange peel
Directions:
Preheat oven to 200 degrees C.
Combine all of the dry ingredients in a medium bowl.
In a separate bowl beat butter with an electric mixer for 30 seconds. Add sugar and beat until well combined. Beat in eggs, sour cream, vanilla, and orange peel.
Using a wooden spoon stir flour mixture into butter mixture. Stir until just combined. Batter will be lumpy.
Fold in cranberries and chopped nuts.
Pour batter into muffin liners or greased Mason jars filling 3/4 full. Bake 20 minutes or until golden brown and a toothpick inserted into the middle comes out clean. Baking times may vary based on size of jar.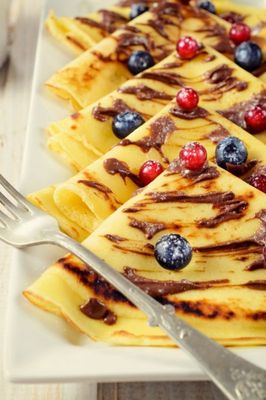 Christmas Crepes
Crepes add a nice, classy touch on Christmas morning. Smother them with fresh fruit and a drizzle of chocolate. Here's how to make Crepes:
Ingredients:
2 eggs, beaten
1 1/2 cups milk
1 cup flour
1 tablespoon oil (vegetable or coconut)
1/4 teaspoon salt
Directions:
Mix all ingredients until well combined.
Heat a greased 6-inch skillet over low heat.
Add 2 tablespoons of batter to the skillet. Lift skillet and tilt to spread batter evenly inside the skillet. Return to heat. Cook on only one side.
Repeat with remaining batter. Re-grease skillet as necessary.
Make your crepes look like a Christmas tree by folding a crepe in half twice, so it looks like a triangle. Drizzle chocolate syrup (or Nutella, maple syrup, jam, etc.) over the crepe and decorate with fruit and nuts.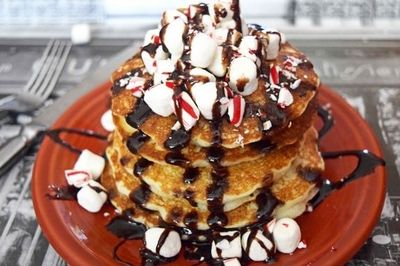 Christmas Pancakes
Pancakes are an all-time favourite breakfast food. Plus, there are numerous ways to serve them on Christmas morning. Make mini silver-dollar size pancakes, make them into fun shapes, add some red or green food colouring, or stack them up high! Serve them with traditional maple or flavoured syrups, chocolate syrup, applesauce, fruit, peanut butter, marshmallows, chopped nuts, crushed candies, and more.
Whip up a batch of your favourite homemade pancakes, or make pancakes using a box mix. The following recipe is my mother-in-law's favourite pancake recipe:
Ingredients:
1 egg
1 cup flour
3/4 cup milk or buttermilk
1 tablespoon vegetable oil
1 teaspoon sugar
2 teaspoons baking powder
1/2 teaspoon salt
Directions:
Beat egg until fluffy; beat in remaining ingredients just until smooth.
For thinner pancakes stir in additional 1/4 cup milk.
Grease griddle and heat over medium-low heat.
Cook pancakes until puffed and dry around edges. Turn pancakes over and cook until golden brown.
For Christmas Pancakes top with chocolate syrup, marshmallows, and crushed candy canes. Another option would be to use Christmas cookie cutters and cut the pancakes into Christmas shapes. Decorate as desired.