Maglite XL100 LED Flashlight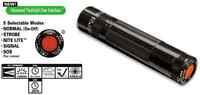 The Pros:
The light not bad with decent runtime and useful dimmer functions, good quality light performance, decent water sealing, adjustable beam pattern, strobe, sos and signalling features (gimmick really), pretty cool device.
The Cons:
There's not many, but the main one was batteries cannot be left inside as an emergency or occasional use torch as they run down due to parasitic currents present in the soft switching system of the unit, after about 6 months the batteries ran down while the torch was in storage (room temp 18-25c (normal house humidity)) (similar to the BlackHawk Night-Ops Gladius torch except with the Gladius you can twist the cap so it disengages the batteries for long term storage), I thought this was a major flaw as sometimes you only want a torch for momentary/emergency use, the use of AAA batteries was another thing I wasn't keen on but the features outweighed it, and sometimes the accelerometer can be a little fidgety to master.
Overall it's not bad, but it could have been great if it had a battery disengage function, on the other hand it's a really cool gadget to show off to your mates.
More Info and Specs can be found on Maglite's Website: http://www.maglite.com/maglite_xl100_led.asp