Magnetic Money
Magnetic Pennies and Twopences
We have recently started getting enquiries about magnetic pennies found in change.
We predicted some time ago that this would happen.
Usually when people call us about an "unusual" coin they have found, they are expecting it to be worth megabucks. Unfortunately, over 99% of the time, we have to disappoint them.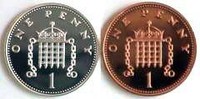 Silver & Bronze (Copper Coloured) Pennies


Copper Plated Steel
The reason some coins are magnetic is because they are made of steel, which is magnetic, rather than bronze, which is not.
In 1992, the Royal Mint started to produce pennies and twopences made of copper-plated steel instead of bronze (copper has not been used since 1860!). The 1992 coins can be found in both bronze and copper-plated steel. This was done, as in many other countries, to reduce production costs of coins. Most people don't take much notice of the coins in their change, and the media don't usually bother reporting such changes at the time, presumably because it's not the right kind of news to sell newspapers. It's also possible that the Royal Mint or the Government don't bother to promote news about such changes, because there is no profit or votes in it. When people do hear such news, it's also the sort of news they tend to forget about, because it doesn't appear to affect them immediately.
Obverse of Silver & Bronze (Copper Coloured) Twopences
Does the Plating Wear Off?
Yes of course it does. All plating will wear off eventually, leaving most of our "copper" coins looking gray.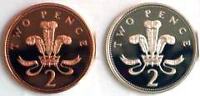 Reverse of Silver & Bronze (Copper Coloured) Twopences
Why Has It Lasted So Long?
If steel pennies have been made since 1992, why has it taken 8 years for the plating to wear off, and people to start noticing?
The plating is applied to the coin blanks before they are struck. The high pressure used to stamp the coins forces an extremely close bond between the substrate and the plating. Striking also generates considerable heat, and the high temperature produced further helps the bonding process. The result is that the plating lasts many times longer than it would if the coins were plated after striking.
How To Check - Silver or Steel (or Bronze)
Easy - just use a magnet!
Steel is magnetic, bronze and silver are not magnetic.
So if you have a copper or silver coloured penny which is magnetic, it cannot be silver or bronze, it must be made of steel.
Similarly, if it is non-magnetic, it is made of silver, bronze. cupro-nickel, aluminium, or some other alloy, but not steel.
It is easy to tell silver from bronze because they are different colours.
Can't Find a Magnet - Use Your Fridge!
Most modern refrigerators have magnetic seals around the inside of their doors.
By holding your coins to the magnetic strip, you will easily be able to tell which is which. Many people already know this because they recycle aluminium cans.
As refrigerators are not easy to carry round in your pocket, if you wish to check your change while you out shopping, we suggest buying a pocket size magnet.
We also get asked about "silver" pennies people have found in change, these are usually copper plated steel ones which have lost their plating. For more information about them, you could take a look at our Silver Pennies in Change page.
Author & Copyright Notice
Any images shown are our own copyright images. Our text and description is also copyright, Lawrence Chard of Chard Coins.
Useful?
We hope you have found this guide useful, informative or, at least, interesting. If so, please spare two seconds to vote "Yes" by clicking the button below. If it disappointed you, please think about contacting us to let us know what else we could have included to make it more helpful.
Other Guides
You may be interested in viewing some of our other guides:-
How to Photograph Coins - Advice, hints, tips & more...
Gold Sovereigns - History Information & Specifications

Mints & Mintmarks on Gold Sovereigns - All Seven Mints
Krugerrand - One Ounce Investment Gold Coin

Buffalo - 9999 Fine Gold US Bullion Coin - 24 Karat Au

Pink Diamonds - One of Nature's Rarest Gemstones
1780 Maria Theresa Silver Thaler Restrike Trade Coin

Sniping - Is It Good Strategy or Tactics for Winning eBay Auctions?
Winning Auctions - Or Spending Money?
CGT Capital Gains Tax Exemption on Gold Sovereigns Britannias UK Coins
Definition of Investment - VAT Exempt (Tax Free) in UK & EU
Second Chance Offers on eBay - Should You Use Them?
Spellings - Is Good Spelling Important - A Few Howlers
Famous People (Celebrities) Who Collected Coins
Heads Upside Down on Coins - Medal & Coin Alignment
Identifying Coins, A Brief Guide to Help Identify Coins
BNTA - The British Numismatic Trade Association
Gold Coins Which Are Not Gold - Including German & € Euros
Postage Packing Shipping Insurance Charges - Fair or Excessive?
The Difference Between Proof and Uncirculated Coins
London Gold Fixing Price
Gold Bullion Bars For Investment