Television is no longer simply about the programmes that you can watch live or record for viewing later. Now, it's all about the
services that you can access
. From catch-up TV to on-demand movie libraries and the content stored on your home PC or network attached storage (NAS) device, there's a whole world of entertainment out there. Fortunately, you don't have throw away your old TV, as you can turn your 'dumb' television into one with a much higher entertainment IQ. The way to do this is to buy a media streamer, which is a small set-top box that plugs into your TV via HDMI and streams content over your home network or the Internet. David Bayon, contributing editor of PC Pro rounds up the best products to help make your TV smart.
---
Apple TV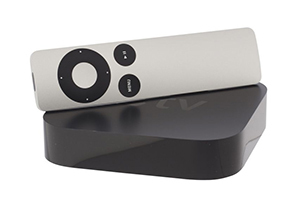 eBay loves: small size, slick interface
Watch out for: can't add extra apps, no direct catch-up TV support
RRP: £99
The Apple TV is one of the best media streamers out there and also one of the cheapest. With its slick and smooth user interface, combined with a super-simple remote control, Apple TV is a dream to use.
It has full access to all of the content you've bought from Apple, including music, TV and films, plus built-in Netflix and YouTube. You can also stream content from iTunes computers, although the video support is very limited. Thanks to AirPlay, you can beam content from your iPhone or iPad. There's very little support for Android devices, though, so this is a better choice for Apple fans.
---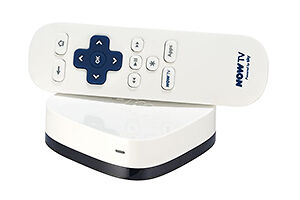 eBay loves: the low price, small size
Watch out for: limited online content, geared towards Sky
RRP: £9.99
Sky's Now TV box is something of a bargain, costing just £9.99. As you've probably guessed from the name, it's designed to let you stream select Sky channels, including Sports, Movies, Sky One, Fox and Sky Atlantic, over the Internet. Packages start from £4.99 a month, with no contract, which is quite good value compared to regular Sky. However, the box also gives you BBC iPlayer, 4oD and Demand Five, as well as Spotify and Facebook access. There's no local network streaming, although instructions online explain how the box can be hacked to do this if you're feeling brave.
---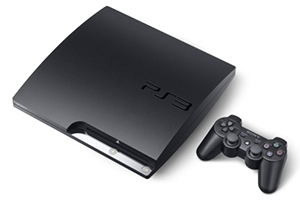 eBay loves: excellent range of apps, user interface
Watch out for: it's big and overpowered if you're not going to play games
RRP: £150
Although it may have been replaced by its sibling, the PS4, the previous generation console is a great choice for anyone looking to make their TV smarter. It supports BBC iPlayer, ITV player, 4oD and Demand 5 catch-up services; Netflix and Amazon Prime Instant Video on-demand services; plus Spotify for music.
On top of all that, it's an excellent media streamer, handling pretty much any video format. Throw in the fact that it's a Blu-ray player and games console, too, and the PS3 is a great all-rounder.
---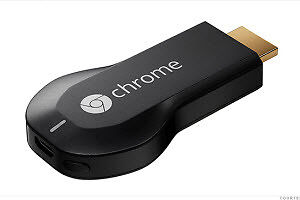 eBay loves: the low price and incredibly small size
Watch out for: limited range of apps
RRP: £35
While most devices that make your TV smart are rather large boxes, the Chromecast is different: it's a small dongle. Just plug it into an HDMI port on your TV and run the USB cable to spare port on your TV (or the power adaptor, if you don't have a spare USB port) and you're ready to go.
Once you're set up, you can use any compatible iOS, Android or Chrome app to Cast content from your phone or tablet to the Chromecast. In that respect, it's easy to use, but app support is currently quite limited, with only Netflix, Google Play TV & Movies and Google Play Music as the stand-out apps. You can stream content over your network if you have a Plex media server and pay for the Plex media player app on your phone or tablet.
---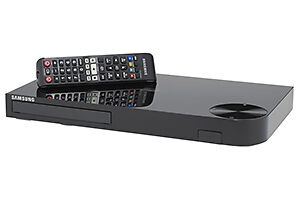 eBay loves: excellent interface and range of apps
Watch out for: you can't add apps yourself
If you want to get all of the Smart TV features you get on a modern set, buying a Blu-ray player could be the answer. The BD-F6500 is one of the best, with the same interface employed by Samsung's Smart TVs.
You also get access to a great range of services, including BBC iPlayer, ITV Player, 4oD, Demand Five, Netflix and Amazon Prime Instant Video. With Wi-Fi built in and the ability to play files over your home network, the BD-F6500 is a great way to play all kinds of media. The only downside is that you're reliant on Samsung to update it with new apps, particularly as products tend to get left out of updates as they get older.
---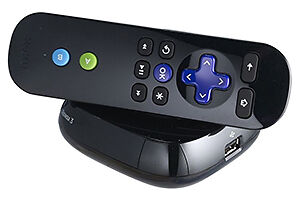 eBay loves: low price, excellent interface, ability to download new apps
Watch out for: media streaming limited
RRP: £100
A direct competitor to the Apple TV, the similarly sized Roku 3 is a great little media streamer. The benefit of this product is that you can download and add new apps from the Roku store, expanding the abilities of the box.
Not that you'll need much, as the Roku 3 has excellent support straight out of the box. For catch-up TV there's BBC iPlayer, 4oD and Demand 5, with only ITV Player noticeably missing. Fans of on-demand services can also get Netflix and Sky Now TV, but there's currently no support for Amazon Prime Instant Video in the UK. There's no built-in network media streaming, but you can download the Plex media player and stream content from a Plex Media Server on your home network (available for Mac, Windows and some NAS devices, such as those from Synology).
---
The product you choose will define the services you can use, so it's important to choose wisely. Look out for one that supports catch-up TV, such as BBC iPlayer, so that you can watch all of the shows that you might have missed when they were first broadcast. Not all set-top boxes support all catch-up services, so choose one that has your favourite.
If you want access to a wide-range of TV shows and films, an on-demand streaming service is what you want. Netflix and Amazon Prime Instant Video (previously Lovefilm) are the two biggest services in the UK and are commonly supported.
Smart TV isn't just about what you can access over the Internet, as you should also be able to play your own music, videos and photos. To do this you need a Digital Living Network Alliance (DLNA) server and player.
Streaming entertainment
Don't worry, it sounds complicated, but it isn't. Most Network Attached Storage devices have media servers built in. Following the manufacturer's instructions, you can turn the feature on; you just need to make sure that the content you want to share is in the right folders. If you don't have a NAS, Windows Media Player is built into every PC and acts as a server; Mac owners can download the excellent and free Plex Media Server.
With the server running, most media streamers have a built-in DLNA player. Selecting this option will automatically scour your home network looking for a server; once one's been found, you can choose it and play all of the videos, pictures and music it contains. The only thing to watch out for is video file support. It's a complicated subject, but there are hundreds of different video files, so pick a media player with the widest support to ensure that you can play all of your files.

Beam me up
If you buy a media player that's also a DLNA media renderer, such as the Xbox One and Xbox 360, you can control everything from your smartphone or tablet. To do this, you need a compatible app, such as TwonkyBeam (TwonkyBeam for Android and TwonkyBeam for iOS). Using TwonkyBeam, swipe in from the right-hand side of the screen to bring up the Beam menu. Select your playback device, which sets where the media will be sent.
Next, you can use TwonkyBeam to play media stored on your phone, which is sent directly to your media streamer. Alternatively, tap the My Media icon at the top of the home screen (it looks like a house with a wireless signal in it) to bring up a list of all the servers on your home network. Browse to the media you want, then tap it to Beam that media to your chosen device.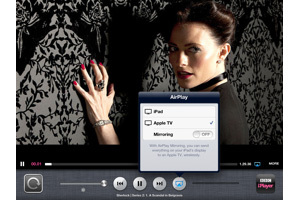 Apple owners have a similar beaming standard, called AirPlay. The difference is that AirPlay is built into lots of apps, such as BBC iPlayer, letting you send the currently viewed content to an Apple TV or Mac for video, or AirPlay speakers for audio only. To use it, start playing some media, then tap the AirPlay icon in the playback bar and select where you want it to play. It works brilliantly, and you can control playback (pause, rewind, fast-forward) from your phone or tablet. The one restriction is that Apple TV only supports a limited range of video and music formats.
Finally, the brand-new Google Chromecast works in a similar way. With compatible apps, you tap the Cast button to send the content from your phone or tablet to the Chromecast, retaining full playback control.
---
Apple TV
Sky Now TV
Sony PS3
Google Chromecast
Samsung BD-F6500
Roku 3
Networking

Wired/
Wi-Fi

Wired/
Wi-Fi

Wired/
Wi-Fi

Wi-Fi

Wired/
Wi-Fi

Wired/
Wi-Fi

On-demand services
Netflix
Sky Now TV
Netflix, Amazon Prime Instant Video
Netflix
Netflix, Amazon Prime Instant Video
Netflix, Sky Now TV
Catch-up services
BBC iPlayer (via iPhone/iPad)
BBC iPlayer, 4oD, Demand 5
BBC iPlayer, ITV Player, 4oD, Demand 5
BBC iPlayer, ITV Player, 4oD, Demand 5
BBC iPlayer, 4oD, Demand 5
Other services
Apple iTunes music and video
Spotify
Sony PlayStation Movie Downloads
Google Play TV & Movies, Google Play Music
None
Spotify
Home network streaming?
Limited via iPhone/iPad apps and AirPlay
No
Yes
Yes, requires Plex Media Server and App
Yes
Yes, requires Plex Media Server and App
---