- Before you start -
If you have decided to make your own wedding favours, there are a few things you may wish to consider before selecting a style.
Cost - how much do you wish to spend on each favour?

Time - how much time do you have to spend making them?

Colours - check availability of colours for components (flowers, ribbons, boxes, nets etc.)
- Cost -
As there is such a range of styles and designs it is very difficult to specify what the cheapest favours to make are. There is a large choice of items on eBay so take time to have a good look at what is available. Auctions are where the best bargains are and don't forget that styles can be mixed if a particular listing doesn't have the quantity needed.
The cheapest favours to make from my shop are the 3x4 Organza Bags filled with Sugared Almonds or Dragees - cost is 39p each (for 50 favours) and a large range of colours is available. Price includes p&p and is for 'Buy It Now' listings.
Here are some other ideas and tips on how to keep costs down if your budget is limited.
Just give favours to your female guests.
Keep it simple - flowers and ribbons etc will add cost and time.
Dragees work out cheaper than Almonds, as there is normally more weight for weight.
Balloon ribbon is cheaper than fabric ribbon and can be curled to give pretty effects.
Make scrolls - use A5 size paper (half an A4 sheet) rolled and tied with ribbon. The message inside could be a simple 'thank you for sharing our day' with names and date, or you add a poem etc.
- Time -
Making favours can be a lengthy process, the following is intended as a guide only, the size of wedding, how much help you have and how much time you actually have will obviously affect what you can achieve. Please bear in mind how long it will take to receive items bought through eBay, for instance I order in a lot of my confectionery items as they are purchased to ensure use by dates are as long as possible and advise customers to allow up to 14 days for delivery.
Not much time, you need something very simple and quick - here are some tried and tested ideas.
Organza bags - just pop in the filling pull the ribbons to close and they're done. These look good with foil wrapped chocolates, candles, bath pearls etc. Please bear in mind that the contents will be visible which may be important if you are sticking to a particular colour scheme.
1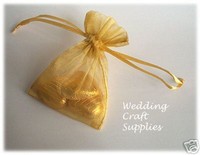 Lottery Tickets - one per guest slipped into an envelope. These are great for male guests who may not want an organza bag with bath pearls for example.
Foil Wrapped Chocolate Hearts - scatter them on each table as part of the decoration. This is probably the quickest as no time is needed for preparation before hand. Mix the colours and add some table confetti for a pretty effect.
2

You will probably have time to add decorations and make slightly more time consuming favours. I would suggest that you don't try anything too complicated, you need something fairly quick and easy - here are a few ideas that might be suitable.
Organza bags - after filling these can be decorated. Specific fabric decorations are available which can be slipped onto the pull ribbons. Adding ribbons and flowers can be used as an accent colour for white or ivory bags.
3
4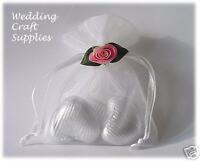 Lottery Tickets - roll into small scrolls and tie with a ribbon.
Box Favours - there are some lovely styles out there that need little or no extra decoration. Boxes simply decorated with a ribbon or flower can look very stylish.
5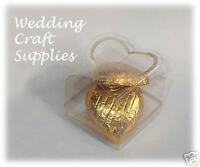 6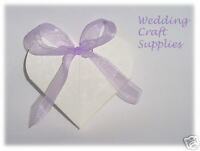 7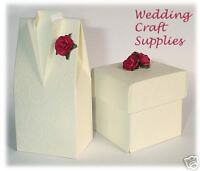 You should have enough time to experiment with different styles, even have a go at the net bomboniere. If trying different ideas out remember to allow enough time to make everything once a design has been selected.
8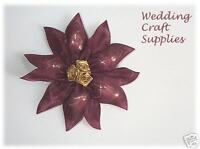 9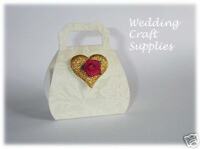 10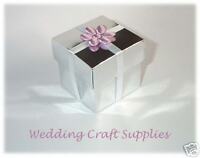 - Colours -
As colours are a very personal matter and often picked to tie in the colours of the bridesmaid dress or flowers I have not gone into too much detail, but the following may be of help if you are still to decided.
Check the colour of the tablecloths - off white or ivory items may not look quite right against bright white linen.

Gold, Cream and Ivory go well with Burgundy, Warm Pinks, Dk Green, Olive Green, Terracotta.

Silver and White go well with Lilac, Blue, Cool Pinks, Pale Green, Grey

Red, Navy, Black and White work well with both Gold and Silver.

Check different components of the same colour look right together, some colours such as Burgundy, Red and Lilac can vary greatly and it might be better to have a contrasting colour (e.g. Silver with Lilac) or complimentary (Purple with Lilac) than have two different coloured Lilacs for instance. If in doubt use a neutral colour such as White, Ivory or Cream.

If you still can't decide on a colour, an all Gold or all Silver theme can look stunning.
I hope that this guide has been a useful starting point - I have been selling Wedding Stationery and Favour components for 6 years now and am a qualified textile designer. If you would like help in selecting styles or colours please contact me, I will be happy to help regardless of whether you purchase items from me or not.
- List of Pictures -
Gold Organza Bag (3 x 4 inches) containing 3 Gold Foil Wrapped Chocolate Hearts.

Foil Wrapped Chocolate Hearts Gold, Pink Purple, Red & Silver. (Also available in Lilac & Cerise).

Silver Organza Bag (3 x 4 inches) containing 5 Silver Almonds, decorated with a Pink Heart.

White Organza Bag (3 x 4 inches) containing 3 Silver Foil Wrapped Chocolate Hearts, decorated (stitched) with a rolled ribbon rose.

Clear PVC box with Gold Heart trim on closure containing 3 Gold Foil Wrapped Chocolate Hearts.

White Heart box (ref SRG) decorated with Lilac Organza ribbon (15mm).

Ivory Square box & Ivory Tuxedo decorated with Red Tea Roses (made from paper).

Burgundy Organza Leaf pull-up Almond Holder Ribbon containing 5 Silver Almonds, decorated with 3 Gold Ribbon Roses.

Cream Handbag box (ref DMT) decorated with Gold Padded Fabric Heart & Red Tea Rose.

Silver Square box decorated with white 6mm Satin Ribbon & Lilac Satin Fabric Flower.