I sell fossils and coprolites collected from along the Dorset coastline.
I`ve written this article to provide information regarding the history and formation of these.
Most are coprolites that have pyrited to form the metallic crystal Marcasite ( a polymorph of Iron Pyrite ). The difference between the two minerals Marcasite & Iron Pyrite is in the different crystal structure. The examples shown below are where Marcasite has replaced most of the fecal matter, the black specks are micro fossils of indigestible scales, teeth and bone that have not crystallized.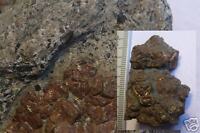 Pyrite occurs as isometric crystals that usually appear as cubes.
Though marcasite has the same chemical formula as pyrite, it crystallizes in a different crystal system, thereby making it a separate mineral.
Marcasite may go through a condition known as "pyrite decay", in which a specimen slowly disintegrates into a white powder.
I coat certain specimens with acrylic matt varnish to protect them from this decaying.
On most of my coprolites you can still make out shiny black scales, teeth and bones that have not pyrited or crystallised.

Marcasite crystals have completely transformed the original object but the shape and form still presents itself wonderfully and created quite a display specimen out of many of the items I have available.
Even on these specimens black shiny trace fossils can still be found. As shown below, a very well "weathered" pyrisited (Marcasite) coprolite showing vertibrae, scales and teeth, it`s a wonderful example of how fecal material changes with the influence of great pressure and heat but still keeps some of the original material in fossil form...these two pictures are of the same beautiful example and great evidence as to the origins of these pieces.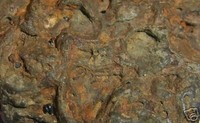 Other sellers have similar Agatized & other Marcasite coprolites available which I think you`ll find interesting ::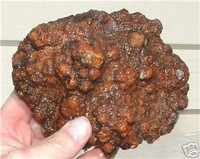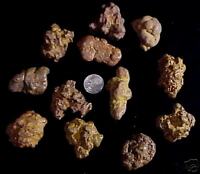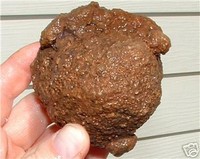 Just perform a search for coprolite and you`ll see the above items for sale by trusted Powersellers, who know how to identify coprolites.
Shown below are micro fossils of teeth, bone and scale where Marcasite crystals have grown around from other organic material that was pooped at the same time.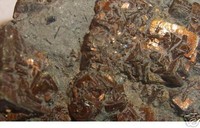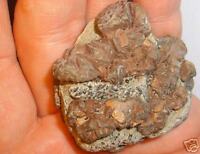 Shown below are the undigested bones protruding from coprolites collected from the same location as all others I sell. You cant just rely on micro fossils as proof of the identity of my products! Huge bones protruding from coprolites formed as Marcasite, really wonderful examples ::
I have coprolite specimens that are in various stages of crystal formation and weathering - please bookmark me as a seller to keep in touch as I send out new item notifications all the time.
I`ll add to this with more relevant info as I find the time.