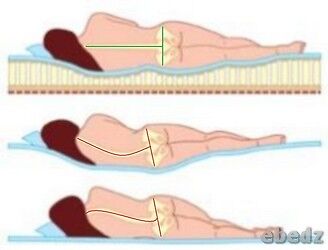 Various mattresses -

Mattress Types -One of the main causes of sleepless nights is fluctuations in body temperature, so we offer numerous mattresses with 100% natural fillings to keep you comfortable all year round.

Mattress design and technology has never been more innovative. We offer a huge range at prices to suit everyone.

Open coil sprung mattress (Also known as 'Orthopaedic' and 'Standard Sprung') :
The most commonly-used springing system in the world for budget-priced mattresses border rod or wire gives the mattress a firm edge and helps retain the shape of sides which are machine stitched.

Pocket sprung mattress:
We recommend these if there's a size difference between you and your partner, as it minimises the risk of you rolling towards each other during the night making your nights sleep much more luxurious, with individual small springs housed in separate fabric pockets. Springs work independently to respond to individual body weight. Stitched sides for strong, stable edges - hand stitching is a clear sign of great craftsmanship and quality.

Visco-elastic mattress (memory foam):
These mattresses mould and re-mould around the body's contours as your body heat softens it and provides support which enables natural movement during sleep helps to maintain the correct posture and keeping the alignment of the spine horizontal when lying on your side. It's also hypo-allergenic with anti-microbial properties.

Medical Grade Foam:
Medical Grade Foam contains material that medical experts recommend for perfect pressure relief, Medical Grade Foam is now available to you! With more efficient pressure relief, and heat and moisture distribution for a cooler sleep than memory foam, Medical Grade Foam is the next generation of mattress, recommended by Chiropractors.

Latex Mattresses:
Latex mattresses are great for support as they mould to your body giving you outstanding support throughout the body minimalizing pains, sores and aches. Not only are Latex Mattresses made from 100% natural materials making them a very green option, but they're also great for your health due to the fact they're hypoallergenic and hypo-microbial which means that they're superb for allergy sufferers and they don't contain any fungus, bacteria and dust mites as they cant suvivie inside the mattress. Latex mattresses are also very sustainable and are extremely similar to the memory foam option apart from you'll find you wont get as hot on a latex mattress.

Reflex mattresses:
Reflex foam, like memory foam, is also high density but is constructed in a different way with larger bubbles. When pressure is applied to the bubbles, they act in a similar way to water in a balloon – the air does not escape, and is just displaced 'sideways'. Once pressure is relieved, the bubbles spring back into shape and the mattress regains its shape making it considerably firmer than memory foam mattresses. It's for this reason that the reflex foam mattress is popular as an orthopaedic mattress, as it offers a firm but comfortable mattress option. Another plus side to Relflex foam is it's also resistant to the likse of dustmites.