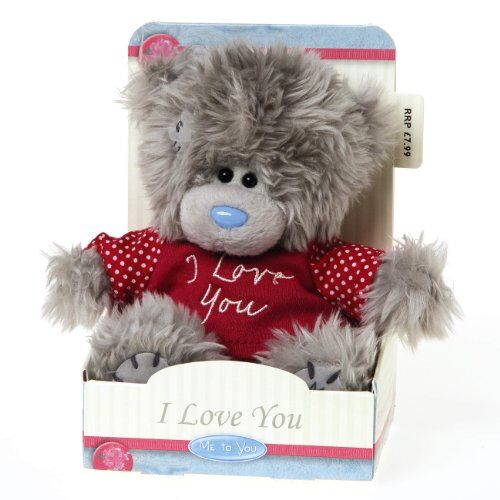 Me to You bears, sometimes called Tatty Teddy, are a range of collectable teddy bears, which are popular both as collectables and as gifts. As well as a range of plush bears and figures, the Me to You range also includes a variety of accessories including mugs, jewellery, clothing.
A wide selection of Me to You bears and accessories can be found on eBay at some of the most affordable prices on the Internet.
Types of Me to You Bear
The Me to You bears are among the most popular items in the Me to You range, and are a popular choice amongst collectors, and as gifts for loved ones. There are a few main types of Me to You bear widely available.
One of a Kind bears includes a wide range of different designs of soft toy bears, featuring a variety of designs and included accessories. These can include bears made to celebrate occasions such as weddings, anniversaries and Valentine's Day, as well as those designed as gifts and collectables. One of a Kind bears are a very popular type of Me to You bear.
Pose able and Jointed bears are another popular type of bear. A wide variety of different designs of bear is available, and can be used with a variety of accessories. The key feature of these bears is that they are built around joints, which allow the limbs and head of a bear to be move, meaning the bear can be positioned into poses.
Wax Dipped Bears are different to the other types of bears, as they are not soft toys. Wax dipped bears are small scale figurines, which feature Me to You bears and other characters in a variety of situations and poses with other characters and objects. These bears are a popular as decorative gifts and collectables.
Limited Edition bears are bears which were only available to purchase for a limited amount of time. Due to this, they are often somewhat difficult to obtain, and can me more expensive than other bears. These bears are collectables, and are often sold in their original, unopened box.
My Blue Nose Friends are a range of soft toys which feature along-side the tatty teddy character. This range features a wide range of different animals, such as dogs, cows and flamingos. This adds variety to the range, and the My Blue Nose Friends stuffed toys are popular gifts, as well as collectables.
Me to You Bear Materials
A variety of different materials have been used to make Me to You bears.
The soft bears feature a variety of materials. Plush is perhaps the most widely used material, and a wide variety of soft toy made with this material are available. Plush is a very soft material often compared to velvet.
Fake fur is another popular material used with the soft bears, and is most often used with the tatty teddy bear. This material has a similar appearance to fur, and is preferred by some due to its appearance.
Fleece is a popular material used both with bears and with a range of accessories such as nightwear, slippers, pillows and clothes for use with the Me to You soft toys. Fleece is a popular material due to its soft texture and light weight, combined with the fact that it breathes well and does not hold water.
Other soft fabrics such as cotton and felt are also sometimes used in the creation of Me to You bears, and also offer a popular soft and affordable choice in material.
Me to You Bears Theme
Many of the Me to You bears are categories into different themes. There are a number of different themes available, and can range from the celebration of specific holidays, to bears intended to be given as gifts.
Holiday Bears
Holiday bears are among the most popular and widely available types of Me to You bear, and themed bears are available which celebrate a range of holidays. Christmas bears are a popular choice, and can include a variety of festive accessories, and can feature characters such as deer. Valentine's Day is another widely popular theme, and these bears will often feature hearts and other related accessories. Other holiday themed bears are available such as Halloween Bears.
Bedtime Bears
Bedtime bears are a popular type of bear. These bears are made of soft material, and feature accessories such as pyjamas, while some bears hold smaller soft toys. These bears make an excellent toy or gift, while some limited edition bed time bears have become desirable, and difficult to obtain, collectors' items.
Ornament Bears
Ornament bears are different from the other bears, in that they are hard ornaments rather than soft toys made plush or other materials. Ornament bears are popular collectables, and feature characters from the Me to You bear range in a variety of different poses and situations.
Good Luck Bears
Good luck bears are a popular choice of gift. These bears are themed around a message of good luck, often featuring simple messages and holding accessories such as four leaf clovers. Like with many themes of bear, some of these bears are limited edition and have become collectable items.
Seasonal Bears
Similar to holiday bears, seasonal bears are bears which are themed for different times of the year. Often limited edition, these bears are often considered to be collectables, and can be somewhat more difficult to maintain than other themed bears. These bears will feature clothing and accessories which match their season. Autumn bears may feature scarfs and hats, for example, while spring bears feature a straw hat.
Characters
There are a variety of bears which are themed after different characters. These can include sailor bears which feature nautical uniforms, hats and other accessories, and clown bears,, which feature clothing and accessories based on clowns. Sports themed Me to You bears are popular, as are themed accessories such as sports bags.
Me to You Accessories
There is a wide range of Me to You bear accessories and themed items available on the Internet, and in particularly eBay. Those for use with the bears are among the most popular kind of accessory. This includes a variety of clothing and outfits designed to fit a bear, and are often themed. This can include hats, coats, shoes and other clothing items. Display options are also available for Me to You bears, such as houses, which can provide an attractive place to store and display a collection.
A variety of Me to You bear themed accessories are also available. Clothing such as slippers, pyjamas and other loungewear are a popular choice. Also widely available are Me to You themed diaries and stationery, which can all add to a Me to You collection.
How to Buy a Me to You Bear on eBay
A wide range of Me to You bears, accessories and themed items can be found on eBay. The full listing of available Me to You bears can be viewed in the Collectables & Antiques section. Me to You bears can be found under the Bears section of Dolls & Bears. Results can be arranged by filters such as price, condition and distance to seller as well as be categories such as bear type, material and theme. It is also possible to sort between the Auction and Buy it Now buying options, which provide flexibility in how a Me to You bear can be purchased. Key information about an item, such as the type of the bear or any included accessories, is often prominently displayed in the item listing. This makes it easy to quickly establish if an item meets any specific requirements. Further and more detailed information about an item is available on the item's page, along with information about the seller such as item reviews and feedback ratings. This helps to ensure that a purchase can be made with confidence. If any further information about an item is required, it is possible here to ask the seller a question regarding the item. If a particular Me to You bear is required, it may be easier and more effective to make use of the search function available at the top of every page. Searches can be made to return results from the entire site, or can be made to show items within specific categories. Further information on effective use of the search function can be found on the Search Tips page.
Conclusion
A range of different Me to You bears and accessories are available to suit a variety of different occasions and collectors. Holiday and Good Luck bears are a popular choice for gifts, while ornament and limited edition bears are often highly prized collectors' items.
A range of different accessories for use with bears can also be found, including clothing and accessories. Me to You bear themed items including nightwear,, stationery and photo albums are also a widely popular choice. A wide variety of Me to You bears and accessories can be found on eBay.