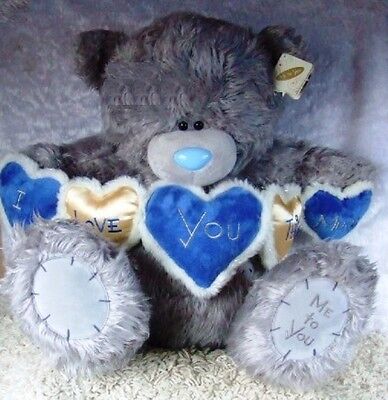 This guide gives you some tips for listing & selling your Me To You bears; helping you to attract buyers and increase your sales.
Is your bear New or Used ?
If you are selling your bear as a 'New' bear then follow the eBay policy - 'New - a brand new, unused, unopened and undamaged item'. If your bear does not fall into this category, then it must be sold as a 'Used' bear. Research indicates that your buyers are often buying your bear as a present for a loved one, or to add to their own personal collection, so 'Used' bears must always be in a clean and good condition. Any minor defects must described and photographed, for example any damage to the presentation box. This helps your buyer make an informed decision, about whether or not they will be happy with your bear, when they receive it. The better the condition of your 'Used' bear - the better price you will achieve.
How do you get more buyers to look at your listing ?
Your item 'Title' is one of the most important parts of your listing. There are tens of thousands of Me To You items listed on eBay at any time. Buyers use key words to search for these bears. Match the words they use to search for a bear, to your title and you will attract more potential buyers.
Here are a few tips. Always state Me To You, put the height of your bear in inches for example - 12" . Make sure you put in the occasion for example - 18th Birthday, Valentine, Engagement. When searching, less is often more, so keep it short and sweet.
The item specifics of your listing are equally as important, so make sure you list your bear as 'Plush' (soft bears rather than figurines), choose Animal as 'Bear', Main Colour is 'Grey' (a grey bear with a blue nose), select your Occasion for example 'Birthday' and his Size in inches for example ' 12 " '. When selling a 'bundle' of different sized bears, you can type in 'See item description for sizes' and then list the sizes of each bear in the item description itself.
Are Me To You gift tags valuable ?
Used bears are far more valuable to collectors, if they have the original gift tag attached but only if they are not filled in and in an 'as new' condition. If there is a 'From/To' section on the tag it should be blank (not written on). Many buyers will be buying your bear as a present for a loved one or to add to their own personal collection. So they won't want to receive a gift tag, that has already been previously filled in, for someone else's loved one. So the tag has no value if it is filled in and so it is probably better to remove it. If the tag is still blank then take a photo of it, because this will show your buyer exactly what they are getting, without them having to guess or hope that it is blank. Your bear will sell for a higher price this way because buyers know exactly what they are receiving. Some bears also come with a 'Story Book' which describes the story of 'Tatty Teddy' and these are also of value to collectors.
How much is your bear worth ?
To see how much your bear may be worth, search for bears just like yours on eBay listings. But search against the sold listings. This tells you what sort of price sellers actually achieved, rather than what they were hoping to sell it for. The fun of eBay auction listings, for both sellers and buyers, is getting a good price for an item. So often starting your listing at a low start price, for example 99p, will attract more buyers and will often get you as a seller a better final price. New bears often sell well as Buy It Now items.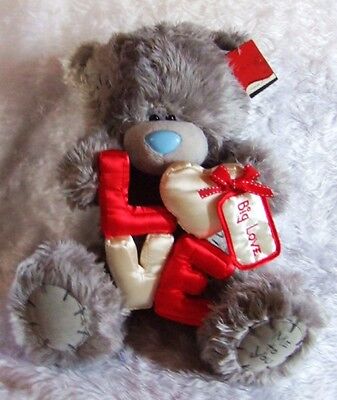 How important are photos ?
Your photographs are critical to selling your item. The better your photo and the more photos you add to your description, the more it will attract buyers to look at your bear and then bid. Sellers buy bears that they fall in love with. If you are selling your bears you may have lost your love for them, but it's very important to make your listing attractive to your buyers, so that they want to buy your bears from you. Give your bear a great send off by making it look attractive, by taking a great photo with a clear background and it will soon be sold and off to live in it's new home.
How big is your bear ?
Me to You bears are always measured by height in inches with the bear in a sitting position. Give the height in inches measured from the floor, to the top of the middle of the head. Many people are more familiar with centimeters, so it's also a good idea to put both inches and then centimeters in your description, always stating 'approx' as an abbreviation of an approximate measurement. If your bear is standing up or lying down, then take the measurement from the top of the middle of his head, to the bottom of his paw.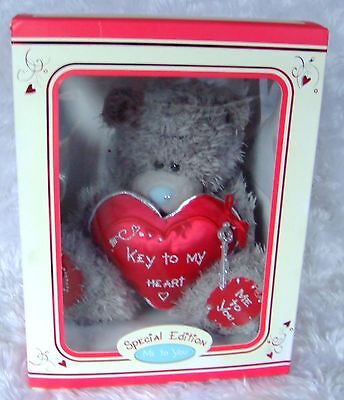 How rare is your bear ?
Limited Edition and Special Edition Me To You bears are produced in limited numbers. Some even have a 'Certificate of Authenticity' which states for example that he is number 365 of the 1,000 bears produced by Carte Blanche. The better the condition of the presentation box, the more valuable your bear is. Don't be tempted to open the box to take him out and photograph him though, because a sealed, unopened box, is far more valuable to a collector. It's also worth researching which are the real 'rare' bears. Collectors do know and so listing your bear as rare, when he in fact isn't, will not attract more buyers. Bears made in limited production numbers or vintage bears are often sought after as they are rarer in their numbers - for example Crystal Nose bears, Jointed bears and Original Brown bears fall into this category. It's worth researching eBay listings to find out more.
How do I post my bears if they are big or bulky ?
You will attract more bidders and buyers, if you post your big bears or bundles/collections, rather than only offering a 'collection in person'. Recently postal services have become far more competitive with more providers available, so posting large bears or large bundles/collections of bears, is now relatively inexpensive, reliable and fast. If you are prepared to package it and send it - you will get a far higher price with more buyers bidding. Some buyers are even happy to arrange and pay for their own courier, so it's worth adding this to your listing to attract more buyer, if you are happy with such an arrangement.
If your bear has a presentation box which he sits on or is sat in, then make sure you protect it with plenty of bubble wrap and a protective outer box to send it in, to prevent it being damaged in transit.
Its often cheaper to send two or more bears together, so why not offer postage discounts to your sellers, if they buy two or more items together. This encourages buyers to buy one or more items at a cheaper postage cost and in turn you will get more sales. Sellers who state that they offer postage discounts for multiple items often achieve increased and higher sales.
How do I attract a following ?
Your buyers are often Me To You collectors who are adding to their collections. If you look after your buyers, by selling great bears and giving great customer service, they will often buy from you again and again. However sometimes things just don't go as planned, for example an item which got lost in the post. So if there is a problem with a sale, ensure that you communicate with your buyers. Put yourself in your buyers shoes because when things go wrong it can be frustrating to both parties. If something has gone wrong - then this is your chance as the seller to put it right. If you look at complaints in a positive way, by learning from the feedback your buyers give you, you will get better and better at selling. It's been said that 'feedback is the breakfast of champions'.
A note from me to you ...
I hope you found this guide both informative and helpful and I wish you every success in selling your Me To You bears on eBay.