Meadows Frisky
This is one of many illustrated classic car guides I've created for the community. I hope you enjoy it. If you wish to find out more about the classic bubble and micro car art featured in this guide please click here.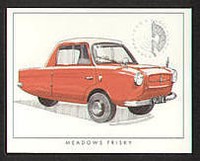 The Raymond Flowers designed Frisky began life as a four-wheeler in 1957. The first three-wheeled "Frisky Three" was powered by a 197cc two-stroke with coil front suspension and rear by pivoted-arm. Both coupe and convertible were offered, with Family Three in 1959 designed for 2+2 children. Production was abandoned in 1964 after the Prince model, which used a 328cc power plant. The design was then taken to Australia to become the Zeta.
If you would like to see more guides on bubble and micro cars please click!
Thank you for reading my guide and I hope you found it interesting!