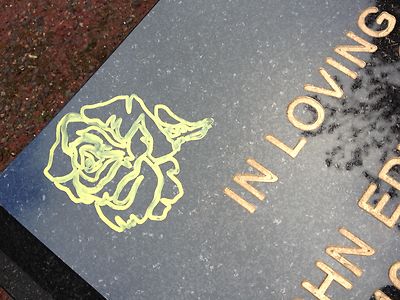 granite plaque
About this charity:

Marie Curie Cancer Care provides high quality nursing, totally free to give people with terminal cancer and other illnesses the choice of dying at home, supported by their families.
BAS RELIEFS OF A PERSONS FACE - Custom sculpted bas relief's can be done in as little as one week using our rush service. Without the rush service, we recommend allowing 8 to 12 weeks. You will get the image of the clay model in 4 weeks and, if approved immediately, you may get the completed plaque in another 2 to 3 weeks. If you allow 12 weeks, you have time to request changes to the bas - which typically take another 2 to 3 weeks.
We strongly urge you NOT to schedule any ceremony involving a cast plaque until you actually have the plaque in your hand. Production times vary depending upon when in the overall production cycle the plaque actually 'hits the foundry floor'. Delays can (and do) occur that are out of our control including ( flawed castings that must be redone, shipping damage, lost or delayed shipments, etc). Orders can not be canceled and refunds will not be offered for plaques whose delivery has been delayed.
I am selling Memorials for both pets and loved ones. It's always important to make sure you have chosen the right memorial for that long lasting memory. All memorials are made to suit your requirements and can be made with any size, shape or text. I have many different choices of stone allowing you to choose the perfect lasting memory
PRODUCTION SCHEDULE
Our standard production schedule is to ship in 3-4 weeks (except custom sculpted bas relief's - such as a persons face). Although some plaques on our standard schedule go out sooner, you should use our express service if you MUST have your order shipped in less than 4 weeks from the time you approve your proof.