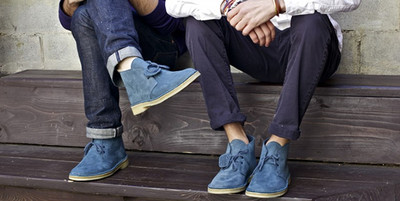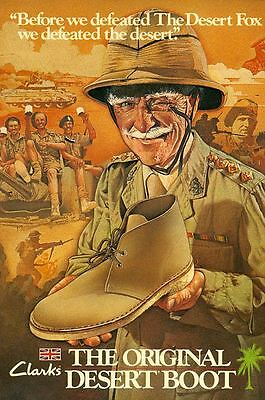 A quintessential men's wardrobe staple, the
desert boot
achieves a casual or smart look no matter what the weather or season. The beauty of the desert boot lies in its multifunctional purpose; both lightweight and streamlined it has the ability to be worn in all kinds of situations.
The desert boot was introduced in 1949 by Nathan Clark (better known as Clarks) for the British Army and boasted a lightweight, simple uncluttered design with soft crepe soles that were ideal for fighting in desert conditions, providing sufficient grip and traction to remain steady in dry sand, without the weight of normal boots that would sink in and make walking on the dunes difficult. However, fast forward into the modern day and the desert boot has become a firm favourite with men for down time casual dressing and evening events.
When it comes to styling the desert boot it can sometimes be a little tricky, so Express Trainers have put together this handy little guide offering four ways to wear the Desert boot, to ensure you're on trend this coming season.
Look One: Team a light coloured boot with dark denim
Denim and boots were made for each other, and
light coloured suede desert boots
look great when teamed with dark denim, the two tones complimenting each other perfectly. Keep the jeans slimmer to create a refined silhouette. Team with a polo shirt or dark chunky knit to keep things simple and stylish. For a more dressed up evening look, team the dark coloured jeans with a well-fitting shirt.
Look Two: Pair with a formal outfit
Despite what people say, desert boots look great with formal attire, whether be it for work or evening events they're the perfect pair of footwear to make a sophisticated statement. Team your
boots
with a pair of tailored trousers for a refined, on-trend look and turn or roll up the hem of your trousers to add a nice, clean finish.
Look Three – Go for Autumnal colours
For this coming season it's best to stick to autumnal colours like
greens
and
browns
and you'll find them to be surprisingly versatile, adding the perfect amount of colour to any outfits. Offering a stand out look that's not too bold but certain to get you noticed, all whilst keeping you comfortable too. Throw on a vintage denim jacket or a printed oversized check shirt and team with a pair of jeans for a laid-back, stylish look.
Look four – Go for Burgundy
Burgundy
is a great colour and is set to be huge this Autumn Winter, adding a playful look to your weekend dressing without going overboard. Again, team
burgundy boots
with dark jeans and a navy chunky knit for a winning on-trend look that oozes refined sophistication!