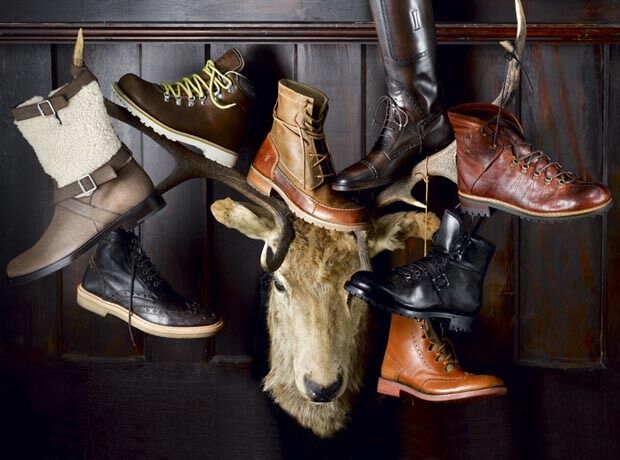 Winter is coming* and good footwear is the pinnacle of every good outfit and in winter footwear is more important than anything else. Having the right shoes will dramatically change your entire wardrobe, so it's vital to get them right, and in the colder months not only do your shoes have to look good, but they also need to keep you warm and protected from the elements too.
One reason to get excited about winter is the fact that it is boot season again and reliable, versatile trusty boots are back on the scene.
Here at Express Trainers, we've compiled a guide of the best 5 boots to have this coming Autumn Winter.
(*bonus points if you got the Game of Thrones reference)
1 – The Chelsea Boot
The
Chelsea ankle boot
is a footwear choice well dressed men love, available in classic tan and black it doesn't take much thought to how to wear them – skinny jeans, chunky jumper and a knitted scarf if you were wondering.
2 - The Chukka Boot
The
Chukka boot
is a more masculine alternative to the trusty desert boot. Chukka's are the same height, shape and size as a desert boot, but much more sturdy. Great dressed up or down they effortlessly match with dark denim, grey chinos or tweet trousers. Try Canvas Chukka boots for when the weathers not too harsh.
3 – The Worker Boot
The workwear boot is huge this season and in particular, the
Caterpillar
brand is making a huge comeback. This is the perfect boot for winter – big textures, warm materials and available in autumnal colours. To complete this look you want some dark jeans or dark chinos, a denim or flannel shirt and a big thick jacket – think shearling or denim.
4 – The Crepe Sole Brogue
As much as we adore boots they aren't for everyone, so try out a brogue instead. However in winter you should make sure you steer away for the standard brogue and instead go for the creped sole brogue; offering extra thickness for warmth and extra grip. Pair with a pair of tailored trousers or some jeans and a tweed jacket.
5 – (Ok not a boot) The Trainer
If you're simply not a boot guy then there's always the option of a good winter trainer. When I say trainer I don't mean a plimsoll. If the weathers wet or looks like it could rain, which in the English summer is 99.9% of the time, a plimsoll just won't cut it. A
Nike Air Max
is the perfect choice here; they're sturdy, provide superb grip and are sure to keep you on your feet – plus they're right on trend and versatile enough to wear with practically anything.