Men's bead bracelets have continued to grow in popularity. Often made from a variety of materials, including precious metals, glass, wood, or plastic, they come in a wide array of sizes and styles. While some beads are highly valuable, others are relatively inexpensive. These bracelets pair well with both fashionable ensembles and casual outfits.
Bead Bracelet Types
Link bead bracelets typically have a chain in between, or a single ring or loop, meant to connect the beads together. This setup prohibits the beads from moving, as wearers cannot adjust them in any way. On the other hand, string bead bracelets use a centre wire, string, or strap to string the beads in a single strand. Still, woven beaded bracelets involve several threads of wire or string, rather than just one, onto which bracelet beads are strung. These men's bracelets often take the form of beaded hemp or braided leather bracelets.
Collectible Beads
Collectible bead bracelets are generally made from higher quality materials, including glass, crystal, silver, or gold. Therefore, they tend to be more expensive than lesser quality plastic bead bracelets.
Material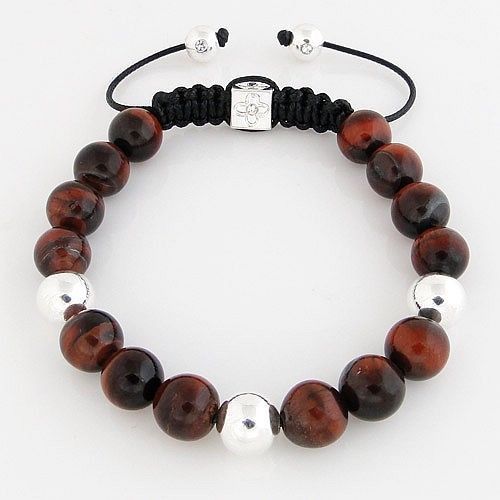 Men's bead bracelets are made out of any material that can be shaped and drilled to form a bead, including metals, glass, plastic, pearls, wood, crystal, silver, gold, rocks, coral, ivory, ceramic, gemstones, and pewter. Gemstones, pearl, and glass bead bracelets add elegance to any outfit, while metal and silver bead bracelets offer a sleek and contemporary look. Moreover, make sure that the band, or strap, is durable; if the band is compromised, the beads can become easily lost. Inexpensive bracelets typically have a copper, steel, aluminium, nickel, imitation leather, twine, or hemp band, while mid-range bracelets may feature a sterling silver or genuine leather band. Still, expensive and high-end bracelets are often constructed of leather, sterling silver, gold, or platinum bands.
Bead Shape, Size, and Colour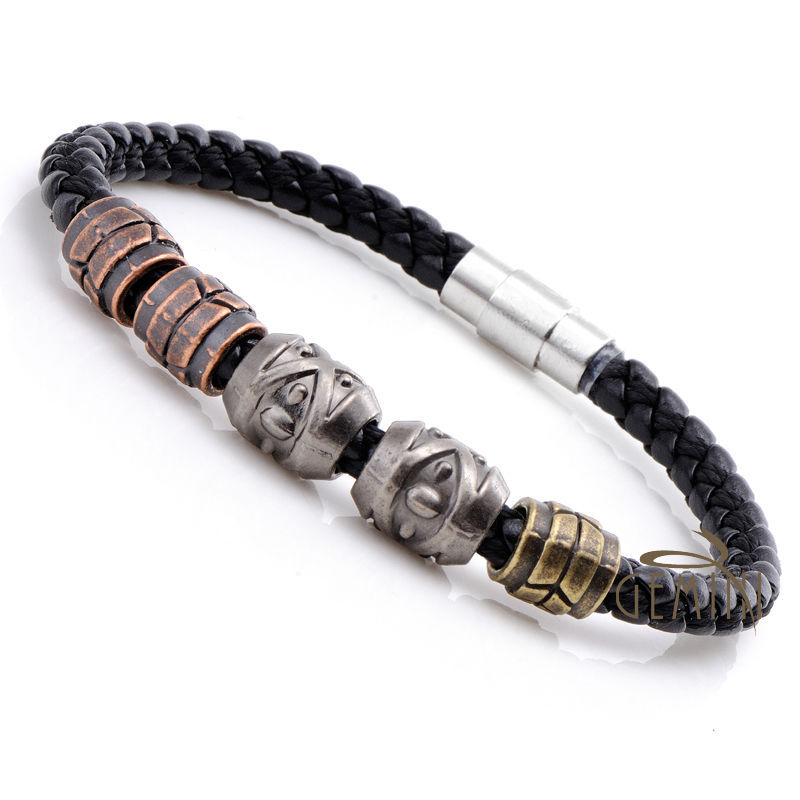 Popular shapes include geometric ones, animals, and sports. Still, large beads are more dramatic, while small beads offer wearers a delicate look. As for colour, a multitude is available, but black bead bracelets, in particular, look masculine.
Bracelet Sizing
Take into account your wrist and hand size, especially if the bracelet does not come with a clasp; the bracelet should comfortably fit over the widest part of the hand to avoid stretching and breakage. Generally speaking, most men's bead bracelets average between 17 and 23 cm in circumference. Still, if unsure on sizing, consider bead bracelets on a stretchy band; these bracelets are oftens one-size-fits-most. Beaded cuff bracelets and open-hinged bangles also make for great gifts when sizing is unknown.