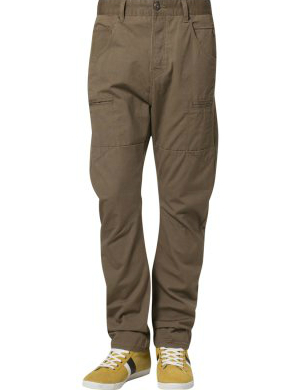 Cargo pants are a functional and popular contemporary trouser design that originated from clothing worn by British soldiers during World War II. The large pockets that were sewn onto the thigh area of the trousers were ideal for storing the items that the soldier depended on every day. Today, many people put cargo trousers to similar use by storing all the items they will need throughout the day into the cavernous pockets. Cargo trousers are available in many different styles and colours, but the material that is best suited for heavy daily use is denim, which is used in cargo jeans. Cargo jeans are a very popular article of clothing for people who need heavier fabrics of a more durable nature in their line of work, and they are also popular with individuals who love the look and feel of denim but need the extra space provided by a cargo trouser. This guide explores the various aspects of cargo jeans and the best ways to purchase them online.
The Cargo Concept
The concept of a cargo trouser originated out of a necessity for men to have a way of carrying important everyday items along with them without having to carry a bag or backpack. The items would be in easy to reach pockets so they could be accessed quickly when needed. The cargo concept resulted in looser fitting trousers that have room for items such as keys and wallets and allow for ease of movement. They are versatile and offer a great deal of utility that normal trousers simply don't. Another aspect of cargos is that they have a certain visual appeal that makes them an attractive casual wear trouser. The addition of multiple pockets and military-like styling gives the design a unique visual flair that many men find appealing. Cargos are often worn for their appearance rather than used for their functional design.
What is a Cargo Jean?
Cargo jeans serve the same function as cargo trousers but they are constructed with denim instead of lighter cotton material. The use of denim in cargo jeans means the fabric has a tighter weave, which gives them more strength and makes them more resistant to the abuses of daily wear. The cargo jean is unique in that it can fill a niche between functional and comfortable casual wear, and heavy-duty work wear at the same time. Cargo jeans can be worn for work or for play and their utilitarian nature makes them a very popular choice amongst on-the-go individual's and working professionals alike.
Pockets
The main aspect of cargo jeans is the availability of multiple pockets. Cargo's have traditional slanted front pockets like normal trousers, but they also feature additional cargo pockets on the thigh area of the trousers that can be open or have flaps that button or are secured via Velcro tabs. There are also rear pockets that also might feature flaps that can be secured to prevent items such as wallets from falling out. There are different versions of cargo jeans that have additional pockets designed for specific uses, such as carrying a folding knife or a cell phone. Depending on the needs of the individual, there are several different variations of cargo jeans that have as many or as few external pockets to suit nearly any need.
Denim
Denim is a very sturdy cotton twill fabric featuring extra weaving in its construction that makes it superior to cotton duck fabrics in standing up to abuse. While denim is generally a heavier and stiffer fabric than cotton, it still features soft-to-the-skin characteristics that make it comfortable to wear on a daily basis, especially once it has been broken in. Denim is an ideal fabric for use in rugged industries such as carpentry and other construction trades that can be hard on trousers.
Fit
Cargo jeans are usually designed with a looser fit and straight cut legs that taper toward the ankle. The loose fit is necessary so that items can be stored in the pockets and not interfere with the individuals movements, which can happen if the jeans are tight fitting. The relaxed fit, especially in the leg areas, allow for ease of bending and kneeling, which are common tasks performed by individuals who wear cargo jeans. As with all denim, the buyer should purchase cargo jeans that are not overly baggy because over the life of the fabric, it will stretch out and usually feel nearly a full size larger than it is.
Colours
Indigo blue has long been the standard colour of denim jeans. There are various washes of Indigo that are used to colour cargo jeans anywhere from dark blue to light, washed out blue. Cargo jeans are also available in different colours than standard Indigo. Browns and tan colours are also very popular colours for cargo jeans, especially with individuals who work in the outdoors.
Advantages of Cargo Jeans
There are many advantages that cargo jeans offer the individual that normal trousers do not. Cargo jeans take the versatility of cargo trousers and blend it with the unique characteristics of denim.
Durability
Cargo jeans feature a heavier material and more durable seam construction than normal trousers that make them a better choice in rugged environments. Cargo jeans feature the addition of rivets in high stress areas to help prevent the seams from tearing or opening up under constant use. The rugged construction of cargo jeans ensures that they will last longer than normal trousers and provide an excellent value to the individual.
Comfort
Denim that is properly broken in is very comfortable to wear. Cargo jeans feature stiffer materials that help prevent premature wear from harsh working environments, but this stiffer denim will still eventually break in and provide a very familiar and soft feel similar to normal denim jeans.
Utility
Cargo jeans are also very utility oriented and can serve in a variety of functions. The cargo pockets on jeans tend to fold flatter than normal cargo trouser pockets and they do not billow out, which creates a cleaner look that makes the jeans proper attire for events outside of the working environment. Cargo jeans can be worn in any type of activity that would suit normal cargo trousers, but cargo jeans have the added advantage of being more appropriate for situations that require more rugged construction.
How to Buy Cargo Jeans on eBay
When shopping for a new pair of cargo jeans, it's important to take advantage of the available search tools at your disposal such as the powerful capabilities of eBay's search tools. Simply go to the eBay homepage and enter a keyword into the search box such as "men's cargo jeans". A number of available auctions will be listed that correspond to that search term. At this point you can browse through the listings until you find the jeans you want or if you know the specific brand or size that you are looking for, you can enter that detailed information into the search box and eBay will list only those auctions that correspond to your search keyword.
Once you have selected the pair of cargo jeans that you want, it is important to take time and verify the feedback rating of the seller. The eBay community utilises buyer feedback to rate the seller on how well they performed during the transaction with the buyer. If a buyer is completely satisfied with the seller's performance, they will give them a positive feedback and leave specific comments about the overall quality of the transaction. Future buyers can observe these comments and see how well the seller has performed throughout their history with eBay. Seller's that feature a long history of positive feedback can be relied upon to be professional throughout the purchase and will dedicate them to customer satisfaction.
Conclusion
Cargo jeans are a direct descendant from the military uniforms of World War II, where soldiers discovered the unique utility of trousers that had many different pockets in which they could store their necessary gear. The cargo trouser is versatile enough to serve in many different functions, but by blending the cargo trouser concept with rugged denim, the cargo jean was formed and became the ideal work jean for those operating in rugged environments. Denim is a much stronger and more durable fabric than cotton duck yet retains the soft and comfortable feel normally associated with it. Denim also tends to last longer and wear better under the abusive conditions associated with the construction industry so it has become a natural choice for professionals in that environment.
When choosing to purchase cargo jeans, buyer should take full advantage of all the resources available to them to research and find the best cargo jeans available at the lowest price. While many good deals can be found in shops and stores, it is difficult to find a more advanced method of researching and finding the lowest prices than by utilising the powerful search tools and excellent values found on various online retail stores and auction sites such as eBay.