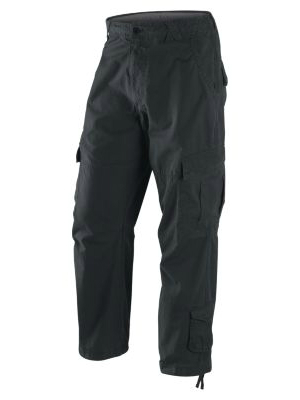 Trouser styles come and go, from the tights favoured by Medieval minstrels to the bell-bottoms fashionable in the 1960's and 1970's. There is one style for men however that, while more recent, seems likely to last for a while: cargo trousers. With so much technology required for everyday life, it may be common for a man to need a place to store mobile phones, wallets, keys, and other small day-to-day items. Regular trousers cannot handle such a large load and purses have not caught on with most men as of yet, leaving men needing something like cargo trousers to satisfy their needs.
Cargo trousers have their origins in military gear as the large pockets found in cargo trousers were used to store a number of helpful items like ammunition or survival equipment. This is why cargo trousers most commonly come in khaki or other earth tones that would be considered military-friendly. When buying cargo trousers, men do not have a lot of options in terms of appearance, since they mostly come in the same cut. However, as with all pants, when purchasing cargo trousers, whether it be in a clothing store or in online via eBay, it is important to consider a few factors first such as fit, style, and material.
Finding the Right Fit for Cargo Trousers
All trousers, cargo trousers included, should fit properly for comfort. Try to avoid trousers that are too snug or too loose, either of which can lead to discomfort as well as awkward social encounters. For this reason, it is imperative to discover the right fit before buying a pair of cargo trousers. In order to achieve this, a few factors must be considered including: waist size, leg length, and a few other things. Of course, it is always easier to simply find a comfortable pair of trousers and find the measurements, but some men may find what works for one kind of trousers may not work for cargo trousers.
Waist Fit
The general rule of thumb when buying trousers, including cargo trousers, is that they are designed to come in a size that should fit comfortably around the waist of the wearer. In contrast to women's clothing, which has a different measuring system, men's cargo trousers are supposed to have a size that corresponds to the measurement, in inches, of a man's waist. The problem here is that often, the measurements do not correspond exactly, depending on the manufacturer. For example, a size 34 from one designer may not be the same as a size 34 from another designer. A good way to see what the actual measurement of a pair of trousers is to lay the trousers on a flat surface, without bunching, and measure the distance from seam to seam.
Trouser Size Conversion Chart
Trousers are typically measured in inches, but some people might find the measurement system a bit confusing. The following is a chart comparing sizes in inches to sizes in centimetres as well as common European sizes.
| | | | | | | | | | | | | |
| --- | --- | --- | --- | --- | --- | --- | --- | --- | --- | --- | --- | --- |
| In | 28 | 30 | 32 | 34 | 36 | 38 | 40 | 42 | 44 | 46 | 48 | 50 |
| Cm | 71 | 76 | 81 | 86 | 91 | 96 | 102 | 107 | 112 | 117 | 122 | 127 |
| EU | 44 | 46 | 48 | 50 | 52 | 54 | 56 | 58 | 60 | 62/64 | 66 | 58 |
It should be noted that the European sizes listed here are not used in all nations. These sizes are primarily used in Northern Europe.
Trouser Outseam/Trouser Length
The length of a pair of cargo trousers is usually the only other measurement that a buyer will pay attention to when considering making a purchase. This length is measured from the top of the waist to the bottom of them hem and is also usually measured in inches. The same rules about slight differences in measurements also apply here as well. However, keep in mind that there is more room for error in the trouser outseam, since a pair of cargo trousers can be hemmed if they are too long.
For the most part, it is desirable for the trouser legs to reach to an area halfway past the sole of the shoe. When walking with shoes on, socks should not be visible. When buying cargo trousers, it is generally advisable to be aware of what the ideal trouser length should be be either finding a comfortable pair of trousers and examining the tags or measuring them.
Cargo Trousers and "Relaxed Fit"
Most trousers come in a variety of styles designed to accommodate many different bodies types such as boot cut, skinny, and regular fit. Some trousers are designed to be snug at or above the waist, while some are meant to be worn lower, at the hips. In the case of cargo trousers, they are nearly always designed with a "relaxed fit", which essentially means that they are designed to rest just below the waist. Relaxed fit cargo trousers are also not usually designed to provide a snug fit, although there are skinny cargo trousers . This means that they are both comfortable and informal. Larger men may enjoy cargo trousers while thinner men may have difficulties wearing them.
Pockets and Belts
Obviously, cargo trousers were designed originally to hold the things a soldier might need to survive. For this reason, the pockets in a pair of cargo trousers are fully functional. Men often use them to store electronic devices like mobile phones, MP3 players, and portable video games systems. While this storage space is welcome, it can cause the trousers to become heavier and sag on some men. If this is the case, men should take advantage of the large, thick belt loops found on most cargo trousers that make it possible to wear a strong belt. The belt loops on cargo trousers often allow for wider belts than those usable for other kinds of trousers, allowing for unique fashion options.
Cargo Trouser Styles
Most cargo trousers come in the same basic style, as the design is fairly universal, regardless of who made them. There are, however, a few options in terms of style that may adjust how they fit and how comfortable they are.
Traditional Cargo Trousers
Traditional cargo trousers are the comfortable, relaxed fit trousers, that are by far the most common kind available. These trousers have straight legs, many pockets and a loose fit and are typically worn by men would have to tote around many different devices or tools.
Skinny Cargo Trousers
Skinny cargo trousers for men are a less common option, but they do exist. the difference between traditional cargo trousers and skinny cargo trousers is that skinny trousers have a tapered leg that fits more closely to the leg. These kinds of cargo trousers are occasionally worn tucked into a pair of boots or sneakers.
Ruched Cargo Trousers
Rushed cargo trousers have a drawstring or other mechanism that allows the end of the leg to be gathered together. This gives users the option of wearing them either as regular trousers or as shorts, depending on circumstance.
Cargo Shorts
Shorts that are designed to fit and function in the same way as cargo trousers, pockets and all, are also available. They come in the same materials and colours as cargo trousers and usually feature the same amount of pocket space.
Cargo Trouser Materials
Due to their origins as military clothing, cargo trousers for men are usually made from the same material, cotton twill. This material is both comfortable and highly functional, as it resists wear and tear while at the same time being easy enough to wash and maintain. This being said, not all cotton twill trousers are made equal and buyers should determine the exact nature of the material that the pants are made from. Some kinds of twill may be thicker than others, which also means that it is warmer. Some buyers may wish for a lighter material that can be worn in warm weather. Aside from cotton twill, there are a few other options for cargo trousers.
Synthetic Materials
There are cargo trousers made from synthetic materials like polyester . This gives them the added benefit of being more water resistant, which may be helpful for outdoorsmen or for those who find themselves out on a rainy day. Some synthetic materials breathe better than others, which may affect both how warm they are, and how comfortable they are to wear over a long period of time.
Alternate Cargo Trouser Materials
There are cargo trousers that are made of corduroy as well as those made from wool or other materials. The buyer should be aware of the strengths and benefits of each kind of material before making a purchase.
Buying Cargo Trousers on eBay
Cargo trousers are among the many different clothing options found on eBay . While cargo trousers can be found in many clothing stores, there are options available on eBay that may be unavailable elsewhere. eBay is also the home to a wide selection of designers and manufacturers that may rival those items found in a large shopping centre. Prices may also be lower on eBay in comparison to a brick and mortar store. In order to find the correct pair of cargo trousers on eBay, the most efficient option is to enter a search term such as: "Men ' s Cargo Trousers", along with any additional keywords such as those pertaining to size, style, colour, or material, into the search bar on the eBay home page. This will provide a number of different options that users can examine in order to determine which pair of trousers might be the best fit for them.
Conclusion
While cargo trousers may not be appropriate clothing for a dignified office setting, they are comfortable and can provide a perfect fit for many outdoor activities, as well as casual pursuits and for relaxing. For men, cargo trousers offer an advantage in the sense that the large pockets that can be used to store wallets, keys, and other important devices. Cargo trousers have a fairly uniform appearance, with colours that are generally confined to earth tones, but there are some differences that should be noted. When buying cargo trousers, whether it be on eBay or in a clothing shop, it is important to consider a few important factors. Determining how a pair of cargo trousers might fit along with what style is most desirable and what material they are made from are some factors that fall into this category. With the correct information and little know-how, a buyer can find a pair of cargo pants that fits both their body, and their lifestyle.