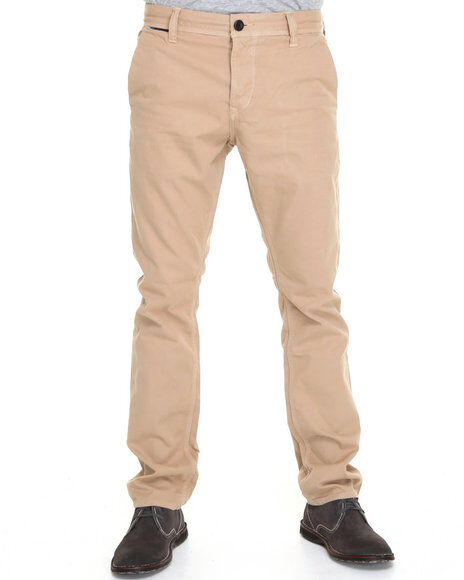 With a rather unique history, men's chinos have become a staple of modern classic fashion since the 1900's. Chino's are a cotton pant that is designed to keep wearers in warmer climates cool and comfortable. Although often made from synthetic and cotton mixtures, these pants were originally 100 per cent cotton. The breathability and comfort that chino pants and shorts afford, have made them one of the most popular men's pant choices.
Sifting through the aisles of traditional department stores to find men's chino pants tends to be not only time consuming, but often quite disappointing as well. Those who utilise online marketplaces such as eBay, however, are able to search for the perfect pair of men's chino pants from the comfort of one's home. Before deciding on a purchase, however, consumers should understand the different types of chinos available, the materials they are made from, and strategies employed to help reduce the cost of purchases.
Chino Shorts and Pants
Due to their breathability, chinos are adequate wear in warmer climates and are often worn as shorts. The original chino, however, was a pant designed from the pyjama trouser, and coloured in a dusty hue in order to blend into certain environments. Since semi-formal occasions occur quite frequently throughout society, the pant version of the chino has retained its popularity. As a lighter, cooler material, chino shorts are gaining popularity in the world of fashion.
Shorts
Chino shorts come in all shapes and sizes and are designed to be worn primarily in the summertime. Individuals who dwell in warmer climates, tend to wear chino shorts quite frequently. Chino shorts are typically more comfortable than more synthetic options. Chino shorts are classically beige coloured, but brighter hues are widely available. Shorts of any kind should not be worn to semi-formal or formal occasions, however this option can be a more than adequate choice for casual summer wear.
Pants
Men's chino pants are designed to be both breathable and formal enough to wear to certain work functions and environments. These pants are usually coloured in khaki, but are trending into brighter colours as well. Consumers looking for a clothing option that can be worn in a variety of settings should consider chino pants as a quality wardrobe choice. Although not designed for highly formal situations, chino pants are a sound solution to semi-formal and casual settings.
Men's Chino Sizes
Before purchasing a pair of men's chino pants or shorts, consumers should be sure to know the size needed first and foremost. Chino pant's tend to be sized by waist and leg length, but also come in a variety of different cuts. To determine the size needed, consider visiting a more traditional department store in order to discover the most comfortable size. If shuffling from store to store is not appetising, consider visiting a tailor to determine a more accurate leg and waist length.
Leg Cuts
Understanding the types of leg cuts available from chino pant manufacturers is also an important element when shopping for a quality pair of pants. Relaxed men's chino pants tend to offer more room around both the thighs and the calves. Relaxed chinos tend to be somewhat less formal, but are the most adequate choice for larger individuals. With bootcut chinos, straight leg chinos, and more, individuals of all shapes and sizes can find a comfortable fit.
Chino Materials
The traditional material that chino pants are manufactured from is cotton. Some of the first chino pants ever worn were military issued, and as such were designed from the most breathable material possible. The tradition of cotton chino pants has continued, but other options have cropped up over time. With the invention of various synthetic materials that are durable, cooling, and inexpensive, chino pants are being increasingly constructed with a variety of materials.
Cotton
Cotton chino pants and shorts are designed to be one of the lightest wardrobe options for formal events. With a dust of khaki colour that reflect sunlight, cotton chino pants for men tend to be a cooler pant option than most other types of clothing. Searching for 100 per cent cotton chino pants, however, can be more difficult than one might expect. Most traditional stores carry pants that are a combination of materials. Online marketplaces such as eBay, however, offer a wide selection of 100 per cent cotton chino pants for men. An all natural option is often more expensive, but that expense is mitigated for those shopping through less traditional outlets.
Synthetic Fabrics
Chino pants that are of the more inexpensive variety, tend to be primarily made of synthetic materials such as polyester or nylon. Consumers searching for a more affordable, semi-formal pant option, are likely to be pleasantly surprised by the prices of synthetic chino pants. More often than not, however, these pants tend to be less breathable than their cotton counterparts. Consumers interested in saving money over staying comfortable, should weigh synthetic based chino pants as a possible option.
Combinations of Materials
Individuals who want to strike a balance between quality and expense, should consider chino pants made of a combination of both cotton and synthetic material. Although all cotton chino pants are better for those with sensitive skin, a little bit of synthetic material can actually be a boon to pant durability. A little bit of elasticity in a pair of pants is vital in avoiding rips and tears. Quite a few people discount combination cotton and synthetic pants, but such chinos are both affordable and durable. The amount of combination chino pants available is astounding, and finding a comfortable pair is likely to be easier than finding an all-cotton option.
Styles to Match a Personality or Occasion
Figuring out what style of chino pant is right for the individual in question tends to be quite difficult without performing the proper amount of research. With the amount of options on the market, sifting through walls of pants in traditional stores tends to be quite frightening. First, one must consider what setting the chinos will be worn in might be. For a casual, more comfortable pant, look for a relaxed fit option that is coloured to the taste of the individual. Those likely to wear chinos in semi-formal or work environments, should restrict their purchase to straight leg options that are traditionally khaki coloured.
Brands of Men's Chino
Due to the popularity of men's chino pants, the most popular clothing brands offer a chino pant option. Whether it is a classic Dockers chino for the older crowd, or a Volcom option for skateboarders, a brand exists for almost every need one can conjure up. Some of the more popular companies such as Ralph Lauren and True Religion tend to be quite expensive. Those who desire a name brand pair of chino pants should consider using a less traditional shopping method in order to save a bit of money.
Used Men's Chino Pant
Since chino pants from brand name designers are more expensive than most are willing to pay, used chino pants tend to be a common alternative. Searching for used pants in consignement shops, however, is often a fruitless endeavour. With lightly used pairs of chinos, blanketing online marketplaces such as eBay, consumers are able to find quality chino pants at affordable prices. Even a pair with a light stain can be easily cleaned and thus very much wearable. Make sure, however, to contact the seller with questions about the conditions of the pants prior to a purchase. Comb through pictures available to find a pair of pants or shorts that is in fair condition.
Utilising eBay to Purchase Men's Chino
Men's chino pants and shorts are common staples of the modern wardrobe. As an option that is designed for wear in various occupations as well as casual, everyday settings, combing through choices is quite the task without the proper tools. With eBay, however, users simply have to visit the eBay homepage and enter a term such as "men's chinos", in order to pull up thousands of results. To narrow such a search down, users of the site are able to utilise search filters as well as the advanced search option.
If choosing between listings is still a question, browse through seller ratings. The detailed seller ratings offered on eBay, allow consumers to search for sellers that are rated on shipping speeds, item condition, and more. These ratings allow users to find a great pair of pants from a dependable seller. Add in options for both authorised sellers and local sellers, and consumers have access to a site that is designed with the savvy buyer in mind.
Conclusion
Men's chinos claim an extensive history, with roots in both comfort and cooling aspects. Individuals who live and work in warmer environments, are likely to find chino pants as a perfect marriage between comfort and style. These pants are designed for casual wear as well as semi-formal wear, and are often the everyday choice for men of various ages. Consumers interested in chino pants or shorts find more than enough choices in today's market.
Sifting through choices at department stores and driving back and forth between traditional stores, however, is quite frustrating. With the advent of online marketplaces such as eBay, such a shopping experience is no longer necessary. Individuals should make sure to determine style needs, material, and brand before committing to any purchase. Those who desire name brand chinos of any style might find used options to be somewhat more affordable. Understand the options available in order to find the most comfortable, stylish chinos for a reasonable price.