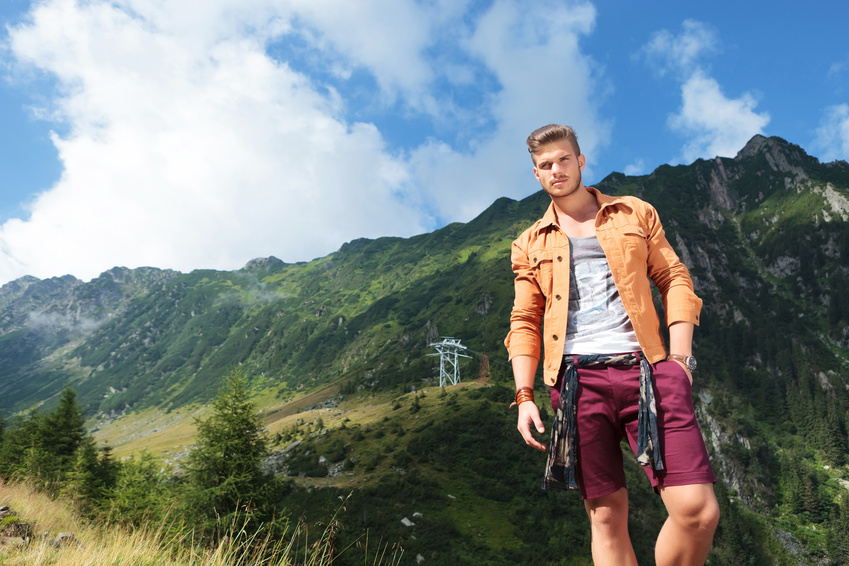 Chino shorts, made of a durable cotton, have become a staple item in the wardrobe of men who prefer a well-tailored look that is comfortable and attractive. These men's shorts are commonly associated with the business casual look, but men can pull off any casual look if needed.
Colours and Fabric
Chino shorts are most commonly known for their khaki colour, but they actually come in many other shades as well. Modern styles allow men be more bold. In fact, putting on more daring pieces, such as men's red chino shorts, looks contemporary and fashionable. It does not stop there though. Men's chino shorts also come in a variety of patterns, such as plaid or even floral. Pairing some men's plaid shorts with a plain button-up or polo shirt creates a stylish, yet clean-cut, look. Chino shorts are either made with 100 per cent cotton or a blend. In general, opt for fabric blends because they have a bit of stretch so they fit more comfortably and attractively, are slightly more resistant to stains, and wrinkle less.
Flat or Pleated Men's Chino Shorts
Flat-fronted waistbands feature a straight cut at the hips, whereas pleated chino shorts are tucked in a bit at the waist to create a curve more natural to men's hips. It also provides a bit extra fabric, making it easier to move around. However, it may bunch up and appear a bit bulky, and it is easy to end up with shorts that look too big. Slender men who like to wear shorts more around the hips than the waist should stick to straight-cut men's shorts. Those who wear shorts higher up on their actual waistline can get away with pleated shorts if they fit properly.
Traditional Men's Chino Shorts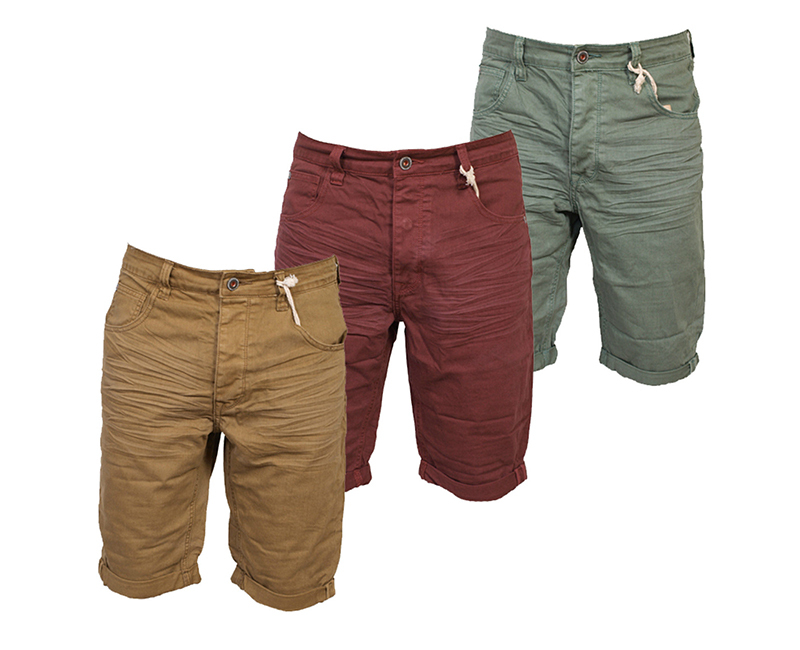 Traditional Chino men's shorts have straight legs and suit wear at a variety of events, such as a weekend business luncheon, golfing, a casual business day, or a day of shopping in the city. Skinny chino shorts, also called slim chino shorts, fit the legs more snuggly and create a streamline look on thinner men. Straight shorts pair well with any shirt, except super casual T-shirts designed to look ragged. Gothic or other dark styles are not recommended either.
Men's Chino Cargo Shorts

For more casual and functional shorts, go with chino cargo shorts. These feature large pockets on the each leg in addition to the normal pockets on the hips. The extra pockets result in a more casual and rugged look. Solid colours read more semi-casual, while patterns like camouflage only suits casual events.