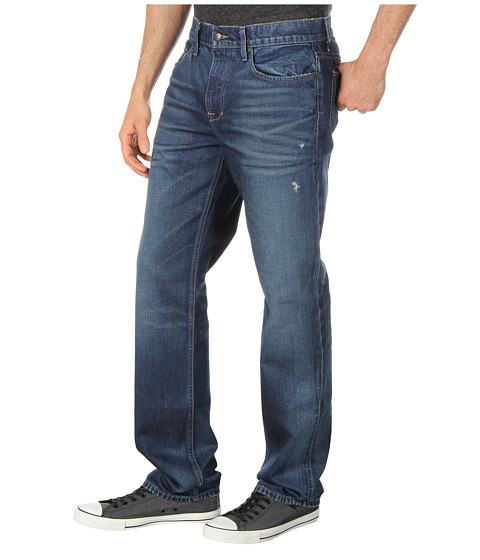 Jeans are among the most worn clothing items for men as they are timeless and can be paired with almost any outfit. Men of all ages can wear them without looking too young or old, and jeans never go out of style. There is a wide variety of styles of jeans on the market, with different cuts, printed patterns, and colours, so anyone can easily find his preferred style. However, the classic jeans design remains a popular one as it makes the jeans versatile, so they can be worn in almost any occasion. Moreover, classic jeans are unlikely to go out of style from a season to another and they are often much cheaper than the latest designer jeans.
Before buying a pair of classic jeans, a man should know what the types available are, how to choose the right style for him, and how to wear this type of jeans. By doing so, any man can make sure he selects the right pair of classic jeans that matches his style and looks good on him.
Getting to Know Classic Jeans
Jeans are made of denim, a strong, weaved cotton twill fabric. Denim is very rugged and durable, so denim jeans were initially designed as work clothes for cowboys in the late 1800s by Jacob Davis and Levi Strauss. In the 1950s, teenagers started to wear jeans as a stylish fashion item, and jeans have remained popular as casual garments among people of all ages ever since. Originally, denim jeans always came in blue so they were called 'blue jeans'. Over the years, various designs of jeans came about and the original 'blue jeans' became known as the classic jeans.
Among the oldest jeans brands are Levi's, Wrangler, and Lee Cooper, which have continued to produce all styles of jeans including the classic jeans. Classic men's jeans have a straight cut which makes them look rectangular-shaped. The jeans are neither tight nor loose on the waist. They have five pockets, and are usually dyed blue, although darker-coloured jeans of this cut such as grey or black can also be considered classic jeans. A rule for classic jeans is that they are never bleached to give a washed-out effect, and they do not have any other extra features such as printed or stitched patterns, patches, and rips.
Reasons for Buying Men's Classic Jeans
Compared to other styles of jeans, classic jeans are the most versatile and can be worn for any occasion and by anyone. They look good on men of any body type and can never make anyone look odd. A thin man wearing a pair of loose-cut jeans may look even thinner in them, and a man with a bigger build may look disproportionate in a pair of skinny jeans, but both of them can look good wearing classic jeans.
Classic jeans are a safe clothing item which can be worn every day for a casual look, but when paired with the right shirt and accessories, one can look very stylish in a pair of classic jeans. They are also reasonably priced compared to newer styles of jeans from the same brands and do not go out of season compared to some other styles. Another reason why some men buy classic jeans is that they do not draw attention, so they can be worn two or three days in a row without anybody noticing it.
How to Buy Men's Classic Jeans
Before buying a pair of classic jeans, a man should consider what he will be wearing the jeans for, whether as casual wear or as part of his work attire. If the jeans are to be worn only at home or when running errands, classic jeans of any shade of blue or black are suitable. Some jeans can have an old or worn-out look especially those of lighter shades, and these look fine when worn in the house or to the park. Men looking for jeans to wear to work should consider getting jeans of a dark wash which can go well with a pair of dress shoes, as they look more professional. Of course, the jeans worn to work should not have any patchwork or rips.
Classic blue jeans have a timeless look and are great to be worn to casual outings or parties, while darker ones are versatile and can be worn with casual outfits and more formal ones as well. The sizing chart below can be used as reference when buying men's classic jeans. However, when buying a pair of jeans, it is always important to try them on, if possible, as different brands may have slightly different measurements.
| UK Size | US Size | EU Size | International Size | Waist (cm) |
| --- | --- | --- | --- | --- |
| 30 | 30 | 40 | XS | 74-79 |
| 32 | 32 | 42 | S | 79-84 |
| 34 | 34 | 44 | M | 84-89 |
| 36 | 36 | 46 | L | 89-94 |
| 38 | 38 | 48 | XL | 94-99 |
| 40 | 40 | 50 | XXL | 99-104 |
| 42 | 42 | 52 | XXXL | 104-109 |
Besides trying on the jeans to check the size, one must examine the jeans for any damages such as loose threads or buttons. The buyer should also check the seams and zippers. Although brand new jeans should have no flaws, there could be some factory defects which go undetected. If one is buying a pair of used or vintage classic jeans though, he should always check the garment for any damages.
Another consideration is one's budget. Many types of men's classic jeans are affordable compared to jeans of other styles which have extra embellishments. However, there are also designer classic jeans which can be expensive. One thing to remember is that more expensive jeans are not necessarily of better quality. Classic jeans are available in department stores, specialised denim stores, and online, including on eBay.
How to Wear Classic Jeans
Since classic jeans are so versatile, there are numberless ways in which one can wear them. As casual wear, classic jeans can be worn with anything, from T-shirts to jumpers and hoodies. An outfit made of classic jeans, a dark T-shirt, and sneakers can also be worn to a casual party. If one wants to dress up a bit more, he can wear the jeans with a dress shirt and a pair of dress shoes. Classic jeans can also be paired with a vest or blazer when going to a bar, club, or a cocktail party. Belts are always good accessories to be worn with classic jeans, be it a leather belt, a canvas one, or a patterned one.
Those who plan on wearing their jeans to work should first learn the dress code for their job. If jeans are allowed, it is better to opt for darker-coloured classic jeans to look more professional. Blue jeans generally look better with brown or white shoes, while darker jeans such as black ones look good with black shoes.
How to Buy Men's Classic Jeans on eBay
eBay has a variety of classic jeans of different sizes and brands to choose from, and all you need to do to start searching for the jeans that you want is to type the appropriate keywords into the search bar on the eBay home page. Searching for 'men ' s classic jeans' returns a list of all the related items available on eBay. All you need to do next is browse through the list until you find the jeans that you are interested in. Next to the image of the garment, you can see the details of the product, its price, postage fees, and also whether the jeans are new or used.
If you do not have time to browse through so many items or you wish to customise your search, you can type in other keywords, such as 'men's Armani classic jeans' or 'Levi's 501 men's jeans', to get a list of relevant items. After selecting the jeans that you like, you should look at all the details that interest you, such as the size and the postage fees. If you need more information, you can contact the seller. Once you are satisfied with your choice, you can proceed to purchase the jeans.
Conclusion
Men's classic jeans are a timeless piece of fashion which can look good regardless of a man's age or body shape. These jeans can be worn with almost anything and for any occasion, and are therefore a necessary addition to any man's wardrobe. Before buying a pair of classic jeans, one should decide what they will be worn for as some jeans of a lighter shade are more suitable to wear to casual outings, while darker jeans are more versatile and can be even worn at work.
Men's classic jeans can be paired with almost any type of top, from T-shirts and hoodies to dress shirts, and can be worn as everyday clothing or even as a semi-formal party outfit. Purchasing a pair of classic jeans is not difficult because, due to their popularity, they are available in department stores and online shops. eBay has a rich selection of classic jeans for any budget and it is simple for anybody to find and buy the pair of classic jeans that they are looking for.