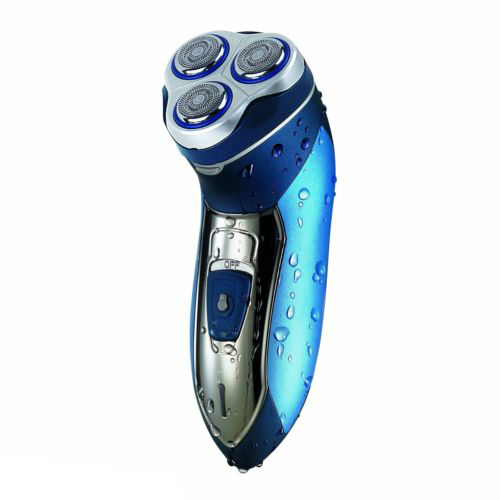 Shaving has a long history and at the core of this are the evolutionary stages that the shaver (also known as razor) has been through. In the early 20th century, open blades were considered the most popular shaving implement.
However, they required great skill and a trained barber would tend to operate them. This product would eventually evolve into the disposable shaver we see today. These were classed as safety razors and allowed everyone (no matter their skill level) to shave in their own home.
However, as technology evolved, so did shavers and in the late 1930s Remington would place their first electric shaver into production. Since then the electric shaver market has gone from strength to strength and now there are countless variations of cordless rechargeable shavers available. This guide along with eBay's search tools will help shoppers find the right cordless rechargeable shaver to suit their needs.
Types of Shaver
At present there are three types of cordless rechargeable shaver available. The market diversity in the electric shaver field means that there are razors suitable for all skin types and shaving needs.
| | |
| --- | --- |
| Clippers | Clippers are the most versatile form of rechargeable electric shaver currently on the market. Their main use is for beard trimming and is not suitable for those looking to obtain a close shave. Clippers are not limited to just facial hair as they can also be used to trim and cut hair on other parts of the body. |
| Rotary | Constructed using two, three or four rotating heads, they are considered the best shaving utensil available for facial hair. Each rotating head is highly flexible and they come into their own when shaving the jaw line and neck areas. The only downside to rotary shavers is their price; due to their build quality, they are the most expensive form of rechargeable shaver available. |
| Foil | Foil shavers use a roller that is backed by high-speed razor blades. The surface area of the roller is small; this means it takes more time to obtain a detailed shave. They can provide a close shave, but require skill and patience to use correctly. |
Wet or Dry
Razors come in three variations: wet, dry and dry/wet. Each type offers something different to potential shoppers.
| | |
| --- | --- |
| Wet | A wet shave is known for getting smoother results than a dry shave. Shaving foam is used to reduce friction on the face, which helps prevent skin damage and burns. Shaving wet is the best way to remove stubble and it also helps with skin exfoliation by removing dead skin cells. |
| Dry | Shaving dry is largely of benefit to those who aren't looking for a clean shave. If shoppers are looking for a shaver for trimming and styling purposes they can't go far wrong with a dry rechargeable shaver. |
| Dry/Wet | Attempting to offer the best of both worlds, wet/dry shavers are suitable for all conditions. However, their versatility has its downside; the battery life is far shorter than its counterparts. They also command a high price at auction. |
Skin type and surroundings play a large part in the type of shaver you require. Those who tend to use an electric shaver in a wet room or shower should opt for a wet or dry/wet model due to their waterproof qualities. If shoppers have styling in mind dry shavers should be their first choice. Many men suffer from sensitive skin, so they should look towards wet shavers, as they will be far abrasive.
Cleaning and Maintenance
No matter the type of cordless rechargeable shaver you purchase maintenance is a key factor in keeping it in the best possible condition. Over time, electric shavers will collect excess hair unintentionally and potentially become host to a range of unpleasant bacteria. The cleaning process can be tricky but the following tips will help keep a shaver in useable condition.
* Remove the shaver's head and brush off hair and debris. Using a specialised brush will make this easier and reduce the risk of damaging the shaver's paintwork.
* Clean under and around the motor mechanism and blades. Feel free to be more rigorous in the cleaning effort, as some areas are hard to reach.
* Make sure you clean away any excess hairs; if they get caught in the motor it can hamper the performance of the shaver.
As time progresses it is worth taking a closer look at the core elements of a rechargeable shaver. Doing this will help users spot major issues and help prevent irreparable damage occurring.
* Check the rubber gasket under the cutter block and keep an eye out for cracks. If found the gasket should be replaced immediately in order to stop hairs and dirt from becoming lodged.
* Clean attachments in soapy water, alcohol or barbicide before allowing them 4 to 6 hours to dry.
* Using an aerosol lubricant on all parts of the rechargeable shaver will keep it running smoothly.
The benefits of keeping a cordless rechargeable shaver clean are evident. It helps users get a better shave whilst keeping bacteria to a minimum. Shoppers can use eBay to find all the accessories they need to clean a cordless rechargeable shaver correctly.
Brands
Male grooming is now a multi-billion pound industry that is popular all around the world. Its global presence means that there is a multitude of brands to choose from when shopping for a rechargeable shaver. Each brand offers something different so be sure to research them prior to making a purchase. Some of these brands include:
* Philips
* Braun
* Panasonic
* Wahl
* Flyco
* Sanyo
* Remington
* Nicky Clark
* Welby
* Comma Electronics
Each brand targets their products at different beard types and most offer a variety of shaver models. Some brands place technology over productivity or vice versa. Shoppers should know their skin type and their shaving needs before entering the marketplace. eBay has cordless rechargeable shavers from the aforementioned brands and more available at affordable prices.
Buying Used
With the online auction environment becoming a prevalent shopping option, the opportunity to buy a used cordless rechargeable shaver regularly presents itself. However, buying used is not risk free and users should question a seller prior to purchase, whilst paying close attention to the item listing.
* Are any parts missing from the shaver? If so, what are they?
* How often has the shaver been used?
* How often has the shaver been charged?
* Is it still under the manufacturer's warranty?
* Does it come boxed?
They are basic questions, but some sellers will not list such information on the auction listing so they're well worth asking. When choosing to buy a used shaver, cleaning it before use is a must. eBay has offerings from all the industry's top brands at affordable prices, used or new they'll be something to suit all budgets and requirements.
Conclusion
In the past, people have questioned whether or not an electric shaver can rival the shave that an open blade provides. As time has progressed the answer to that question has become a resounding yes. The product has evolved into a must have item for all men no matter whether they prefer a wet or dry shave.
Electric shavers are a convenient way to get a great shave or trim in double quick time. All men will agree that there is no better feeling after a smooth shave. It is time for men to ditch the flimsy disposable razors and embrace their electric counterparts. This guide, along with the available ask the seller option on eBay, ensures that you find the right cordless rechargeable shaver for your shaving needs.