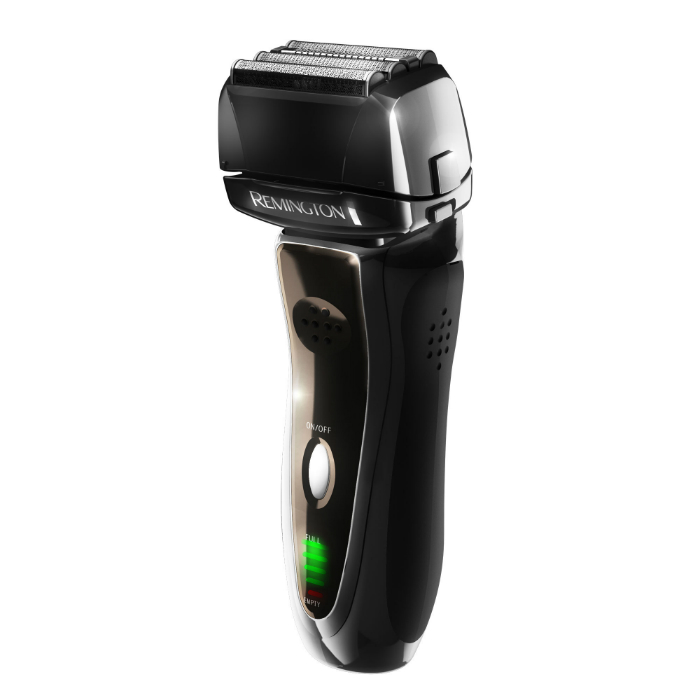 Shaving has been a daily routine for men for thousands of years; it is in this day and age that men have a choice in how they go about it. The premiere shaving tool is an electronic shaver. There are many options available; however, the best performing implement is foil.
Choosing the correct shaver is an important decision and not one that should be entered into lightly. Shoppers need to weigh up the strengths a foil razor and see if it is something that is suitable.
They use a roller system that is backed by several high-speed razor blades. Foil shavers provide an all-round close shave whilst being the safest form of electric shaver currently available. As eBay has been a power player in the men's grooming market since the early 21st century, expect to find all kinds of foil shavers, and at the most affordable prices.
What Is a Foil Shaver?
The term foil refers to the layer of metal that covers a selection of extra sharp razor blades . On their own such blades are dangerous. However, the foil cylinder protects the users face, whilst still being able to perform a close shave. The foil traps the hair in its slots allowing the blades to cut as close as possible to the skin without actually making contact. Precision makes them a must have for those looking to create straight edges and trim around sideburns. Foil shavers are perfect for those who need to shave daily and have styling in mind.
Positives and Negatives
There is a common myth that there is no such a thing as a perfect electronic shaver. There is no such thing, however, it is possible to get close. Every shaver has positives and negatives, with some having more pros than others. Finding the right foil shaver will allow users to get as close to shaving perfection as possible.
Foil Shaver Pros
A great everyday shaver.
Easy to clean.
Perfect for use on fine hair.
Cuts straight hairs that are close to the skin.
Provides arguably the closest possible shave of all shavers.
Designed to deliver precision.
Foil Shaver Cons
Not good for infrequent use.
Doesn't handle thick and coarse hair particularly well.
Struggles with hairs that aren't straight.
If you don't clean yours shavers regularly it is best avoided.
Foil Shaver Brands
The field of men's grooming is constantly inventing new products to help men get a closer shave. Brands are doing all they can to stay ahead of the field and obtain new business. Foil shavers are a top product so expect companies to do all they can to get your custom. Each shaving brand offers something different, so its pays to research them prior to making a purchase. Some of these makes include:
Philips
Braun
Panasonic
Wahl
Flyco
Sanyo
Remington
Nicky Clark
Welby
Comma Electronics
Each brand has a target market in mind, whether that is different age groups or different shaving styles. The company's mission statement is also something to consider, as some will place productivity over technology, and vice versa. Before logging onto eBay and entering the online marketplace, shoppers should know their skin type and what they require from a foil shaver.
Buying Used
Online auctions have become a shopping option due to the popularity of sites like eBay. This means that buying a used foil shaver is an option. For many a new shaver is financially out of reach, so buying used could be a great way to extend a budget. However, buying used is not risk free and sellers should always approach used items with caution. Ask the seller the following questions in order to determine if the shaver is right for you.
· Are any parts missing from the foil shaver? If so, what are they?
How often has it been used?
How often has it been charged?
Is it still under the manufacturer's warranty?
Does it come boxed?
They may seem like simplistic questions, but could prove the difference between getting a top quality shaver or a dud. Always bear in mind that a used shaver should be cleaned before use no matter what condition it is in.
How to Use a Foil Shaver
Foil shavers should be used in a back and forth motion, not side to side. The motorised foil cylinder will catch the hairs and give you the close shave you desire.
The motion should simulate that of a manual shaver.
Foil shavers are not disposable.
· Low-end models are not very efficient and don't come with self-cleaning features.
· Always maintain a steady pace while shaving in order to get an even look.
Keep the foil elements lubricated.
The above elements all play a part in getting the perfect shave. eBay stock a wide range of foil shavers, so expect to find a shaver that suits your needs at a price that suits.
Maintenance and Cleaning
Pull the foil attachment upwards and out of the shaver.
Blow any excess stubble out of the foil cylinder and blades.
Use a small cleaning brush to sweep away loose hairs.
· Do not use the brush on the cylinder itself as it may damage the holes in the foil.
· Rinse the foil and blades under cold water, but be careful not to submerge it.
Shake off any water that lingers in the unit.
Replace the foil cylinder if necessary.
Use a towel to dry the shaver before returning it to its stand.
Foil Shaver Tips
· Shave daily if possible, as foil shavers run far more efficiently when in regular use. This will also reduce the amount of pain felt when tackling shorter hairs.
· Once a month, give the shaver a deep clean using disinfectant and water. Shavers are a breeding ground for bacteria and need to be dealt with appropriately. Clean each blade individually and give them focused attention.
· Read the manufacturer's instructions prior to use, it will give advice on how to use the foil shaver correctly.
Warnings
· A foil shaver should never cut you. If you are cut while shaving you're either doing it incorrectly or the device is not functioning correctly.
· Always tie back long hair while shaving with a foil shaver; it will grab whatever hair it comes into contact with, no matter where it comes from. It can clog a shaver and make it a very painful process.
· Always watch out for holes in the foil, they can cause damage to the face if not addressed, as the high-speed blades are left exposed.
How to Buy a Men's Foil Shaver on eBay
The men's grooming industry has grown to an astronomical £16 billion pounds in value, and has been popular since the early 1980s. Shavers and beard styling tools can be considered the top men's grooming accessories; no product is more respected than the foil shaver. They are the cornerstone of the daily shaving routine and a must have for all men.
· In order to browse what foil shavers are available, log on to eBay's homepage and select health and beauty.
· From there, click on hair removal then electric shavers. This will display all live auctions and allow shoppers to openly browse what is on offer.
· If shoppers have a specific brand of shaver in mind they can use the keyword search to narrow down their results.
eBay Shops
Most men have embraced grooming products and a lot of sellers are looking to take advantage of their popularity. eBay shops is an avenue that sellers often use in order to sell their stock. In these mini-stores, shoppers will be sure to find great bargains on the latest foil shavers. To find what eBay shops are open for business, click the eBay shops link at the bottom of the homepage.
Completing a Transaction
· When shoppers have found what they're after, they'll need to follow through with a purchase.
· In order to do this they will need to do one of the following on an item listing.
o Place a Bid
o Make a Best Offer
o Buy it Now
· Once an auction has finished the winning bidder will need to complete the checkout process.
· Doing this with PayPal will mean that the order is covered by the buyer protection programme.
Conclusion
In the past, the effectiveness of electric shavers has been questioned. However, the invention of the foil shaver has put those questions to bed. They have surpassed the effectiveness of their manual counterparts and provide the closest shave that money can by. Easy to clean, simple to use and long lasting, these are features that make a foil shaver an excellent purchase. Simply put, foil shavers are a convenient way to get a close shave in a super quick time.
Foil shavers provide a dry shave and are the perfect way for every man to start their day. All men will testify that there is no better feeling than a close shave that leaves the skin feeling energised. In order to find the foil shaver that's right for you, follow the steps in this guide while browsing through eBay's wide array of options.