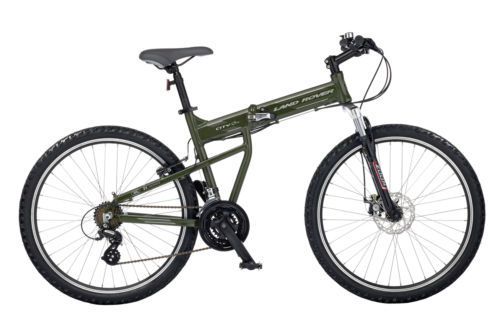 A folding bike for men is a bicycle specifically designed to be collapsed into a more compact form, making it suitable for travel or storing. Folding bike designs vary, with some being simple to fold down and others requiring a more complicated procedure using tools. There are many folding bikes for men available from sellers on eBay at affordable prices.
History and Design
Folding bikes have been around for over 60 years. Italian and French soldiers used them in World War I, but it wasn't until the 1950s when folding bikes became a more common choice for daily use. The compact nature of the bike makes them a suitable choice now for those who commute to work. The foldable element makes it easy for cyclists to fold down their bike and carry it onto a train for longer journeys. They are also great for storing at work or in a flat where space is limited.
Folding bikes do not all collapse in the same way. Some folding bikes are folded down using special bike tools, while others can be folded down using a series of levers and hinges. Generally speaking, folding bikes that require tools to be dissembled are stronger than folding bikes that can be folded down with levers and hinges, but tend to be more time-consuming and less convenient. There are a few folding bikes that offer both options - folding and disassembling.
Folding bikes often come with smaller wheels than standard bikes, in order to make folding down or disassembling simpler. Popular folding bike brands include Montague, Dahon, Bike Friday, Brompton, Slingshot and Moulton.
Popular models of Folding Bikes for Men
There are a number of popular models of folding bikes for men. Below are some of the most popular.
| | |
| --- | --- |
| A-Bike | One of the smallest and lightest folding bikes available. Quick and easy to fold down. The wheels and frame are smaller than other styles though, which might not appeal to some male cyclists. |
| Airframe | The Airframe is one of the more expensive designs, thanks to the efficient folding process and intricate design. Easy to fold down. |
| Airnimal | Airnimal folding bikes come with larger wheels than most styles, usually at around 24 inches. As the design is built to be sturdier than other folding styles, it does require a little more work to disassemble it. Most Airnimal designs have to be folded down by removing the front wheel and strapping the rest of the frame together. |
| Bike Friday | Bike Fridays folding bikes are aimed at those that want a compact bike that works just as well as a standard bicycle. Bike Friday has a number of different styles, including foldable and separating, with the latter designed to be suitable for taking on a plane as hand luggage. Due to the intricate nature of the design, it's trickier to fold down than some of the simpler designs. Prices vary depending on whether a standard or a custom built design is required. |
| Birdy | Birdy folding bikes are lightweight and easy to fold up, thanks to the lightweight design. Tyre choice is generally limited to the 16 inch and 18 inche options. |
| Brompton | One of the most popular brands is Brompton, as it has one of the simplest folding methods. The designs are well built and sturdy, winning the brand many admirers. |
| Dahon | One of the oldest folding bike brands, Dahon has a large range of models with a variety of wheel sizes. Most fold from the centre of the frame easily, |
| Moulton | Moulton bikes are a popular brand, disassembled by separating the bike into two parts rather than folding. As the brand has progressed, the bike is now versatile enough to split into several parts, making it even more compact. |
A Beginners Choice
When looking for a folding bike for men, there are five things to consider.
1 The size and shape of the folding bike.
2 The preferred method of collapsing the folding bike.
3 How compact the folding bike will be after disassembling.
4 How comfortable the folding bike ride is.
5 The availability of spare parts for the folding bike.
The Size And Shape Of The Folding Bike
As with buying a standard bike, it is important to get the right fit with a folding bike. The height of the saddle, location of the pedals and the handlebars are all factors to consider. Some folding bikes will need to be readjusted every time they are collapsed or taken apart, which also needs to be taken into consideration.
Preferred Method Of Collapsing The Folding Bike
Folding bikes can be collapsed in several ways. Some folding bikes are quick to collapse with just a couple of levers and hinges. Others require special folding bike tools to collapse it. There are a number of pros and cons for each type.
Folding Bikes
Pros
Folding bikes are quick to collapse, making them an excellent choice for those who would like something for commuting on buses and trains.
As there's no need to take an extra kit around, folding bikes are often lighter. Many folding bikes are made from aluminium, making them even lighter and less likely to rust.
Cons
Folding bikes have a reputation for being less sturdy than bikes which can be collapsed with tools, although this varies from brand to brand.
Folding bikes are usually better suited for shorter journeys on smoother surfaces, making them a suitable solution for short commutes.
Collapsing bikes
Pros
Collapsing bikes, those which are manually taken apart to become more compact, have a reputation for being more secure and stronger than the standard folding bikes. They're also widely believed to be better for longer bike rides, and across more surfaces, although this again depends on the brand and style.
Cons
Collapsing bikes take more time to disassemble and assemble, so they're not ideal for those who want to make their bikes compact in a short amount of time.
The addition of a set of tools for the collapsing bike can also make this option heavier.
Folding And Collapsing Bikes
There are some bikes now that can be folded AND collapsed, giving cyclists the best of both worlds. These bikes tend to be more expensive, due to the dual collapsing methods.
How Compact The Folding Bike Is
One of the most important things to consider with a folding bike, is the eventual size of the bike when it has been collapsed. A number of brands, like Bike Friday, are designed to be folded down to a small enough size to carry onto a plane as hand luggage. Others come with bags to store the bike in, making it easier to carry and store on the commute, at home or at work; there are plenty of folding bike bag options on eBay.
Many of the folding bikes listed on eBay will list the size of the collapsed folding bike in the description. If they don't, it's wise to send a message to the seller to find out.
How Comfortable The Folding Bike Ride Is
For those who cycle a long way, or regularly, comfort is likely to be a big factor in buying the right bike. It's worth researching which bike saddles are the most comfortable, and making sure the shape of the bike is conductive to a good posture while cycling. Additional bike parts may also be bought on eBay to customise the ride to suit requirements.
The Availability Of Spare Parts For A Folding Bike
The availability of spare parts for folding parts is an important consideration, as some folding bike brands are no longer functioning, or spare parts are hard to find. A particular folding bike might be good on paper but if the replacements parts aren't widely available, or are expensive, it might not be the best purchase.
How To Buy Men's Folding Bikes On eBay
eBay offers thousands of men's folding bikes, ranging from lightweight folding bikes to collapsable ones that can cope with long distances. It is possible to pick up a second hand or nearly new bargain with eBay sellers, who are renowned for their competitive pricing and wide range of products. Plus, there are plenty of flexible payment options available by buying on eBay.
To search for men's folding bikes, visit the Sport & Leisure portal category on the home page. From there, navigate to Sporting Goods and select the Cycling section.
Alternatively, type in specific search terms into the search box provided on every page. Using specific searches such as ''folding bike'' can also help you find the suitable bikes.
When searching through listings, carefully review all the data. Make sure the item matches personal requirements. Look over the photographs feel free to ask the Seller a question if needed for further clarification. When ready to buy, either place a Bid, Buy it Now, or put down a Best Offer. Buying with PayPal will ensure the transaction will go smoothly. eBay users are protected by the Buyer Protection Program.
Conclusion
Choosing a men's folding bike depends on a variety of factors. Things to take into consideration include weighing up convenience and a quick collapse rate versus a smooth and sturdy ride, what your budget is, and how available spare parts are. There is plenty of choice on eBay, so cyclists can find the exact bike for their needs.
For further information, there is a bi-monthly magazine dedicated to folding bikes, called The Folding Society, which is aimed at those that use or love folding bikes.