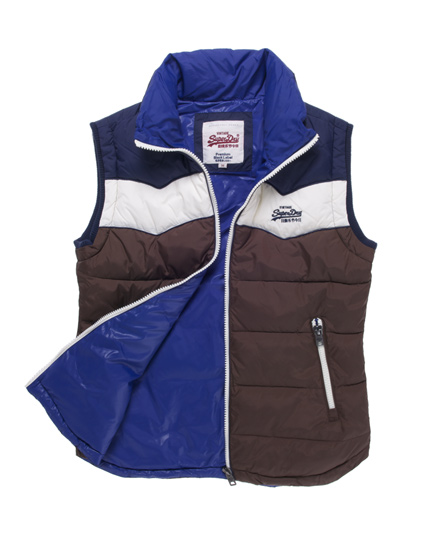 Originally devised as an outdoor version of the waistcoat of a gentleman's three-piece suit, the gilet has now been changed by fashion almost beyond its original design and purpose. A gilet is worn as a functional piece of outdoor clothing on top of the wearer's other clothing.
Derived from the French, but ultimately from the Turkish word 'yelek', the gilet is traditionally a straight-sided, sleeveless jacket, either of waist or full length, and is designed to keep the wearer's body warm, leaving the arms free and unimpeded, and to be worn on top of other outdoor-type clothes. Historically, they were fitted and often embroidered with intricate patterns and designs. They were made famous by Lucien Schneller, the Duke of Hungary who wore his for shooting and other countryside activities.
Nowadays, with the advancements in clothing design and technology, and using modern materials for construction, gilets are manufactured in many different styles, with many different configurations, ideal for the man with today's lifestyles and requirements in mind.
Common Gilet Fabrics
Traditionally, gilets were fashioned from cotton, tweed, leather, or natural fabric, but now are often manufactured using synthetic materials designed to allow the wearer's body to 'breathe', yet retain heat for added comfort. Gilets come in polyester, a polyester-cotton mix, nylon, leather, fleece or a combination of fabrics. For extra warmth and comfort, some gilets feature padding of either natural down or a synthetic hollow-fibre. If a gilet has a natural padding, it often consists of duck or goose down. When a gilet has quilting, a 'tog' rating is often provided in a manner similar to bedding and duvets, showing relative warmth and protection from the elements. Gilets have great heat storage capacity, but require care when left to dry out, after being exposed to the elements, and attention must be given when cleaning them to avoid destroying their natural filling. Many duck or goose down gilets need careful dry cleaning and should not be thrown into the washing machine when they get dirty.
Pockets
Originally, gilets featured just two pockets on the outside in a style very similar to waistcoats, but modern gilets now often feature an array of both external and internal spaces for carrying small, regularly used items. These may be standard, open-type pockets, or they may feature zippers or have some other means of fastening to keep the contents secure. Velcro fastenings are a popular way to keep the pockets closed. Pockets, whether external or internal, may be numerous and aligned in the conventional, horizontal manner or may even be vertically aligned. These vertical pockets will almost certainly be of the zipped type. In modern gilets, the interior pockets tend to be much deeper and, hence, more secure than the outer ones.
Zipper Fastenings or Buttons
Up until the latter half of the twentieth century, buttons were the only method of fastening gilets but, recently, zippers have become an integral part of their make-up. Heavy-duty and high-insulation-type gilets may sport a large zipper that will open in the traditional manner, from top to bottom, as well as from the bottom up, making reaching into trousers and their pockets much easier, without having to sacrifice comfort when exposed to the elements. Some modern gilets go one stage further and have an additional interior zipper for use when the weather is milder, and they do not require full fastening. As a fashion statement, some modern gilets boast buttons or toggles down the front.
Hoods
In a departure from the traditional, some contemporary gilets have hoods, either detachable with a zipper, fitted with Velcro fastenings, or fixed. These give the wearer an added layer of warmth around the ears and head. These are becoming increasingly popular, particularly amongst the young, however, traditionalists argue that a gilet with a hood is not a true gilet, but simply a hooded jacket without sleeves.
Colours
Gilets are typically offered in muted earth tones of grey, green, brown, black, and tweed in a similar way to traditional outdoor clothing, however, many modern gilets come in bright, easily seen colours, particularly useful when out hunting or participating in other activities where being highly visible is desirable. Modern gilets are sometimes fully reversible, giving the wearer a choice of two colours, depending on which way round they choose to wear the gilet.
Designs
As previously stated, the traditional gilets are often designed with woven patterns on either breast, while modern gilets frequently feature designer logos or differing patterns of material in different colours and designs. A modern gilet may be straight cut or tailored, depending on styling and individual customer choice. Many modern gilets include drawstrings around the bottom hem to prevent heat loss and promote a snug fit around the waist.
Chest Sizes and Fittings
The table below gives an indication as to chest and waist sizes when compared with manufacturers' size ratings:
| | S | M | L | XL | XXL |
| --- | --- | --- | --- | --- | --- |
| Chest (in) | 36-38 | 39-41 | 42-44 | 45-47 | 48-50 |
| Chest (cm) | 91-96 | 99-104 | 107-112 | 115-120 | 122-127 |
| Waist (cm) | 30-32 | 34-36 | 38-40 | 42-44 | |
| Waist (cm) | 76-81 | 86-91 | 97-102 | 107-112 | |
Please note that these measurements are only a rough guide. If the buyer is unsure as to which size is best, or feel they may be on the border between two sizes, they should try on both sizes to ensure the perfect fit.
Uses of a Gilet
Aside from keeping the wearer warm, a gilet is a safe and convenient place to store often-used items, such as car or house keys, and many modern gilets are outfitted with more than the traditional two front pockets, including ones on the inside left and right breasts. Many users report that they find the gilet indispensable for everyday life, appreciating both the extra pockets and the single layer it provides, when a full outdoor coat would be too heavy or bulky. The construction industry also make use of the practicalities of the gilet, and there are quite a few workman's gilets available that contain additional smaller pockets for the temporary storage of small, often-used tools and fittings. These pockets tend to have Velcro-type fastenings, making them ideal when the owner is wearing construction gloves or similar and lacks the finger dexterity required for buttons or clasps.
Interior vs. Exterior
Some high-end outdoor jackets feature an integral, fitted gilet that may be removed in warmer weather by way of Velcro or zippers. While a gilet is traditionally meant to be worn on the outside of the wearer's clothing as an extra layer for warmth, some manufacturers now sell interior gilets that are designed to be worn underneath an outer top coat. These gilets are usually very thin and do not include pockets, either interior or exterior, as they are designed purely for their heat retention capabilities in colder weather. Interior gilets are particularly popular with gardeners in the winter months. When doing heavy digging or other such physical activities, a gilet can be discarded, but when the gardener performs less vigorous activities, then a gilet can be quickly donned under a topcoat for added warmth.
Use in Sport
Because the gilet is so light, easy, and comfortable to wear, and gives great freedom to the wearer's arms, professional cyclists often wear a gilet emblazoned by their sponsors' logos when competing. These typically sport a water- and wind-proof front, yet have a mesh backing that allows the rider to perspire freely. Cyclists' gilets tend to be no more than one layer thick, worn more for their wind protection than for their outright heat insulation properties. Hunters and gun enthusiasts may wear a gilet to conveniently store used and unused cartridges and other paraphernalia. Anglers wear them to hold smaller pieces of tackle, knives, and other odds and ends. Other sports not previously associated with outdoor living have also introduced gilets into their range, notably basketball, baseball, and even surfing.
As a Fashion Statement
Like most modern clothing, gilets have become something of a fashion statement. The designer's label is seen as something of an identifier, with many gilets having a trademark logo on the front or a label on the back. Many designer gilets are styled in such a way as to be instantly recognisable as a certain brand. As previously noted, because other sports, apart from the traditional outdoor types, now include gilets as a part of their range of accessories, the fashion and brand conscious can now wear surfing, baseball, and basketball gilets. Much like the aforementioned Duke of Hungary who first made them famous, a modern gilet wearer makes a statement as someone who doesn't want to conform to the modern conventions of outdoor apparel; someone who wants to say something a little different about their choice of outdoor clothing, yet still keep warm and dry, if need be.
Finding a Gilet on eBay
Finding just the right gilet on eBay is very easy. Simply go to the eBay website and type 'men's gilet' into the search box at the top of the screen. If you would like a hooded gilet, then insert 'hooded' between 'men's' and 'gilet'. If you would like a specific colour, insert that, too, and the eBay search engine will take you right to it. There are many choices of gilet types and colours; simply fill in the appropriate search options to narrow down your search. Notice that, as you do so, the results winnow down without you needing to press 'search' each time. To include more than one parameter, simply click on the first field you wish to search, then press 'Choose more...', which will give you further options. For example, suppose you wish to search for gilets only in 'M' (medium) and 'L' (large). Press 'M' first, then 'Choose more...' to allow you to search for 'L' as well.
Conclusion
Gilets are seen by many as a lightweight alternative to a full jacket when the weather is not sufficiently cold enough for an outdoor coat. Many can also be worn beneath an external jacket to provide an extra layer of insulation if the weather is particularly inclement. They can be worn as a fashion statement or just for comfort and warmth. Many people find them eminently suitable for wearing when gardening, and the extra pockets many gilets now sport are seen as invaluable for securing small, easily lost items. From its humble beginnings as an outdoor alternative to the gentleman's waistcoat, worn during shooting or other outdoor pursuits, the gilet is now viewed by many as indispensable, a fashion accessory, or both. eBay offers a huge range from which to choose, so picking the right one for the right job has never been easier.