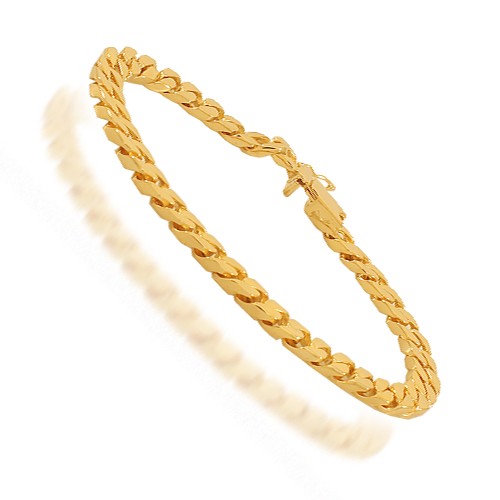 For the last several decades, jewellery for men has gotten a bad reputation, but for centuries men of power and standing wore jewellery, like bracelets, quite frequently. Now, however, men are once again becoming comfortable with jewellery, especially bracelets. While men's bracelets come in many styles and are made from a number of different materials, gold bracelets are extremely popular. Not only is gold an incorruptible metal that does not tarnish or rust, it is also a good choice for accenting clothing or matching to wedding rings, cufflinks, and other gold jewellery. Men can find gold bracelets in most any jewellery store, but they are also available on eBay in a number of different varieties. When buying a gold bracelet, it is helpful to explore what styles are available, what kinds of gold can be used, and how they should fit. Taking note of these factors can make finding the ideal bracelet much easier.
Gold Bracelet Styles
There are several distinct styles of gold bracelets available for men. Even within the broad category of each style, there are many differences between individual bracelets. For this reason, all styles should be considered when buying a bracelet, because only examining all possibilities allows a buyer to find a bracelet that best fits his sense of style.
Chain Bracelets
Chain bracelets are perhaps the most common type of gold bracelet, especially for men. Chain bracelets, like a chain, have a series of links that are interconnected. In some cases, the links are circular and have a lot of space. In others, the links are more like individual metal plates or tiles. The main benefit of a chain bracelet is that they are extremely flexible. The nature of a chain bracelet is that they can be adjusted or fitted to better contour a man's wrist quite easily. For this reason, a chain bracelet is a better choice for a gift bracelet, since the man's wrist size is not needed before making a purchase.
Torque Bracelets
Torque bracelets are thin, and made of one solid piece of metal. There is an opening on one end that slips over the wrist. Each end of the main metal strip has a round knob-like design. Torque bracelets are designed to mimic the torc, an ancient piece of jewellery worn by men who were part of the Celtic culture. Torque bracelets are lightweight and easy to take on and off, yet they do not fall off easily. Torque bracelets should be evaluated before purchase in order to make sure that they are the correct size.
Cuff Bracelets
Cuff bracelets are similar to torque bracelets in that they are made of one solid piece of metal, with an opening on one end to slip them over the wrist. Unlike a torque bracelet, a cuff bracelet is wider and does not have any knobs at the end. The wider design, however does mean that there is more room for intricate designs and scrollwork. As is the case with torque bracelets, buyers should be certain if a cuff bracelet fits before making a purchase.
ID Bracelets
ID bracelets are a popular choice of gold bracelet for men, as well as for women. The basic ID bracelet is a chain bracelet with an engraved nameplate attached to it. While, for the most part, an ID bracelet is engraved with a name, they can also be engraved with important medical information as well.
Types of Gold
While all gold jewellery is made from gold, there are differences in the gold content of metal, which can make a difference in cost and appearance. The gold quantity of an individual piece of jewellery is measured in carats. The more gold that is found in an item, the higher the carat number it has. Many items of men's jewellery are made out of 14 carat gold, which is considered a good quality gold that is not overly expensive.
| Carat | Gold Percentage |
| --- | --- |
| 24 | 100 |
| 23 | 95.83 |
| 22 | 91.67 |
| 21 | 87.50 |
| 20 | 83.33 |
| 19 | 79.17 |
| 18 | 75 |
| 17 | 70.83 |
| 16 | 66.67 |
| 15 | 62.50 |
| 14 | 58.33 |
| 13 | 54.17 |
| 12 | 50 |
| 11 | 45.83 |
| 10 | 41.67 |
| 9 | 37.50 |
| 8 | 33.33 |
| 7 | 29.17 |
| 6 | 25 |
When making jewellery, Gold is often mixed with other metals, which has an effect on colour.
Gold Colours
Gold comes in several different colours, determined by the amount of other metals mixed in with the gold. Gold colour is not related to carat, although differences in carat within one gold colour may alter the shade of the gold. In other words, 14ct yellow gold has the same gold content as 14ct white gold, but 9ct white gold may be lighter in shade than 14ct white gold. There are several popular options for gold that are found in men's gold bracelets.
Yellow Gold and Rose Gold
Yellow gold is the most popular kind of gold used for jewellery. It is made by mixing gold with other metals like copper and zinc. However, if more copper is used, the gold colour is transformed, creating a new colour known as rose gold. Rose gold, as the name suggests, has a more reddish colour than yellow gold, although the composition is usually so similar that there is little difference in price between one and the other.
White Gold
White gold is the most expensive gold colour. This is mainly due to the fact that white gold is made by mixing gold with more expensive alloy metals like silver and palladium. For this reason, white gold may not even look much like traditional gold and may have more resemblance to silver. White gold is considered more formal and less flashy than other gold colours, although it is always important to match a gold bracelet to any other gold jewellery, like a wedding ring or cufflinks.
Two-Tone Gold
A man's gold bracelet does not need to be made from a single colour of gold. In many cases, gold bracelets are made from two or more gold colours for a pleasing design. Two-tone gold is mainly used in chain bracelets and occasionally in cuff bracelets, where scrollwork or other design elements are made with a different colour of gold so that it stands out more.
Ensuring That a Men's Gold Bracelet Fits
When buying a bracelet, it is important to make certain that it fits properly. In many cases, it is more important to make sure that a bracelet fits than a necklace. The reason is that if a bracelet does not fit properly, it can either fall off or slide up and down the arm, which can be extremely irritating. Unsecured bracelets can also be a distraction for others, especially if the wearer is constantly adjusting it. Moreover, a dangling bracelet can make a lot of noise, which is both an irritation and a distraction. For all of these reasons, it is important to make sure that a bracelet fits comfortably, yet firmly on a wrist, much like a wristwatch.
Buying a Men's Gold Bracelet on eBay
Many items of jewellery, including gold bracelets for men, are readily available on eBay, the online marketplace. These bracelets come in a variety of styles and sizes and it should be easy for anyone to find the perfect bracelet for personal wear or for use as a gift. The best way to find a gold bracelet on eBay is to enter a search term, such as 'men's gold bracelet&' into the search bar on the eBay home page. Specific styles can be found as well by simply modifying or adding to the initial keywords.
Be Thorough
Since there are so many unique pieces of jewellery available on eBay, it pays to conduct a thorough search of what is available before making a final purchasing decision. This search should also involve reading product descriptions carefully to get an understanding of the key facts, such as what carat gold a bracelet is made from. Likewise, sellers should be evaluated as well, as their feedback provides good information about their selling history. Sellers who are rated Top Sellers have a long history of eBay sales and can be trusted to offer quality merchandise.
Conclusion
A gold bracelet is a powerful fashion statement that many men are embracing. There are more styles and options for gold bracelets popping up all of the time, as designers create newer styles or variations on old ones. Some of the more popular styles include chain bracelets, torc bracelets, cuff bracelets, and ID bracelets. Each bracelet can be made with different amounts of actual gold, mixed with other metals. The quantity of gold contained within a specific piece of jewellery is measured in carats, with higher carat numbers containing more gold.
The practice of mixing gold with other metals, also allows jewellers to create gold bracelets that have other colours. Several of these colours, especially rose gold and white gold, are popular alternatives to traditional yellow gold. With so many different options for gold bracelets available for men, it is easy to find a unique piece that fits any man's sense of style.